For me, it was the Chateauneuf-du-Pape that started it all. I fell in love with wine during my first post-college summer working at a busy French restaurant on Capitol Hill. It was just as popular with the neighbourhood residents as it was with the set of senators, congressmen and women, and their entourage of staff who were regulars. My day often started with the breakfast shift during which I'd serve eggs benedict and coffee to groups of lobbyists making their cases to senate staffers or politicians. By lunchtime, when Nicoise salads and leek and goat cheese tarts began streaming out of the kitchen, wine was the drink of choice. The restaurant didn't have a massive wine list, but it was a well-rounded selection of the French classics, and this was a new world to me. At the end of the night I'd sit at the bar to cash out and pour myself a glass of Sancerre, Alsatian Riesling, St. Emilion, or whatever else had been opened that night. If that included Chateauneuf-du-Pape, that was the bottle I always reached for. It was my introduction to the vast and complex world of French wines, and I was eager to taste it all.
I didn't yet know about the legendary terroir in Chateauneuf-du-Pape, its deep history, or even what grape varieties were actually inside that heavy bottle with the special insignia on it. But I did know that I loved this wine, and I wanted to learn more (I had just graduated from Journalism school, so research was something I knew). If you're going to fall in love with wine, then it helps to do it with someone else—preferably someone you love. My then-boyfriend (now-husband) Gábor also worked at the restaurant that summer. He was just as smitten with that bottle of Chateauneuf-du-Pape, and together we fell hopelessly in love with wine. Wine is a hobby that can easily carry you away: one day you buy a bottle of brand-name chardonnay and before you know it your bookcases are full of wine books, your wine collection is growing, you spend your nights cramming for wine exams, and you plot trips to your favorite wine regions. For some people wine is just a perfectly enjoyable drink. But the more I drank wine, the more I wanted to seek out different types, and the more I wanted to learn about what was inside the bottle, who made it, and where it came from.
"The Rhone region has the most diverse soil of any region in France, maybe the world," said geologist Georges Truc, an expert on the soil of the Chateauneuf-du-Pape region. Fast-forward 15 years, and Gábor and I are married, own our own wine business, and are standing in a vineyard in Chateauneuf-du-Pape. We came here to learn about how wine is made in this classic wine region, known for its distinct soils and spicy, full-bodied blended reds. It's a sunny day in late-October, and I get whiffs of sage and rosemary—the garrigue, or aromatic brush, which is part of the landscape here and contributes to the herby aromas in the wine. It is not easy to walk in this vineyard because it is covered with galets roulées, or round, shiny, pudding stones. In addition to helping with drainage, the stones play an important role in helping the grapes ripen by retaining the daytime heat and releasing it at night. But these helpful stones make harvesting and working in the vineyard a grueling job. "1.8 million years ago these stones came from the Alpine glaciers," continues Truc as he caressed a stone in one hand and held a hammer in the other. I sensed that Truc was personally acquainted with every one of these stones underneath our feet. "The Rhone river was 30 kilometers wide at one time and changed its path so many times, so you have a wide swath of these rocks on what was once the river bottom." The snarly vines growing out of these big round stones is an amazing sight, but Truc points out that the true terroir is what is underneath the soil, not above.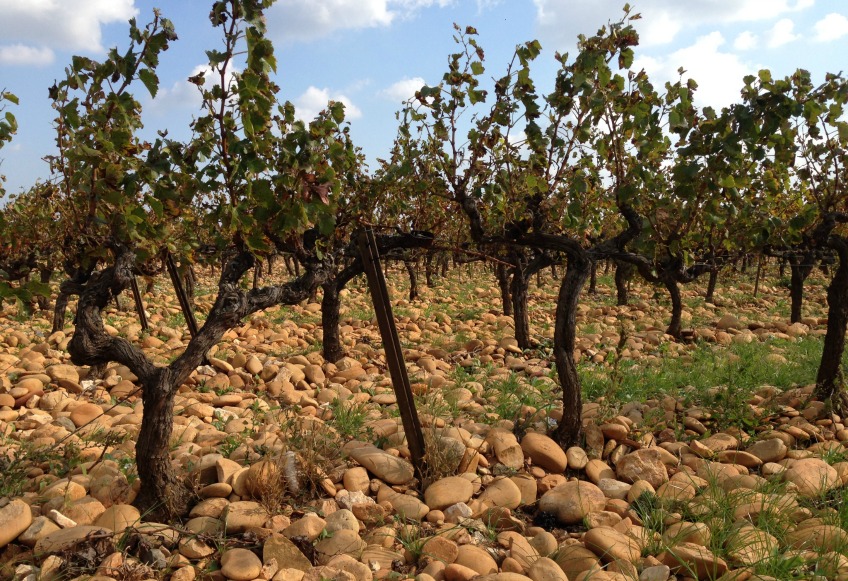 We heard a lot about terroir in Chateauneuf-du-Pape. Terroir is not easy to define, writes Jamie Goode in Wine Science. But Goode sums up the Old World definition this way: "the way that the environment of the vineyard shapes the quality of the wine. It's a local flavur, the possession by a wine of a sense of place or 'somewhereness.' That is, a wine from a particular patch of ground expresses characteristics related to the physical environment in which the grapes were grown." There have been studies attempting to figure out if we can actually taste the effects of terroir, a concept some people don't buy into and some see as simply a marketing effort. But what I saw in Chateauneuf-du-Pape turned terroir from an abstract concept to something that I could clearly see as well as taste.
Truc showed us vineyards with limestone dominant soil, as well as sandstone soil. Though not as photogenic as the pudding stones, the sandstone dates from the Miocene period (18 to 20 million years ago) when the Mediterranean Sea reached this area. "This used to be a beach," he said, as he pointed out the tiny pieces of shells studded in the sandstone. "These sandy vineyards have only recently been considered as positive terroir. But they make the most elegant wines." Later, as we visited wineries and tasted quite a few single terroir wines—which wineries, notably Ogier, are producing to emphasise their distinct vineyards—we could see how these different types of terroir played out in the glass. We could taste a distinct subtlety and elegance in the wines from the sandy soils. In the vineyard Truc had mentioned that tannins in the wines from the pudding stone terroir are more rounded, "like the galets themselves," which we also noted as we tasted. These were the most full-bodied of the bunch, while the wines from the limestone were less powerful (with tannins Truc described as "angular"). "It's incredible that because of these things that happened over 1.8 million years ago we ended up with this great soil for winemaking," he marveled as we stood in the vineyard.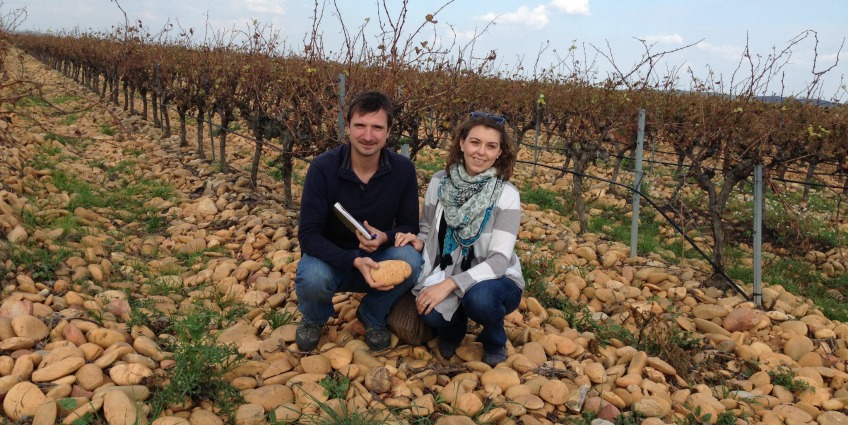 Chateauneuf-du-Pape is the most important appellation in the Southern Rhone region. The wines are generally full-bodied with layers of spicy red and black fruit flavours, often with some leather, meatiness, or tar. But we discovered many styles—classic blends, more lean modern styles, single varietal Grenaches, and some wonderful whites. Since this is France, there are regulations meant to ensure quality and style, such as limiting the yield to 35 hectoliters per hectare (compared to 50 hectoliters per hectare for a basic Cote du Rhone wine), compulsory hand-picking and sorting, and a minimum alcohol percentage of 12.5. Winemaker Pierre Pastre at Chateau Fortia lamented that these rules are stifling the growth of wineries, but the region prides itself on being strictly regulations. Thirteen grape varieties can be used in the region (though some of them have sub-varieties, so the amount is actually 22). However, the signature grape in Chateauneuf-du-Pape is Grenache, which is the most planted variety and the one that provides the full body and soft tannins. Despite the regulations, winemakers in Chateauneuf-du-Pape are free to decide their own blending recipes, or even whether they want to blend at all. "Blending gives the wines a longer life," said winemaker Florent Lancon at Domaine de la Solitude. "Certain grapes do certain things for the blend." Though Grenache is typically blended with some combination Mourvèdre, Cinsaut and Syrah, we tasted many excellent single varietal Grenaches, including some at Domaine de la Solitude, and the Grenache from very old vines in sandy soil was some of the very best that we sampled.
It turns out there was a reason I was so enamored with this wine all of those years ago, when I didn't know a thing about French wine but decided that I needed to know more. That bottle of Chateauneuf-du-Pape was a tipoff that wine could be a route to something more than just what was in the glass at the moment. I sensed that wine was really a path to learning about places, people, and the stories behind them—and I have been following that path ever since. That French restaurant on Capitol Hill sadly closed several years ago. But Gábor and I are ever more hopelessly in love with wine—it has taken us to some pretty amazing places, introduced us to some of our favorite people in the world, and has amazed us with its variety. We will continue to follow the wine.
---
To book a trip to Chateauneuf-du-Pape, or any other wine regions, get in touch with us now.