Our first visit of the day 75 kilometres north of Lyon is nearby to Mâcon in the tiny village of Leynes, in Burgundy. As is the case with many of these tiny villages especially in the wine producing regions, arguments ensue with the GPS as technology just does not work, it is all about being in touch with nature and living in the true French tradition, live simply and live well and stop and ask for directions from locals if you are lost!
Five minutes and several faded signs later, we arrive in the tiny courtyard of our winemaker Domaine Rijckaert. Jean Rijckaert is a simple man but you can feel his amazing energy and kindness from the first moment that you come into contact with him. Dressed simply in a checked shirt and shorts, he asks us if we can wait a moment as his assistant is about to leave on holiday and there are a few loose ends that he needs to tidy up with him. We assure him that this is fine and take the time to appreciate the beautiful old Burgundian house which is not only his home but also houses a bed and breakfast which is run by his wife. We savour the warm summer air and relax, it is the 15th of August, a national holiday in France and we were very lucky to be able to visit him today.
After a few minutes of hustle and bustle between his office and house, Jean arrives with a large key fob, the keys clinking in his hand as he walks towards us. The assistant is finally on his way and Jean smiles warmly as he invites us to the cellar. "I thought it would be nice for you to barrel taste some of the 2011 vintage that have not yet been bottled and then I will take you to try some of the bottled vintages, would this be suitable for you?" We all nod our heads in agreement excited at the prospect of the beginning of this wonderful adventure. "We are going to have to go through the garage to enter the cellar, I hope that this is alright," he explains as he distributes tasting glasses to each one of us as he opens the old wooden door of the garage whose hinges creak in protest. Leading us past a red BMW convertible covered in dust (clearly the life as winemaker does not permit for it to be used very much) and assorted tools of the wine trade tidily scattered about, we follow him towards another old wooden door that after more clinking of keys, he opens with a massive old key that slopes down into the cellar entrance, our noses are greeted with that most wonderful perfume, that along with the coolness of the air in the cellar that is slightly musty and intermingled with the sweet smell of ageing oak barrels is pure heaven!
We followed Jean through the dimly lit cellar to the second part, being mindful of the low ceilings and enjoying the music that the gravel made as it crunched under our feet. We all watch in fascination as Jean stops at several barrels and decides what wines he is going to combine together for our first discovery of his golden nectar. We are as excited as little children waiting to open their Christmas presents. Several barrels later with palates that are delighted by Jean's delightful wines we discover his story and the events that led to his dedication and passion for winemaking. He is Belgian by origin and at the age of fourteen started his work life. His parents wanted him to pursue his studies but he was not interested in studying, he wanted to do something concrete with his hands. He grew up in Brussels and he decides to take a risk and as he knocks on the door of the most famous chef in the city at the time, he starts to walk away, suddenly the door opens and impressed by his audacity the chef took him in and offered him a job in his kitchen.
He also has vineyards in Jura and he invites us to discover them. The wine is fresh and dry and we all enjoyed it, what a treat to be in Burgundy and to discover wines from a small region that created by Jean are amazing! He finishes our cellar visit with a taste from his barrel of Corton, what a rare treat! On our way out of the cellar, he selects several bottles from another little room in the garage and asks me if I can help him carry them which I am of course happy to do. Glowing with pleasure and feeling the lovely effect of his wonderful wines, we follow him out of the cellar where he invites us into his house and onto his beautiful terrace overlooking the vineyards. We spend the next few hours feeling like old friends sharing Jean's table as a light breeze blows over the vines behind us and onto the terrace. This man is amazing when we ask him how he started making wine the story is simple and beautiful. Once he decided that he had enough of slaving in the restaurant kitchen he decided to open his own wine import company in Belgium where there was a very large demand for French wines. One thing led to another and after meeting his Burgundian wife, he moved to France and acquired his home and vineyards.
He does not make all of his wines from his own grapes but carefully selects grapes from top area growers from the region as well. All of the grapes are brought to his estate where he takes charge of the entire winemaking process. The way to know if the wine comes from his grapes or his suppliers is by the colour of the label. His that have a green label are grown and made on his estate and the others that have a mustard coloured label are grapes that he selects from top growers in the region but vinifies them on the estate. What we could attest to is irregardless of the colour of the label, every bottle contained wines that were marvellous. Asked how he decides when it is the right time to bottle or blend wines, he said it is a gut feeling there is no rhyme or reason he just knows, it is a gut feeling. When asked if his children will take over the business in the future he replies sadly that they have no interest in doing so and that for the moment he will concentrate on making his wines and the future will bring what it will, there is not time to worry about this now, he is enjoying his life and lives day to day doing what he loves most. An intelligent and gentle man, we leave his estate with regret and promises to stay in contact.
This blog was written by Shoshanna, Winerist tour guide in Burgundy, Provence, Languedoc-Roussillon and Rhone Valley.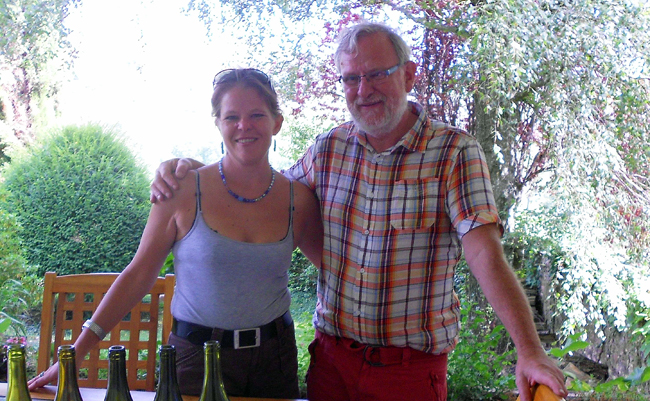 Shoshanna, our tour guide and Jean Rijckaert