Wine and food lovers tend to notice the most beautiful pleasures in life, no matter how small they might be. Chef Sven-Hanson Britt shares with us his favourite champagne anecdote about a much loved chef and his own champagne ritual…
Fernand Point was the first chef to be awarded 3 Michelin stars in 1933 at his eponymous restaurant "La Pyramide" in Vienne. La Pyramide became known as an escape for travelling Parisians, a home of 'luxe, calme et volupté'. Staying true to the style of the restaurant that he had built, Monsieur Point had a luxurious morning routine that I'm sure we all can only be envious of… The tranquil garden of La Pyramide is where many a Michelin starred meal began and finished and this is the setting for the chef's everyday regime. It was a simpler and slower time for chefs, before Instagram and Tripadvisor reviews garnished F&B meetings in shoebox offices. Monsieur Point had the right idea, as summed up in this quote by Rudolph Chelminski in The Perfectionist: Life and Death in Haute Cuisine:
"It was in a corner of this garden that Point ritually began his day around 10 a.m., enveloped like a Christo wrapping in an immaculate white cloth as Monsieur Chazal, Vienne's number-one barber, proceeded with his matutinal shave. Close at hand, in one of the garden's several stone vases-this one left purposely free of flowers-a magnum of champagne exhaled its vapors over the shoal of cracked ice in which it bathed. In Point's hand was a Baccarat crystal flûte that ever and anon he raised to his lips. 'I enjoy a cup of champagne upon rising and a cup in the evening before turning in,' Point used to say. 'Nor do I fear to drink others between the two.'"
You've got to love champagne and a matutinal shave…
See more on champagne with our insider's guide to Krug or if you fancy popping out for a glass, here are our 6 favourite places to drink champagne in London.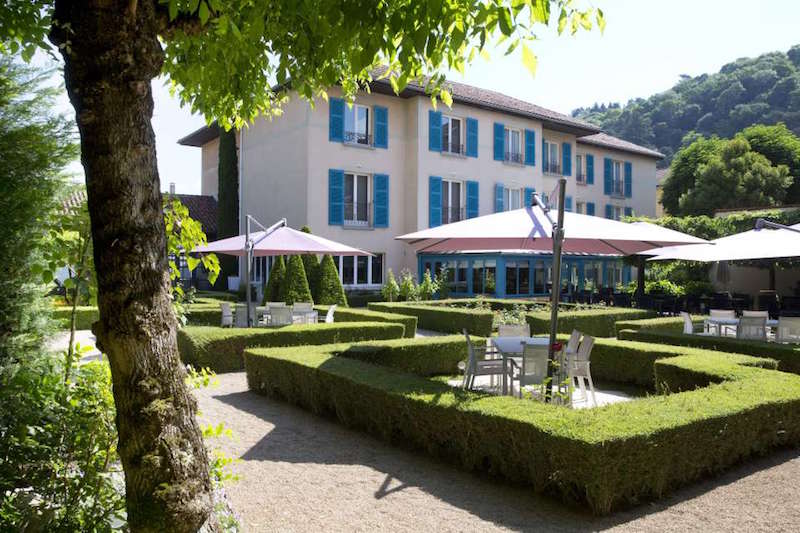 Photo credit: lapyramide.com