Were you inspired by The Wine Show's trip to Georgia last week? We were! Before you book your trip, get your head around this beginner's guide to Georgian wine…
If you're looking for an off-the-beaten-track wine country to try out; one that celebrates wine as a fundamental part of human existence (sign us up!), then look no further than Georgia. So ingrained is wine into this country's culture, that is involved in every single meal and used in every important ceremony, of which there are many. Very many. Every style from dry to sweet, to sparkling and even orange or 'amber' wine, is made in Georgia and largely from native grape varieties, so the flavour profiles are quite unique to this wonderful land. As recently as 2015, the oldest evidence of winemaking in the world was uncovered in the Georgian village of Imiri, so as winemaking countries go, it's a pretty serious one to get to know.
– Fact: Georgia has over native 500 grape varieties
– Fact: Kakheti is Georgia's primary winemaking region, producing over 70% of all wines.
– Fact: Evidence of winemaking dating back over 7000 years was recently found in Georgia.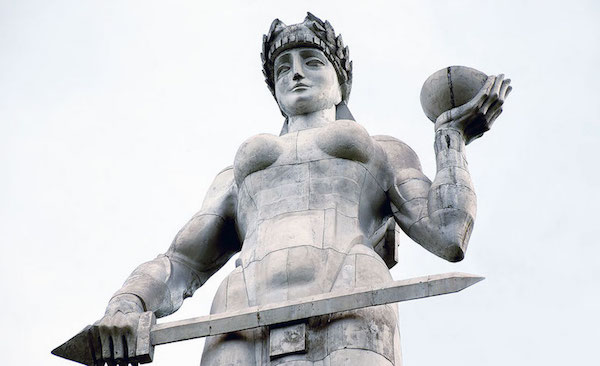 The Kartlis Deda statue in Tbilisi. Photo credit: Bestgeorgian.com
Want to know more? Below is your beginner's guide to the key wine styles of Georgia…
Georgian white wines
'Aromatic' and 'vibrant' are the keywords for Georgian white wines. Many of the grapes are grown at altitude in the cool foothills of the Caucasus Mountains, which help keep the alcohol down, the acidity up for freshness and help maximise the exotic, floral aromas of these native varieties.
Key white Georgian grapes
Rkatsiteli
This is the key white grape of Georgia and means "red stem", thanks to its, well, red stem. The characteristics of Rkatsiteli are quite subtle, so it is often blended with other grapes. It can taste like a good Pinot Grigio/Pinot Gris.
Try: Rkatsiteli 2015, Tbilvino, £9.99 from The Georgian Wine Society.
Mtsvane
Georgia has six types of 'Mtsvane' grape, all slightly different and named after the key regions where they are grown. Mtsvane Kakhuri is arguably the most famous of the Mtsvane grapes and makes youthful, easy-drinking wines with a greenish tint (Mtsvane means 'green') and floral, peachy aromas.
Try: Mtsvane 2016, Telavi Wine Cellar, £9.99 from The Georgian Wine Society.
Tsolikouri
Tsolikouri is an important white grape, grown mostly in western Georgia. It makes wines that are crisp and fresh with orchard fruit notes of pear and apple.
Try: Organic Qvevri Tsolikouri, £17.99 from The Georgian Wine Society.
Georgian Sparkling Wine
Georgia makes sparkling wine in both the traditional method and the tank method. The traditionally made wines, as you might expect, tend to be aged for longer and are more complex. Sparkling wines made by the 'tank method' (like Prosecco), tend to be simpler and more fruity. Nowadays, the traditional method sparklers are often made using the classic Champagne grapes (Chardonnay and Pinot Noir), though you will find some made with local grapes. Tank method wines are more often made with the local grapes varieties.
Try: Bagrationi 1882 Finest Brut 2015, £16.99 from The Georgian Wine Society
Made with the native Chunuri grape, this wine feels more towards the Prosecco style with its fresh, peachy fruit and frothy bubbles.
Georgian Red Wine
Away from the foothills and more inland at lower altitudes, the climate is warmer, thus allowing for the production of some excellent red wines. As with the whites, native grapes are still most widely used in Georgia and they tend to be particularly fragrant. Here are the key red Georgian grapes to look out for:
Saperavi
Meaning 'place of colour', Saperavi is THE great red grape of Georgia as it manages to combine freshness and fragrance with stunning colour and a generous, chocolatey texture. Saperavi can be used to make earlier drinking, fruity styles of wine, semi-sweet wines and or more complex, oak-aged, dry wines meant to be kept for longer periods. Sapeveri from 'Mukuzani' is generally aged in oak for longer than a wine labelled simply Saperavi and so will be more concentrated, savory and tannic. Off-dry, light-ish reds made with Saperavi are also very popular and can be served chilled and with grilled meats and flavoursome cheese. They're remarkably drinkable! Look for 'Kindzmarauli' on the label if you want to give this style a go.
Try: Saperavi 2014 from The Georgian Wine Society £11.99
Try: Kindzmarauli 2014 from The Georgian Wine Society £11.99
Try: Mukuzani 2014 from The Georgian Wine Society £12.99