California's Santa Barbara region is one of Winerist's Top 10 Travel Destinations for 2020.
The Californian coastal town of Santa Barbara is often referred to as the 'American Riviera', with Mediterranean-style architecture, long stretches of pristine white beach and the glorious backdrop of the Santa Ynez mountains combining to create one of the most Instagrammable locations in the USA! However, there's so much more to Santa Barbara than just picture-perfect views. The area's food and wine scene has been on the rise for some time, and the plethora of delicious local produce and world-class wines to be found here are rapidly cementing Santa Barbara as one of the USA's best foodie destinations.
This is a place where it's possible for visitors to wander through verdant vineyards in the morning, enjoy a long, leisurely lunch in a world-class restaurant and still be soaking up the rays on a sun-drenched beach (cocktail in hand, hopefully!) by early afternoon. What's more, Santa Barbara's perfect location just a 2-hour drive north of Los Angeles makes the region perfectly placed as a stop on any great American road trip! The Winerist team love Santa Barbara and its gorgeous way of life, so much so that we chose Santa Barbara as one of our Top 10 Travel Destinations for 2020. We firmly believe that this amazing destination should be at the top of your travel list, and so we've shortlisted our top 7 reasons why Santa Barbara is a must-visit in 2020!
World Class Dining in Fabulous Surroundings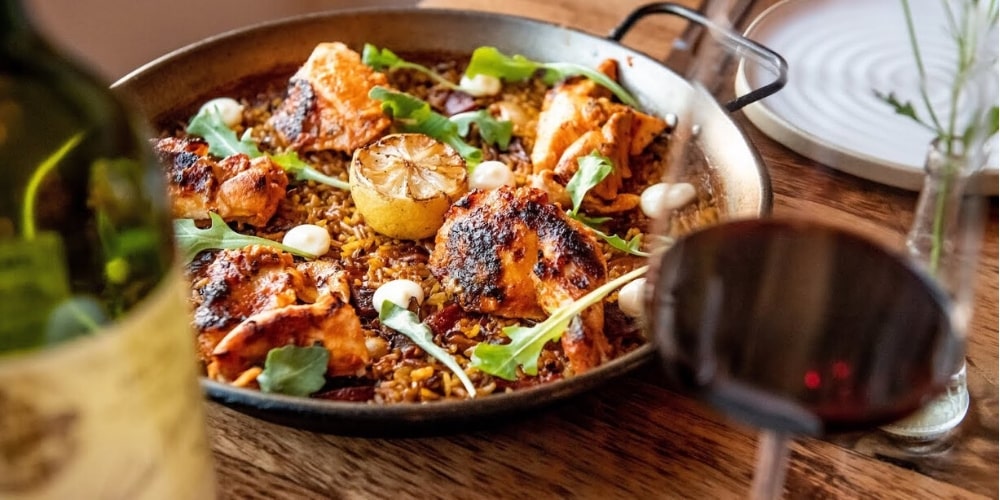 Picture credit: Loquita
It's not just tourists and travellers who find the Santa Barbara way of life irresistible. In recent years, the abundance of high-quality local produce and stunning settings have attracted an influx of enthusiastic professional chefs who are making the cuisine of the region their own. This is not about serious, formal fine dining venues, though – the Santa Barbara food scene is all about world-class food in a relaxed environment, so leave your suit and tie at home!
New restaurants and dining experiences are popping up in Santa Barbara all the time, and locals and visitors alike are spoilt for choice. Try Bibi-Ji, Santa Barbara's first contemporary Indian, serving playful spins on classics with a menu that highlights the local seafood served 'sea-to-table', Tyger Tyger, a dynamic 1,900-square-foot marketplace featuring 'fast-fine' Southeast Asian cuisine, or Loquita, a lively Spanish-style restaurant in the Funk Zone.
A Brand New Culinary Festival …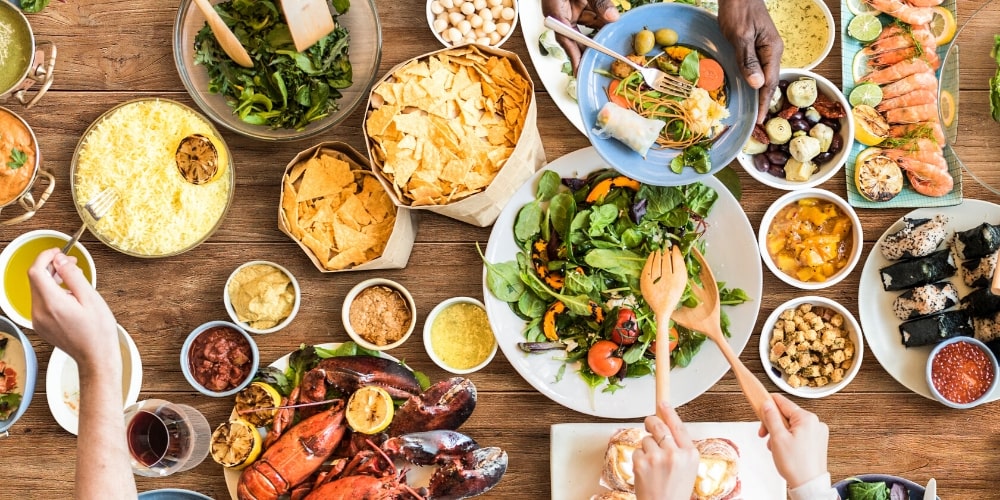 There's never been a better time to be a food lover in Santa Barbara. To to firmly cement this status as one of California's culinary capitals, 2020 sees the inaugural lunch of city-wide extravaganza, the Santa Barbara Culinary Experience! Presented in partnership with the Julia Child Foundation for Gastronomy and the Culinary Arts, the event will take place 13th-15 March 2020 and is all about celebrating the bounty of what is grown in and around Santa Barbara. Events will include a tasting event showcasing the best of Santa Barbara's food and drink, hands-on cooking classes, food trend talks, and more. A new map of Julia Child's favourite Santa Barbara haunts, specially created for release during the Santa Barbara Culinary Experience, will enable visitors to follow in the famous chef's footsteps any time of year.
Don't Miss: Wine lovers will never forget an amazing evening with wine legend Rajat Parr and Chef Kiran Bheemarao at Bibi Ji. Taking place on Friday March 13th, the duo will present an exclusive culinary feast in a chic setting served alongside Parr's selected back vintage wines from his own labels, as well as hand selections from his personal cellar!
…And a Burgeoning Arts & Culture Scene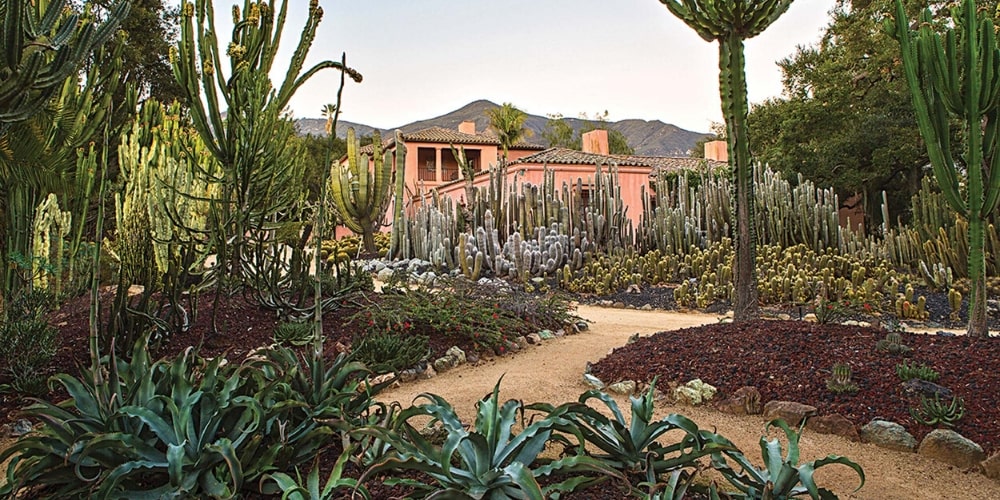 Picture credit: Santa Barbara
Santa Barbara's growing creative scene is evident throughout the city's creative Funk Zone and developments such as the Santa Barbara Museum of Art, which will reveal a newly expanded, multi-floor wing in Spring 2020. The new wing will house a range of photography, Asian art and other exciting exhibits – the inaugural exhibit, "Through Vincent's Eyes", will showcase 15 works of art by Vincent Van Gogh himself alongside more than 125 other works selected to reflect the surprisingly varied art that he most admired.
Elsewhere, a plethora of museums, theatres, and live music venues are at the heart of Santa Barbara's thriving culture scene. Broaden your horizons at hands-on science museum MOXI (The Wolf Museum of Innovation and Exploration), wander the 78 beautiful acres of the Santa Barbara Botanic Gardens, and spend the evenings taking in a ballet performance or catching some live jazz at the Lobero Theatre.
It's an Instagrammer's Dream Location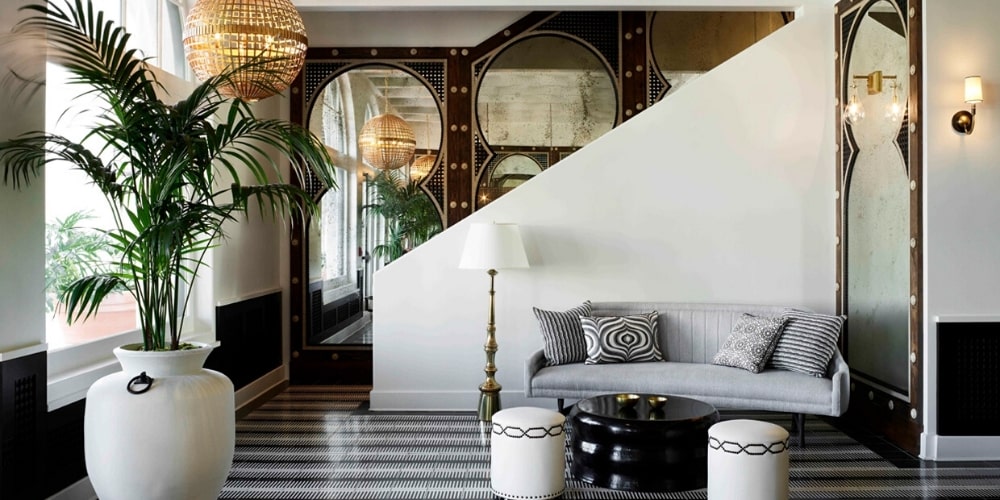 Picture credit: Hospitality Interiors
The first thing you'll notice when you arrive in Santa Barbara is how pretty it is. Spanish colonial style architecture, pristine streets lined with shops, restaurants, wineries and boutiques, a gorgeous harbour and miles of sandy beaches make it a picture-perfect holiday destination. Delve a bit deeper and you'll find that the interiors really live up to the city's shiny exterior. Instagram's great and good stay at the Martyn Lawrence Bullard-designed Hotel Californian, where Spanish colonial revival architecture and a modern Moorish vibe combine, creating a design infusion begging to be photographed. And of course, there are ample opportunities for avid foodie 'Grammers to collect those perfect dinner shots! #foodporn
It's Always Wine O'Clock!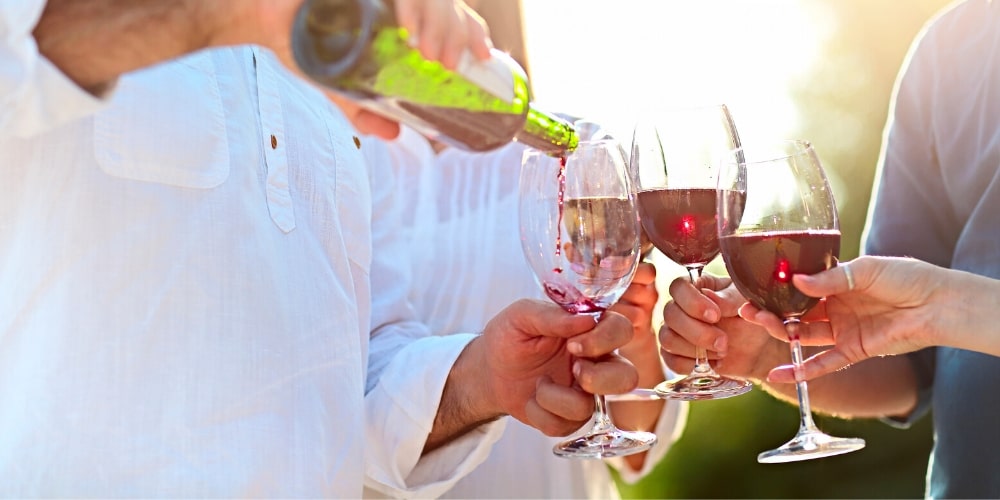 One of Santa Barbara's biggest claims to fame is the cult-classic wine film Sideways, with Paul Giamatti and Thomas Haden Church's escapades through Santa Barbara wine country bringing the region worldwide fame. The Oscar-winning movie was filmed almost entirely on-location throughout Solvang and the Santa Ynez Valley and wine consumption increased hugely as a result, with the demand for elegant and highly quaffable Pinot Noir receiving a particular boost.
Nowadays, you don't need to trawl from vineyard to vineyard to get your hands on some of the destination's celebrated bottles. Wine culture here, like many other parts of California, is booming, and Santa Barbara's Urban Wine Trail offers both novices and aficionados the opportunity to learn about and taste the wines of many different varieties and styles crafted by the County's best winemakers. 30 wineries across the California city now make up the trail and can be explored by foot, bike or taxi.
Luxury Awaits Around Every Corner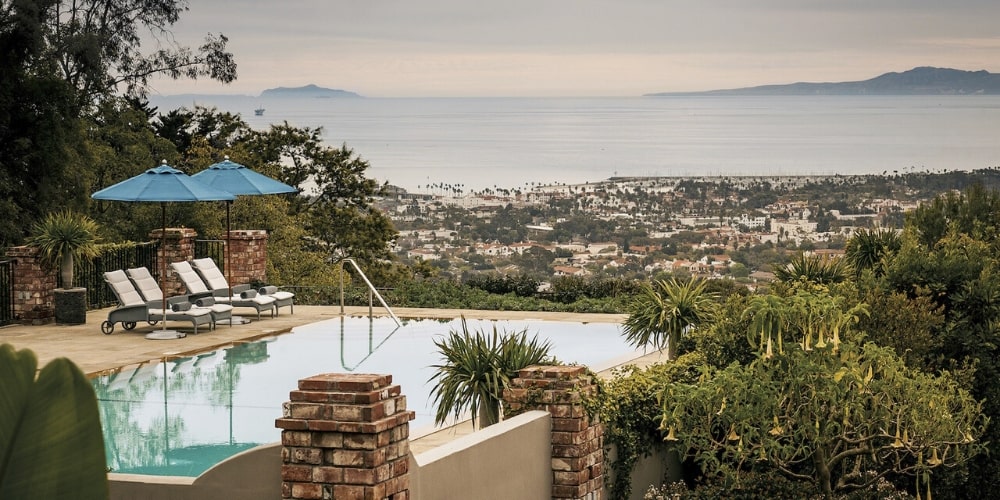 Picture credit: Belmond El Encanto
Accommodation in Santa Barbara comes in many shapes and sizes, but what unites all the best hotspots is gorgeous architecture, amazing views and a warm welcome guaranteed, no matter what your budget. Curl up in a hillside hideaway like the iconic Belmond El Encanto, immerse yourself right in the action at Harbor View Inn's brand new downtown wing or relax in the lap of luxury at Rosewood Miramar Beach Montecito, which opened just last year and has the distinction of being the only five-star beach resort in Southern California.
On a budget? No bother. Nestled between the Pacific Ocean and the Santa Ynez Mountains, lies El Capitan Canyon, a resort boasting fully furnished cedar-lined cabins with vaulted ceilings and French doors opening onto El Capitan Beach and offering incredible ocean views. Film lovers, meanwhile, may enjoy venturing out of the city to Buellton, where it is possible to stay in the Sideways Inn … as you may have guessed, this was one of the filming locations for the iconic movie of the same name, which has ensured a healthy stream of visitors ever since!
Beach Vibes Guaranteed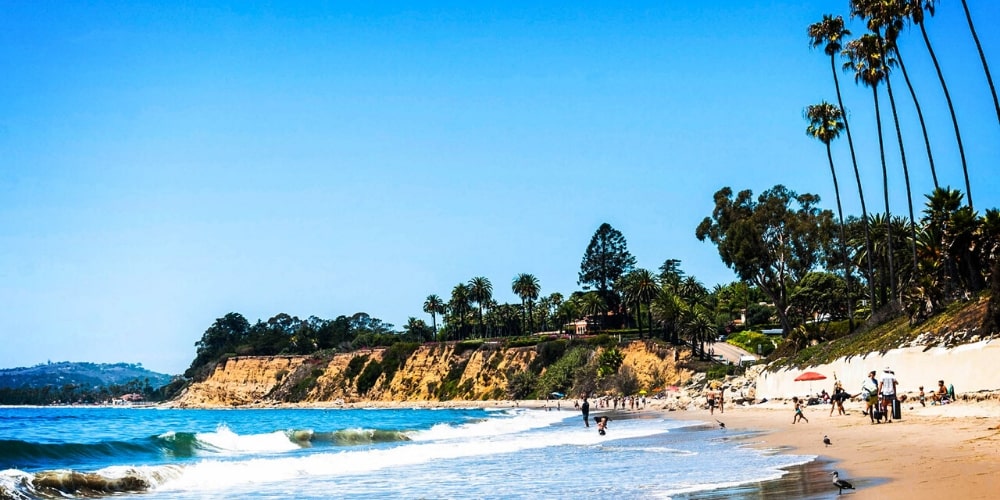 Picture credit: Santa Barbara Greeting Cards
After all that food, wine and culture, it's time to hit the beach! With endless miles of sun-drenched Californian coastline within a stone's throw of the city centre, there's a sandy Santa Barbara spot to suit every type of traveller. Dog lovers should head to Arroyo Burro Beach (better known to locals as Hendry's Beach) where pooches revel on the dog-friendly flat sands. If surfing is your bag, Leadbetter Beach is best for catching waves, while sophisticates will enjoy the pristine sands of Butterfly Beach, where cocktails can be taken at the nearby Four Seasons Resort Biltmore Santa Barbara. Heading closer to town, family-friendly East Beach is located next to Stearns Wharf, with lifeguard stations, a playground and cafés.
To book an incredible visit to Santa Barbara, contact Winerist today via our bespoke booking form.
Click here to find out Winerist's CEO Diana Isac got on when she paid beautiful Santa Barbara a visit in 2019 or discover her recommendations for the Best Hotels for Wine and Food Lovers in Santa Barbara!