It's a rare sight to see Aucklanders venturing out to try wines. For the most part, we're happy with the bottle on offer at the supermarket which we'll take home to crack open. More than once I've met locals who haven't been out to taste wine in years, even though there are three key wine regions, countless wine bars and a number of specialty fine wine retailers on their doorstep. Aucklanders, this needs to stop! Apart from getting out of the house for a few hours, it's a great way to experiment and sample wines before deciding on a purchase, and you can enjoy a tasting in a relaxed convivial atmosphere. And remember – wine tasting is largely an indoor sport, so you've got no excuse with the weather.
Here's my top pick of the must-visit Auckland wineries for visitors and locals alike:
West Brook Winery 215 Ararimu Valley Road, Kumeu
One of my favourite wineries, West Brook, in Rural Kumeu, is a mere 25 minutes' drive from Auckland's Central Business District. West Brook's winery complex has stunningly picturesque grounds with mature trees, leading down to a placid duck pond with rows of neat vines on the slopes beyond.
Third generation Croatian winemaker, Anthony Ivicevich, and his charming wife, Susan, own the operation. Up to eight wines are available for tasting (no charge) including award-winning Riesling, Sauvignon Blanc, Malbec and their flagship Ivicevich estate Chardonnay. Once or twice a year, they host a Food Wine & Music Festival with wines by the glass and picnic tables spread out on the manicured lawns. At other times, an all-weather picnic area, lakeside picnic tables, petanque, a giant chess set and gas BBQ beckon the mellow taster and pals.
Open 7 Days Monday – Fri 9.00 to 5.00, Saturday 10.00 to 5.00, Sunday 11.00 to 5.00
---
Villa Maria Estate 118 Montgomerie Road, Mangere
Villa Maria is NZ's third largest producer; Established in 1961 it is owned and managed by industry legend, Sir George Fistonich. The new Mangere winery is a state-of–the-art facility with sweeping green lawns, a Gewürztraminer vineyard, bottling hall, administration block, an amphitheatre concert venue, a mirrored lake, and large function facilities. The striking modern design exemplifies Villa Maria's winemaking ethic – clean, elegant, successful and up-to-the-minute.
Villa has been a top producer for many years, with hundreds of awards and accolades both here and overseas.
Guided tastings are available, starting at $15.00 a head with a range of wines from the varied catalogue on offer. The excellent café has a menu ranging from platters for two from $40, a kids' menu from about $12, set 3-course menu for $45, or tempting à la carte fare like Crispy Skinned Pork Belly starter $18 or a main of Balinese Duck $32.50.
Winery & vineyard cafe open 7 days Weekdays – 9.00 to 6.00, Weekends – 9.00 to 4.00. Winery tours depart from the Cellar Door at 11.00 and 3.00 daily (groups by prior arrangement).
---
Brick Bay Wines Arabella Lane, Snells Beach, Matakana
One of the youngest wineries in the region, Brick Bay quickly established itself as an impressive must-do Matakana visit. It is owned by the Didsbury family who were instigators of the Matakana Farmers Market and Matakana Cinema. Wines produced are Pinot Gris, Rosé and two Bordeaux style red blends: Cabernet dominant Martello Rock, and Pharos a five grape blend. A tasting fee of $5, is refunded upon purchase.
The most striking feature of Brick Bay is the long, spare and airy 'glasshouse' tasting facility and office complex cantilevered over a large pond. Architecture is by award-winning Noel Lane. Food is also available and there is wine by the glass and good coffee. The other unique factor at Brick Bay is the outdoor Sculpture Trail. Fees include a map and catalogue. It takes approximately an hour to walk through the scenic undulating farm and vineyard grounds. Large outdoor works by leading NZ artists are featured and also for sale.
Open 7 Days 10.00 am– 5.00 pm
---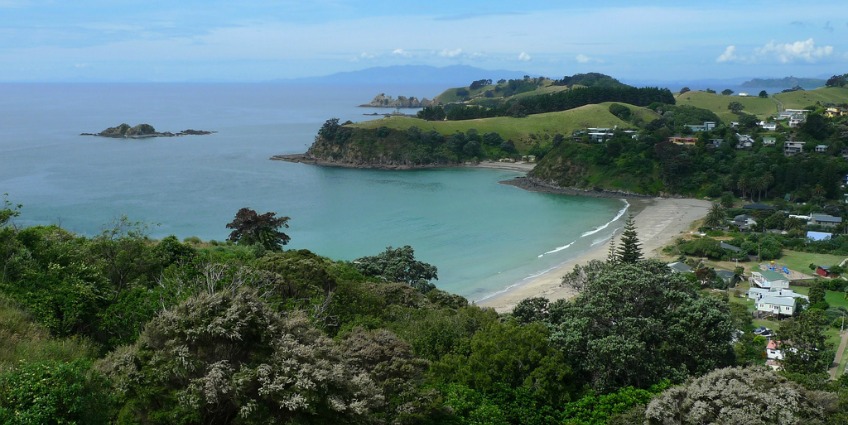 Waiheke Island: John M
Now, a mere 40 minute ferry ride away is gorgeous Waiheke Island, boasting over 30 wineries and many great restaurants.
Cable Bay Vineyards 12 Nick Johnstone Drive, Church Bay, Oneroa
Cable Bay's elegant structure nestles into a green hillside, with breathtaking views over the Gulf back towards the city. As well as housing the winery and renowned fine dining restaurant, there is a wine bar and Cellar Door tasting room. Owner, Loukas Petrou and Winemaker, Chloe Parkinson pride themselves in producing the finest wines.
With Cellar Door wine tasting from 11.00 am onwards, there is the lunch option of 5-star cuisine in the restaurant, Dining Room, (mains $38). Or alternatively, the wine bar, Veranda offers outdoor tables, fabulous views, a selection of wines by the glass and the tapas-style 'small plates' menu (around $10). Wines to look out for – Cable Bay Pinot Gris, Viognier and Chardonnay.
Cellar Door open 7 days from 11.00 to 5.00. Wine Bar open 7 days with lunch from 11am. Tastings cost $10 for 5 wines. Restaurant: Lunch: From 12.00 noon Dinner: From 6.00 pm
---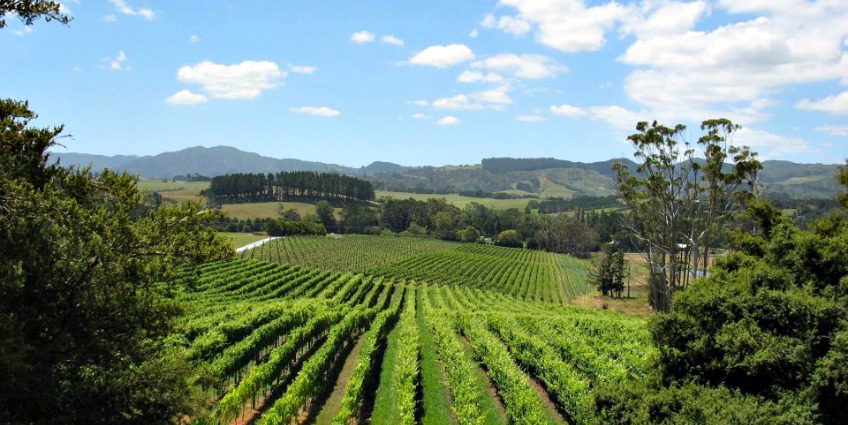 Auckland's best wine bars and tasting events:
Molten Wine Bar 424 Mt Eden Rd, Mt Eden
As an adjunct to Mt. Eden's popular restaurant, Molten's wine bar offers a pleasant spot for an afternoon's social wine or a pre-dinner drink. Small and intimate, there are a few tables plus comfy bar stool seating. Friendly and knowledgeable staff are happy to answer questions regarding the comprehensive wine list. (It was at Molten that I discovered Auka Mendoza Torrontes, a glorious indigenous Argentine wine with floral aromas and flavours of Muscat, citrus, apple and pear.)
With around 30 wines available by the glass at around $11 each there is plenty of choice. If you want to splash out on a bottle to share, there is a truly huge range of wines available – from NZ to Australia, Spain, Argentina, Italy, France and South Africa. And if you're peckish, the wine bar menu gives you a wide choice of 'small plates' fare from $4, up to entrée sized meals around $19.00.
Open Mon to Thursday 4.00 till late. Friday to Saturday 3.00 till late.
---
Basque Kitchen Wine Bar 61-73 Davis Crescent Newmarket
I've been to Basque about three times, and have never been disappointed. The focus is exclusively on Spanish wine and tapas-style dining. The wine list runs to 10 white wines, and 22 red wines, along with an array of Spanish Sherries, Port style fortified wines and beers. The star of the establishment is the Maitresse D', Carol, who has an encyclopaedic knowledge of Spanish wines and a wicked, ribbing sense of humour. She has the uncanny ability to match your Kiwi wine palate to a matching Spanish wine equivalent and then offer you a sample before you commit to a glass full. She can skilfully lead you from fruity whites to full-bodied reds and on to sumptuous sherries. Prices are pretty reasonable with wines around $10 a glass and tapas menu items around $15.
---
Maison Vauron
Jean-Christophe Poizat hails from Lyon where his great-grandfather Antoine Vauron started a wine business in 1879. Eight years after moving to New Zealand, he continued the family tradition of "Negociants en Vins" (wine merchants), establishing Maison Vauron in Newmarket, selling French wine, cheeses and other gastronomic delights. His business partner, Scott Gray, is a New Zealand Francophile who has been in the industry since the 1990s.
Tastings are run regularly in the upstairs store room surrounded by hundreds of bottles of French wines in racks. These tastings are meticulously run, normally with Jean-Christophe and Scott giving a historical and viticultural presentation on a particular wine region or producer, followed by wine sampling accompanied by a generous local food match. They are quite an event with large wooden tables and around 40 people happily sampling and munching through famous wines and French delicacies. Even at around $70 a head, booking is essential as they have limited numbers and tend to sell out very quickly.
---
Like the sound of Auckland? We have a range of great tours in and around Auckland. Be sure to join us on one of these unique and fun tours:
Auckland Food Tasting and Market Tour – Discover the dynamic, stunning city of Auckland and gain insight into the culture, creativity and vibrance of Auckland's food scene with this half-day food tour.
Waiheke Island Wine Tour – Escape to beautiful Waiheke Island for incredible views and even better wines.
Auckland Gourmet Food and Wine Walking Tour – For a full day of incredible tastings, this is the tour for all Kiwi foodies.