There's never been a better time to head down to London and imbibe an indulgent cocktail or two. In recent years, the bar scene in our capital city has exploded, giving us the gift of some of the best drinking experiences to be found anywhere in the world. In the current list of the World's 50 Best Bars, London alone occupies an astounding six of the top twenty positions.
However, fancy awards aside, what Winerist really loves is the simple opportunity to enjoy delicious drinks with good company – and we know you do too! The sheer number of venues in the capital city can be a little overwhelming, so to help you along, we've compiled a shortlist of some of the coolest, most creative and downright dazzling bars that London has to offer.
The Blind Pig
58 Poland Street, Soho, W1F 7NR
The Social Eating House by Michelin-starred chef Jason Atherton is loved for its contemporary, stylish bistro menu and informal setting, modestly tucked behind an incongruous door with a pig's head knocker in the heart of Soho. However, there's more to this restaurant than meets the eye … venture up to the first floor after lunch and you'll discover The Blind Pig, the award-winning bar that's bringing a whole new meaning to some of our best loved children's stories.
The speakeasy style interior boasts cosy booths and a beautiful burnished copper bar which sets a relaxed, intimate tone. It's comfortable and cool, but the true superstar is of course the drinks menu, which is inspired by some of our best-loved works of children's literature. Expect everything from The Chronicles of Narnia to Harry Potter and J.R.R. Tolkien to make an appearance! (Take note, Harry Potter fans, there's Butterbeer!)
The Very Hungry Caterpillar's 5-A-Day is well worth a try – a blend of Patron Silver tequila, lime cordial and Sekforde's tequila mixer (a divine fusion of prickly pear, fig and bitters). Yes please!
020 7993 3251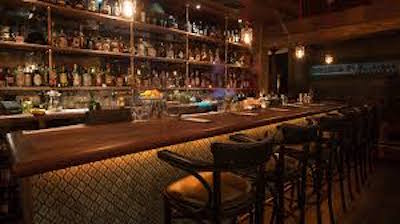 The Blind Pig. Photo Credit: www.theblindpigparlourbar.com
Dandelyan
Mondrian London, 20 Upper Ground, SE1 9PD
Ohhhhh, my gosh. Dandelyan really is the bar that needs no introduction, with a whole host of impressive accolades under its belt including World's Best Bar 2017 and World's Best Cocktail Menu 2016. It's the brainchild of iconic bartender Ryan Chetiyawardana (a.k.a. Mr Lyan) so the glittering awards come as no surprise.
Dandelyan basks in sumptuous pink-and-green Art Deco splendour on the ground floor level of the Mondrian hotel, which affords spectacular views across the river – oh, hello St. Paul's! Once the menu arrives, however, even this most glorious of views struggles to hold your attention. Entitled 'The Modern Life of Plants', the latest drinks list explores the science of plant and animal life in the most delectable of ways.
Think Martell Cognac filtered through concrete (delicious, I promise), paper fibre and even something called 'beta acid goodness'. Think innovation and inspiration. Think stunningly simple finished drinks, no bells and whistles but pure, unadulterated taste sensations. We're gushing, of course, but this is one bar that truly deserves all the recognition it receives. Just go. You won't be disappointed.
www.dandelyanbar.com
020 3747 1063
Nightjar
129 City Road, Hoxton, EC1V 1JB
Another name that's a regular fixture on shortlists of the World's Best Bars is the dark and delicious basement venue that is Nightjar. Hidden quietly between a pizzeria and a fried chicken shop (which we can safely say is also extremely good … or seemed so at midnight on a Saturday!) Nightjar is one of Hoxton's worst-kept secrets – and with very, very good reason.
Intimate and dimly-lit, this inviting 1920s-style speakeasy is designed with discerning drinks enthusiasts in mind … and certainly doesn't disappoint. The danger with some chart-topping venues is that great tasting drinks are at risk of being sacrificed in the pursuit of a bit of theatre, but Nightjar delivers on all counts in the most impressive of ways.
The latest menu is divided into four sections covering the exotic history of the glorious cocktail, as well as sharing drinks and a selection of delicious tapas on offer should hunger strike. The concoctions are unbelievably creative, with everything from seaweed air to electric bitters making an appearance alongside our favourite spirits. We love the Filipino, a blend of Bathtub Gin, snake fruit, kalamansi liqueur and coconut smoke. Add to this mix a dash of excellent customer service, blend with live jazz every night of the week and you've got yourself a winning recipe.
0207 253 4101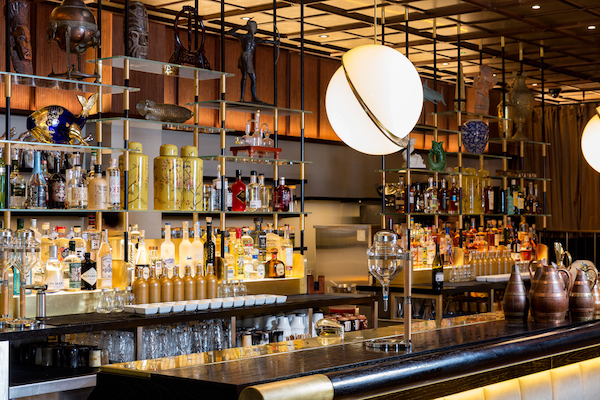 Bar Termini
7 Old Compton Street, W1D 5JE
This teeny tiny, quintessentially Italian bar tucked away on the edge of Soho features just seven tables and a miniscule bar. Laid back jazz music pipes from the speakers as achingly cool patrons converse, sip their drinks and nibble at their Italian chicchetti; the mini paninis here are just £1 and are absolutely delicious.
Tapas aside, Bar Termini is a mecca for lovers of one drink in particular – that is, the iconic Italian Negroni. For the uninitiated, the Negroni is a heady blend of gin, vermouth and Campari that's achieved cult status since its creation over 100 years ago. Termini offers five variations, from the intensely aromatic Rosato to the traditional Classico. Served up in invitingly voluptuous glasses which are just as miniature as the venue itself, these little drinks pack a punch – but your palate will thank you! (Insider tip; don't overlook the delicious Limoncello hidden behind the bar. It's some of the best you'll find anywhere!)
07860 945018
Bar Américain at Brasserie Zédel
20 Sherwood Street, Soho, W1F 7ED
The celebrated Parisian-style Brasserie Zédel occupies a prime position on the very cusp of Soho and Piccadilly and is the go-to for authentic French cuisine in the heart of London.
A little exploration of this rambling building will take you downstairs and simultaneously transport you back to America and the glorious Roaring Twenties, courtesy of the impressive Bar Américain (in case you hadn't guessed the theme of the bar from the subtle title …)
This place hearkens back to a bygone age of flappers, jazz and outrageous Art Deco interiors, in the most sophisticated of ways. The incredible backlit bar boasts every kind of spirit imaginable, whilst aeroplane wallpaper and velvet-upholstered seating create a truly sumptuous setting. Bar Américain oozes class from every pore, and this is nowhere better reflected than in its cocktail menu, which concentrates on making the most of classic ingredients and recipes. Expect Gimlets and Daquiris alongside a whole lotta vermouth … our favourite was the Zédel Sour, a twist on the traditional sour recipe using gin and sherry alongside the usual egg white and bitters.
www.brasseriezedel.com/bar-americain
020 7734 4888 
Oriole
East Poultry Avenue, Smithfield Market, EC1A 9LH
Last, but by no means least, we have Oriole – and you'd be forgiven for having sky-high expectations for this one. It's the sister bar to none other than Nightjar, and after exploding onto the London cocktail scene in 2015, has proceeded to live up to the family name in high style.
Another unassuming entrance leads you down the stairwell into what can only be described as a sumptuous tropical paradise, with a jungle mural lining the walls and cabinets full of … well, tribal masks and stuff. It's glorious, theatrical, completely enchanting – and that's before you've even ordered your drink!
Expect the same level of detail and flamboyant presentation that you'd find at Nightjar (drink out of a leather pouch, anyone? Or perhaps a grasshopper garnish?), and again we're pleased to report that there's no compromise on taste in the pursuit of a good show. The menu is divided into New World, Old World and the Orient, in tandem with the bar's explorational theme – the Skyefall is one to try, a pungent blend of 10 YO Talisker with birch spirit, espresso syrup and clarified octopus milk (yes, you read that right).
Entertainment-wise, there's regular live jazz music á la Nightjar … but if you're so inclined when you leave, Oriole is also just a stone's throw from Fabric. Do with that what you will.
020 3457 8099