We recently posted about the property in red wine that can help your skin look younger: resveratrol. In this article,  Meighan Sembrano recommends some of the best wine-based beauty products on the market that use resveratrol as a key ingredient…
Every now-and-then, a particular substance becomes a "buzz word" around the entire world, especially in the health and beauty industry. Wine is a topic that has gained a lot of attention recently, primarily due to a specific ingredient found in it, known as resveratrol. Resveratrol is considered to be one of the top antioxidants in existence and has been linked to a significant number of health benefits, as well as beauty benefits. The benefits of resveratrol as an antioxidant can be achieved both through consuming foods and drinks that contain resveratrol, as well as by utilizing beauty creams, serums, tonics, toners and other products that contain resveratrol as an active ingredient. One study[1] explains that resveratrol can protect the skin against oxidative stress, and to address damage dealt to the surface by ultraviolet exposure. These benefits contribute to improvements in age-related skin symptoms and can help to provide you with glowing, younger-looking skin. It's not just all about the skin though; drinking a small glass of red wine every night may help to reduce the risk of developing cardiovascular disease as red wine in small doses can help thin the blood. It can also contribute to better cholesterol levels.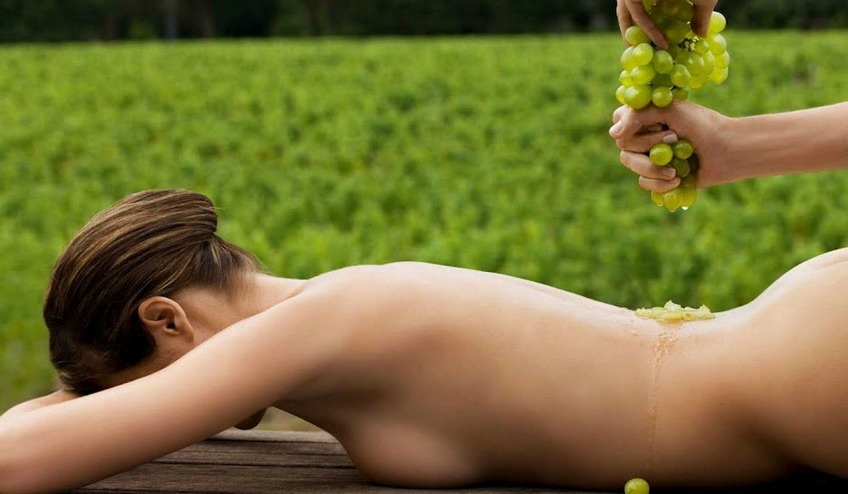 Photo credit: Les Sources de Caudalie
Which face creams contain resveratrol?
Drinking red wine is the most popular way to include resveratrol in your daily routine, but the substance can be extracted and placed in specific skin care products too. However, just as too much red wine will soon start to give adverse effects, so can too much resveratrol. Opt for a product that is manufactured by a trusted brand in the skincare industry and ideally a product backed by positive customer reviews. Let's look at the best resveratrol beauty products you can use to include the benefits of red wine in your daily beauty routine:
1) First on our list is Swanson's Resveratrol Wrinkle Cream. As the name suggests, this cream is primarily based on resveratrol, the most potent antioxidant found in red wine. Swanson is a trusted brand in the skincare industry. In addition to delivering a potent dose of resveratrol, this product also includes a hyaluronic acid to assist with further addressing reductions in elasticity, as well as to treat wrinkles and fine lines more efficiently.
2) Caudalie Lift & Firm, 3D Resculpting Serum is a highly rated favourite from the Caudalie range, which specialises in products that use ingredients from grapes. It's a powerful serum that plumps up the skin using resveratrol as a key ingredient. Caudalie has its own wine spa in Bordeaux, if you really want to get under the skin of these products!
3) Vine Vera is a premium brand of beauty and skincare product that produces a wide range of items to help address common skin-related issues, including signs of aging. The Vine Vera Resveratrol Vitamin C Cleanser is a daily facial cleanser that combines the antioxidant power of both vitamin C and resveratrol to combat common signs of ageing, while gently cleansing the face and lifting away dirt, dead skin cells and oil build-up on the skin.
4) Ebanel Advanced 2.5% Retinol Stem Cell Moisturizer is a multi-action beauty product that uses resveratrol, along with hyaluronic acid, an exclusive peptide complex, extracts of plant-based stem cells, retinol and vitamin E, to deliver compelling benefits to the user. The moisturizer helps to address signs of aging, while also reducing the appearance of acne scars at the same time.
5) Beauticontrol BC Facial Reviving Duo is great if you are looking for a value product to help you address oxidative stress and ultraviolet exposure. The Beauticontrol BC Facial Reviving Duo includes both a gentle skin purifying toner and a tonic – the combination features sulfate-free formulas, and will not cause irritation or harm to the skin. In addition to the inclusion of encapsulated resveratrol extracts, this duo also utilizes chamomile extracts, lavender extracts, sodium hyaluronate, and more.
6) 2.5% Retinol Cream Facial Moisturizer The final product on our list is a 2.5% Retinol Cream Facial Moisturizer. This facial moisturizer comes at an affordable price and includes a wide range of ingredients in its formula that has been scientifically-proven to deliver impressive benefits to the skin. Components include resveratrol, retinol, green tea extracts, vitamin C, hyaluronic acid and shea butter extracts.
These beauty products can help to address problems such as wrinkles, a loss of elasticity, baggy eyes and more. If you are not sure how to start including resveratrol in your beauty routine, then consider giving one of the wine-based beauty products we introduced you to in this article a try.
Like this article and want to DRINK some of this miracle product? There's nothing like red Bordeaux to give you your resveratrol fix, so why not try a tour of classified growths in the Médoc? You could even stay at Les Sources de Caudalie and try the products while you're in Bordeaux!
*Reference