California's Santa Barbara region is one of Winerist's Top 10 Travel Destinations for 2020.
The Californian town of Santa Barbara occupies a gorgeous stretch of America's West Coast, occupying a perfect spot between the Santa Ynez Mountains and the Pacific Ocean. A dream combination of consistently gorgeous weather, beautiful white beaches and iconic Spanish-style architecture mean that the region is known by many as 'the American Riviera'.  It is a year-round hotspot for tourists from all around the globe, who are attracted by the incredible food and wine scene, exciting arts and culture, and of course the stunning Stateside scenery.
As a result, there are so many things to see and do in Santa Barbara that it can sometimes feel a little overwhelming trying to figure out where to begin. To make your life a little bit easier, we've come up with our shortlist of 5 things you must do in Santa Barbara to help get your trip started!
Drive the Pacific Coast Highway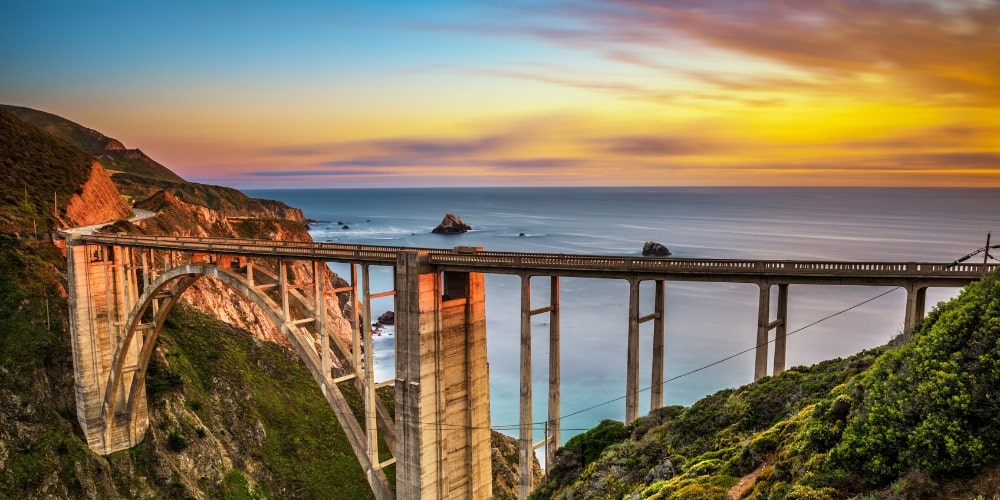 One of the best parts about Santa Barbara is its location. The area is within easy reach of both San Francisco (5 hours by car) and Los Angeles (2 hours by car) making this a perfect location for a drive to remember. A journey to Santa Barbara will take you down one of America's most iconic highways, Highway 1 (also known as the Pacific Coast Highway) which merges with Highway 101 and skirts along the Pacific Coast … hence the name! The Californian coastline offers plenty of incredible vistas along the way, so it's worth factoring in time for regular pit stops to take in your surroundings. There are plenty of pretty places to stop along the way and admire the scenery … if you're really lucky you might even catch a glimpse of a whale or two playing in the ocean.
Dine out in Santa Barbara style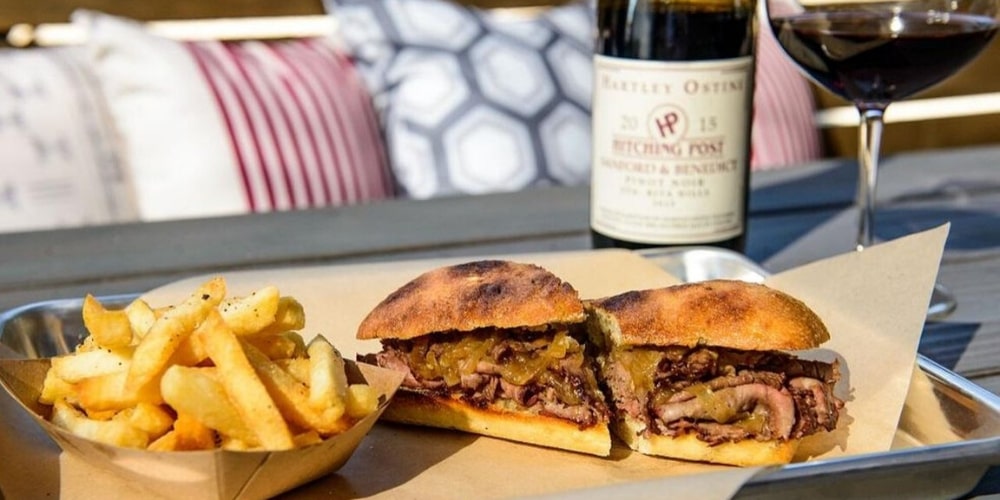 Picture credit: Forbes
As with any tourist hotspot, there are more than enough restaurants to choose from in Santa Barbara, with all different types of cuisine, from local to French to Asian and many more available. However, the Santa Barbara food scene has developed enormously in recent years to become one of the most exciting and interesting food destinations in California.
One of the most iconic spots in the area is the Hitching Post II restaurant, made famous by the cult classic wine film 'Sideways'. The Hitching Post II sits a short drive outside of Santa Barbara in the town of Buellton and claims to serve the world's best BBQ steaks! Although we'll leave that judgement up to you, its wine list received a Wine Spectator Award of Excellence in 2018, showing that this destination is not simply style over substance. The list in question includes the restaurant's own Hitching Post Wines and specially selected Santa Barbara County wines which are the place's specialisation, but also fine wines from all around the world.
You must also make 'The Funk Zone' a destination for food and wine (and shopping, for that matter!) Located off Highway 101, steps from the beach and opposite the Amtrak station, this trendy district is THE place to eat, taste wine, shop and generally, be seen. Other great food destinations include Tyger Tyger, which serves up exciting Asian cuisine, Arigato for awesome sushi, Santa Barbara institution Brophy Bros. Clam Bar and fabulous fine dining at Bouchon.
Enjoy your very own 'Sideways' wine adventure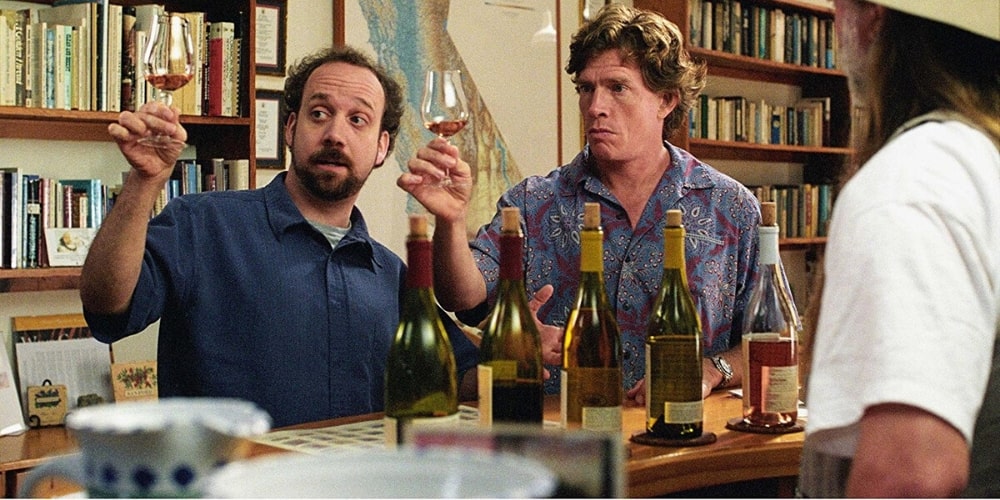 Picture credit: Snowcat Cinema
Speaking of wine, you simply cannot see the best Santa Barbara without exploring some of its many wonderful wineries. The wine industry here was thrown into the spotlight in 2004 by the film 'Sideways' which was filmed almost completely on location in Santa Barbara wine country, and the popularity of Santa Barbara's wines has been growing exponentially ever since! There are roughly 200 wineries in the area, so you are spoiled for choice – from smaller producers who are creating world class, boutique wines, to bigger names with global reputations, there is a wine experience for everyone in Santa Barbara. Here are a few of our favourites: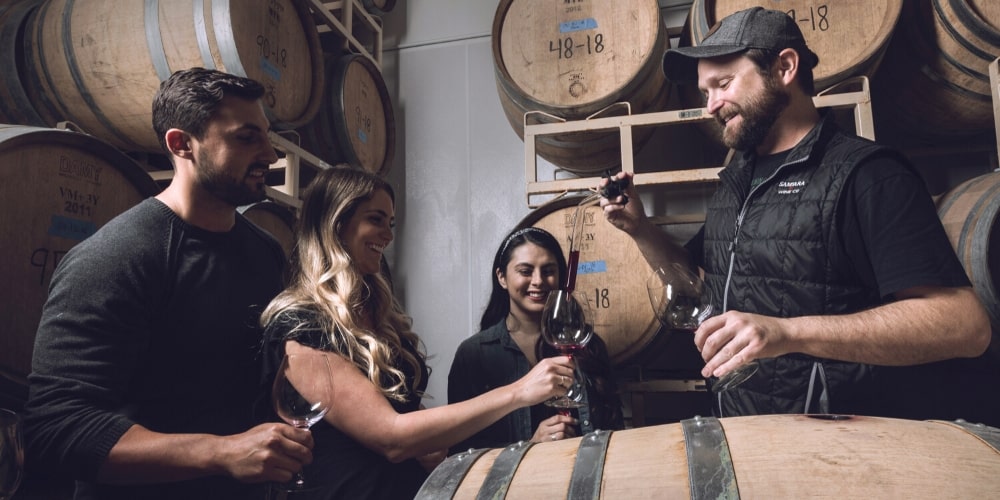 Picture credit: SAMsARA Wine Co
Discover SAMsARA Wine Co. in Santa Barbara, one of California's most beautiful and exciting viticultural regions. SAMsARA produces limited releases of Pinot Noir, Syrah, and Grenache from carefully selected micro-sites within Sta. Rita Hill's most distinctive vineyards. The resulting wines are an elegant interpretation of the delicate balance between the power of nature and the earth, and a human desire for perfection. Owners Dave and Joan Szkutak help guide SAMsARA as vintners and work closely with winemaker Matt Brady, supporting his creative decisions in both the vineyard and the cellar.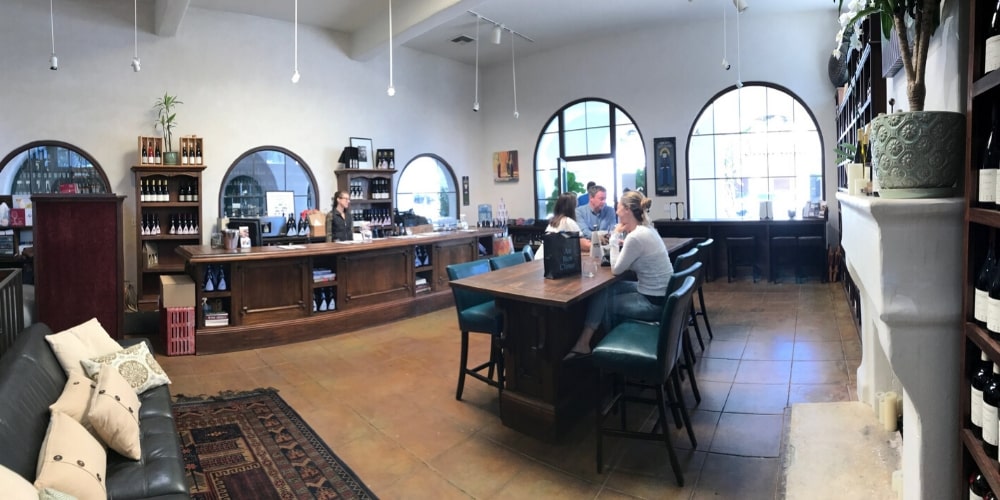 Picture credit: Presidio Neighborhood
Sourcing fruit from several of the most highly regarded vineyards in the Central Coast, the owner Jim Clendenen takes special care in choosing the best quality ingredients for Au Bon Climat's wines, which are gaining a worldwide reputation for excellence. The winery has cultivated an international following of passionate wine lovers thanks to the quality of fits Pinot Noir, Chardonnay, Pinot Blanc and Pinot Gris. A visit to the winery's tasting room will reveal a choice of over 100 different wines to taste, in a warm and casual setting.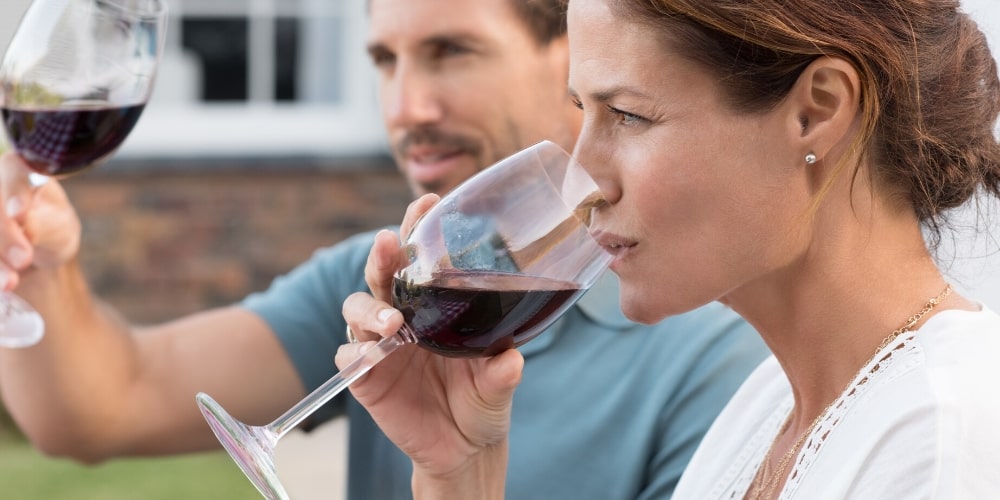 Nestled in a viticultural 'sweet spot' which enjoys balmy warm days and brisk coastal evenings, the Firestone Winery is one of Santa Barbara's original and best wineries and has been in operation since 1972. The region's climate is ideal for grape growing and allows the winery to produce many different grape varieties such as Cabernet Sauvignon, Malbec, Merlot, Riesling, Chardonnay and Gewürztraminer … to name but a few. The winery tasting room overlooks the beautiful rolling estate vineyards, which you can wander through on a guided tour.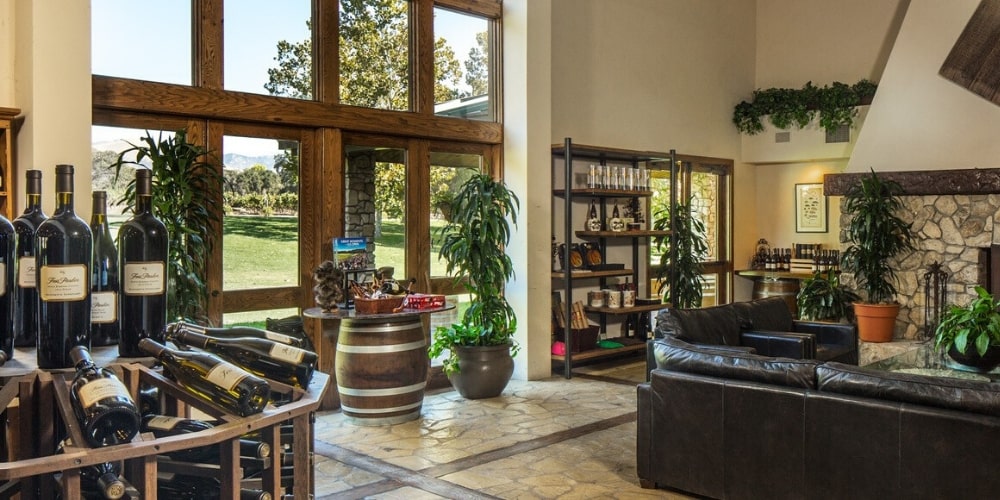 Picture credit: Fess Parker Winery
Originally purchased with the intent of simply owning some cattle and planting a few grapes, Fess Parker Winery has become a thriving family-owned business producing award-winning wines from Rhône Valley and Burgundian grape varietals. The winery sits in the heart of California's Sta. Rita Hills AVA, a beautiful setting for a simple wine tasting in the sun or one of the 'enhanced' wine tasting that Fess Parker Winery offers … they also offer Wine Country Cabins for overnight stays amongst the vines, a wine shop, and numerous events such as curated sommelier tastings and wine release BBQs!
Take a stroll down Cabrillo Boulevard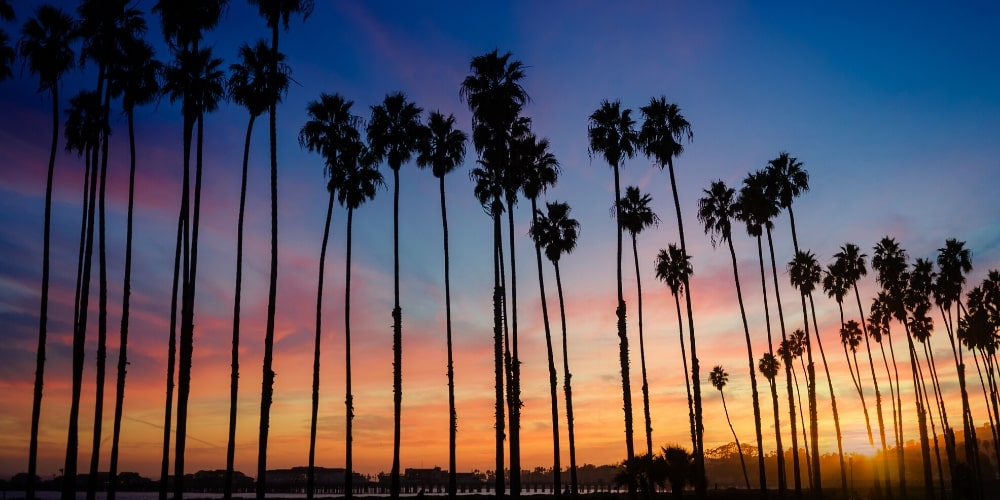 The pedestrian equivalent to the Pacific Coast Highway (well, almost), Cabrillo Boulevard is a beautiful street to meander down. Bordered by palm trees and populated by joggers, roller-bladers, and happy tourists enjoying the seaside air, the path is perfect for a stroll following lunch or cocktails at one of the many beachside bars and restaurants. The Cabrillo Boulevard Bike Path is one of Santa Barbara's most popular cycle trails – while away a leisurely afternoon cycling the 5-mile route which takes in some of the Santa Barbara coast's most lovely sights, including several pristine beaches and the beautiful Santa Barbara Cemetery.
Visit the Santa Barbara County Courthouse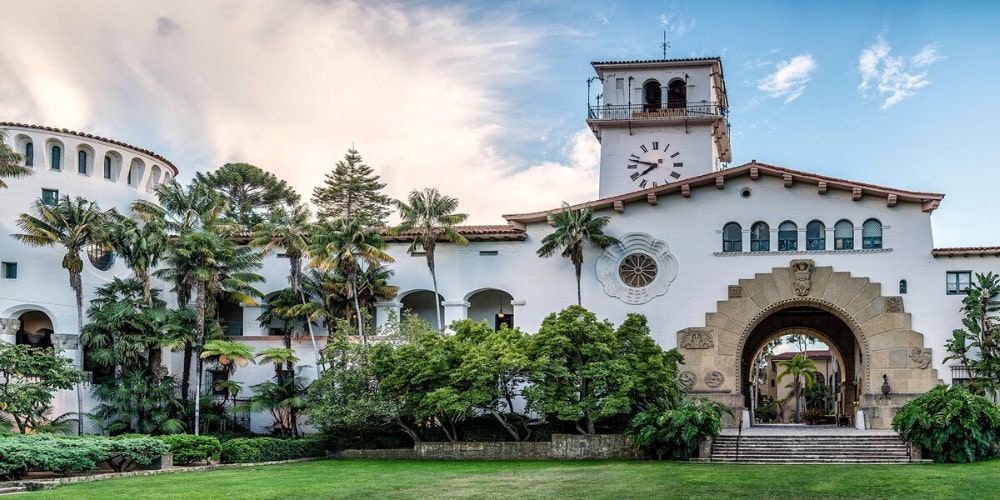 Picture credit: Santa Barbara County Courthouse
No guide to Santa Barbara would be complete without mentioning the Santa Barbara County Courthouse, quite simply one of the most special attractions in all Santa Barbara. Built in 1929, the courthouse sits in downtown Santa Barbara and is described by some as the 'grandest Spanish Colonial Revival structure ever built'. The building is a beautiful example of Santa Barbara's iconic Spanish-Colonial architectural style at its best, with an impressive clock tower and meticulously sculpted sunken gardens dotted with palm trees. The courthouse opens daily and free tours operate throughout the week for those wishing to learn more about this gorgeous historical landmark.
To book your very own visit to Santa Barbara, contact Winerist today via our bespoke booking form. 
Find out more about why Santa Barbara should be top of your travel list with Winerist's 7 Reasons to Visit Santa Barbara in 2020, or click here to find out about how Winerist CEO Diana Isac got on when she visited the area in 2019.