When you travel through Sicily, chances are that you come across some palmento, but what is a palmento? In a not so far past, it was a cellar; a place built in black lava stone basins where the grapes were crushed and processed to make wine and store it. Its characteristic and unusual structure consists of 3 or 4 rooms on different levels to exploit the gravity which lets the must flow into large tanks where it is fermented. The size of the building is usually large, but depends on the quantity of grapes being processed. Later the wine is put for aging in big barrels.
In Sicily, these buildings are still quite common, whether in the countryside or in the rural villages: however, due to the current EU laws they are no longer allowed to make wine, so their owners are turning them in some more modern businesses… So, below I would like to propose some experiences I have been lucky to experience which also are examples of what you can currently find in an old palmento.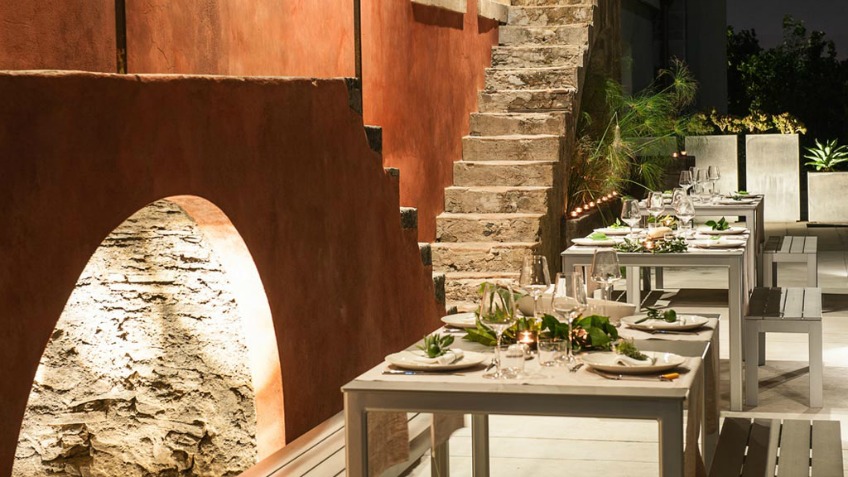 Photo:Zash.it
1) A Stylish Restaurant
Located in the village of Riposto, there is a lovely place to rest and enjoy the renowned Etna area with its vineyards, and citrus and lemon groves: a farm holiday managed by the Maugeri family. The sea is not far from here, so sometimes you can feel the cooling breeze blowing in the leaves of the fruit trees in the garden: zaaasshhh! A musical sound, perfect also as a name of the farm holiday itself.
Here there is also an old palmento carefully renovated which has become an intimate yet classy restaurant. In the entrance of the former winery you can relax and have an aperitif or a cocktail. In the past the wine would have been fermenting, but today you can enjoy the delicious local food and wines in a really charming atmosphere. An experience not to be missed. (Zash – Strada Provinciale 2/I-II n.60, 95018 Archi – Riposto – CT)
---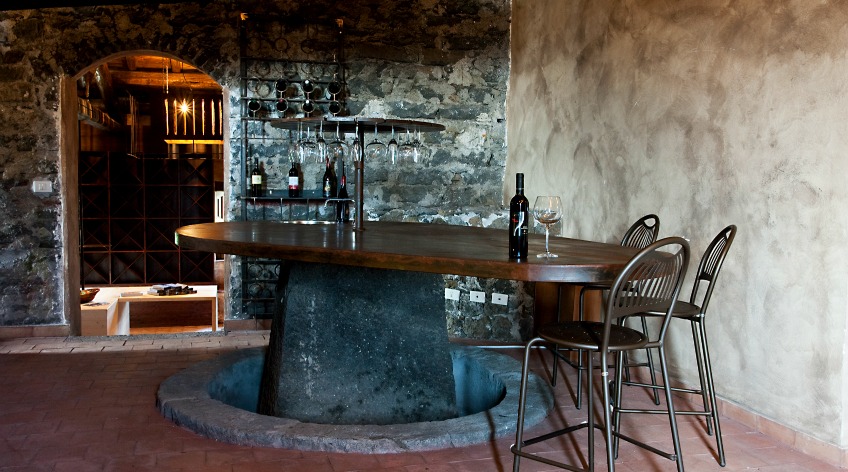 2) A Tasting Room
In the last years the Etna DOC reds (from grapes Nerello Mascalese and Nerello Cappuccio) and the whites (from Catarratto and Carricante) are getting more and more appreciated and in great demand in all over the world, and it's getting easier ever before to find a bottle in wines bar in London or New York: however, personally I cannot imagine a better place to taste an Etna wine than in palmento, and this is exactly what you can do if you go in Ragalna, at the headquarter of Strada del Vino dell'Etna (Etna Wine Road Association).
In the former Palmento "Arena" recently restored, the association in charge of promoting the wines and the hospitality of the region has also officially opened an enoteca. Here you can find information about the territory and its products and, most importantly, you can taste glasses of wine and receive all the suggestions you need to choose a good bottle. (Strada del Vino dell'Etna, via Paternò, n.30, Ragalna, Catania)
---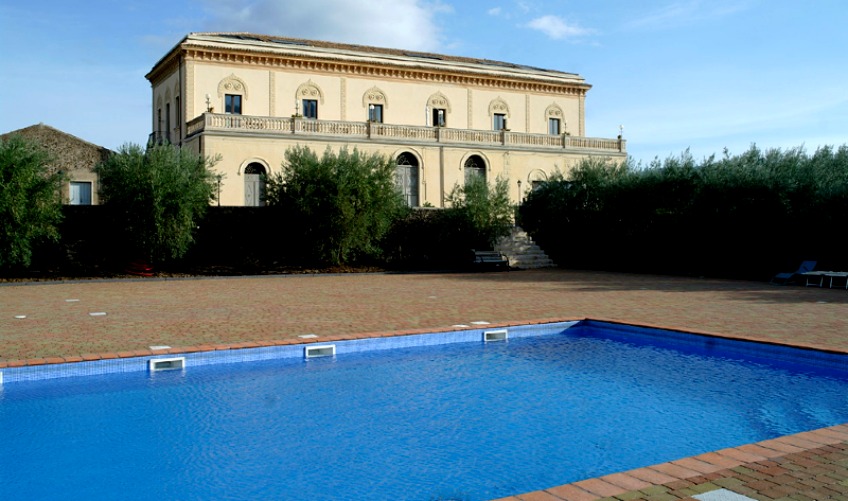 3) A Museum
Interested in delving deeper into palmenti? After visiting the first 2 or 3 palmenti I was too. In the Etna region, and almost everywhere in Sicily, there are dozens of palmenti, but only a few of them are worth visiting. One of these is the educational Feudo Vagliasindi, an amazing hotel and restaurant placed in a manor surrounded by vineyards. Not far from the small village of Randazzo, this 10th century manor house of an old agricultural enterprise shows a fine liberty style design. From its elegant terrace you can have a gorgeous view of vineyards, olive oil trees and citrus; furthermore, the hotel still owns a farm with 10 hectares used mostly to cultivate organic olives (to produce an oil of high-quality) and a vineyard that produces Nerello Mascalese, bottled with the Etna DOC. The ancient palmento (perfectly restored) is an inbuilt part of the whole structure and is used for educational purpose, to explain to the visitors how the wine was made in the old times (Feudo Vagliasindi, Strada Provinciale 89, Randazzo, Catania)
---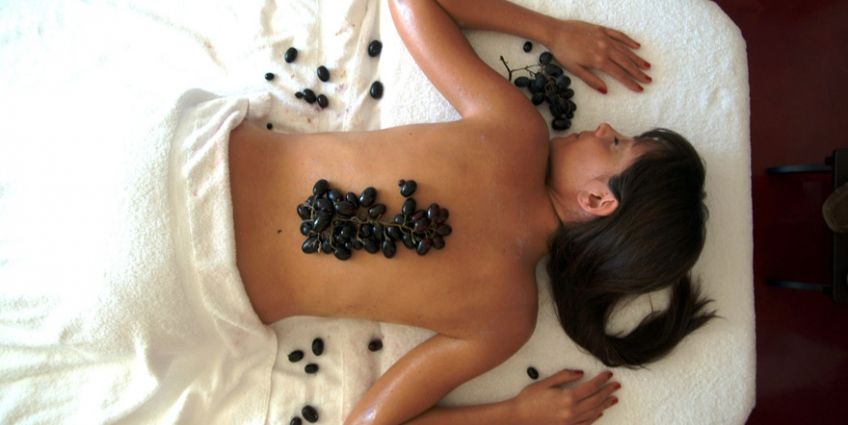 4) A Turkish Bath
Nowadays tourists expect more wherever they go, so hotels and farm holidays are more and more committed to offering the best service they can. It's quite common to find a hotel with a Spa offering wine therapies… but it's pretty unusual to live an experience like that in a vat for fermentation! Yet it's what you can have in the small and charming Shalai Resort, in Linguaglossa downtown. The setting – a dwelling of 800th century – is very romantic, and the restaurant is well known as well (the breakfast with fresh, homemade cakes and marzipan cookies was among the best I never had in Sicily). The interiors of the hotel show a really elegant and modern design, however some structures in the wellness centre are undoubtedly a part of a palmento; in fact, the vat where in the past the grapes were fermenting are now the room where you can have a relaxing steam bath. (Shalai Resort, Via Guglielmo Marconi, 25, 95015 Linguaglossa, Catania)
---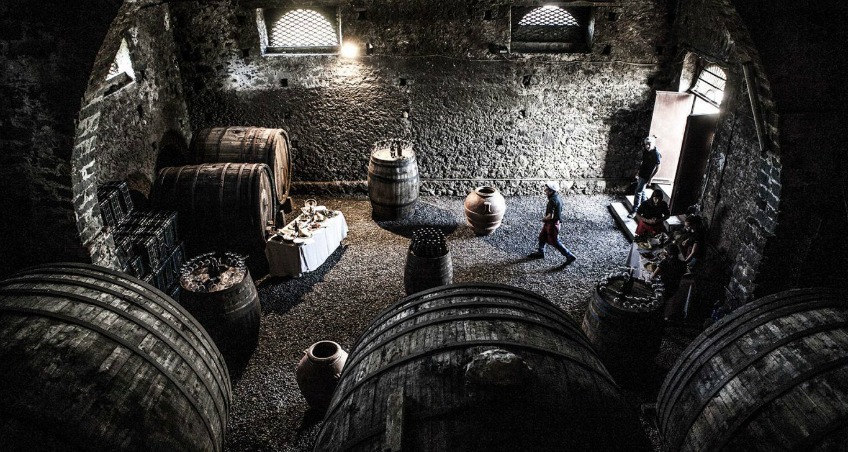 Photo:Palmentosantospirito.com
5) A Winery
Last but not least, let's go back to basics: the palmento was made for wine and luckily more than one producer is still utilising it in this way. Some I could mention are Fabio Costantino and his winery Terra Costantino, or Mimmo Costanzo, owner of a winery called Palmento Santo Spirito; thanks to wine producers like them, the ancient tradition of the most authentic Sicilian palmento will never die. (Terra Costantino, Via Garibaldi 417 95029 Viagrande, Catania; Palmento Santo Spirito, Contrada Santo Spirito, Passopisciaro, Catania)
---
Discover more of Sicily today!