As National BBQ Week gets underway (you did know it was happening, right?), we get the lowdown from Jac Chandler about the meat smoking craze that's sweeping the US and the UK. Here, Jac gives us his simple secrets for smoking meat on your own barbecue and tips on what to pair with different types of wood…
Woods are not just for campfires anymore. Wood is flavor and we are going to exploit it! Yes! Yes, we are. Here are five our our secrets to the perfect smoke for your barbecue:
1: A very simple method for smoking with different woods is the lighter the wood, the lighter the flavor. This is true for most woods. So I use that as the guideline to pairing Food, Wine, Grilling and Smoking.
2: If you're using coals, chunks or logs, get a good bed of heat in place before adding your flavor woods.
3: If you're going for a long smoke, keep temperature adjusted to around 200-225 degrees.
4: For shorter smoking and flavoring (perfect for packets like ours), we like around 350-375 degrees.
5: It is easy to over-flavor with smoke woods alone, giving you a strong and bitter flavor, so make sure you use products specially designed for this purpose.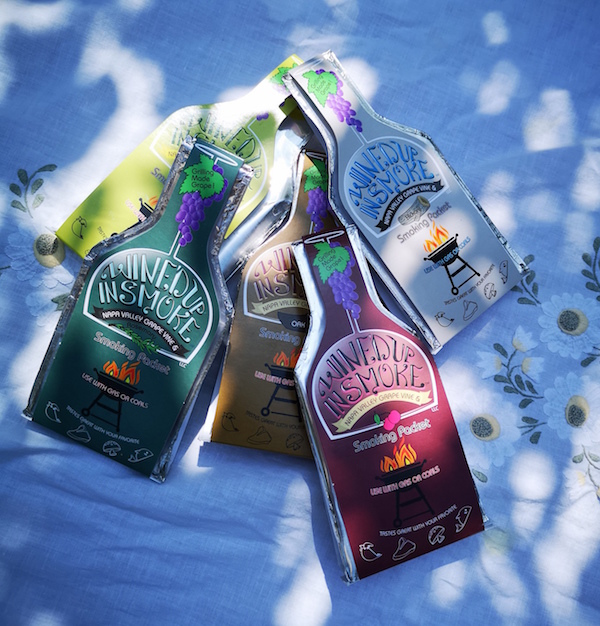 At Wine'd Up In Smoke, we believe grilling should be a fun, casual and entertaining event, which is why along with fantastic flavors, we bring the aromas of "grapes" too. The vine and wood blends we have paired take the guesswork out of grilling and smoke wood pairing. What we're after is a sweet and smoky flavor that pairs seamlessly with food and wines. Here are our favourite types of wood for smoking and some tips for food and wine pairings:
Apple Wood: Sweet & Fragrant (try our Vine and Apple packets)
Wine pairing: Apple is a lighter flavor so pairing this to wines you should think of the lighter and the whiter side of the wine spectrum such as Chardonnay or Riesling, or even and moving into the lighter side of blush (rosé) wines as well.
Food pairing: All seafood and fish smoke well with our Apple Blend. Chicken and pork do as well. We also pair this with most vegetables so the light flavors of the vegetables are not hidden.
Cherry Wood: Sweet, fruity and pleasant (Try our Vine and Cherry packets)
Wine pairing: Open up your wine cabinet a little further as this pair well with richer blush wines (rosé), light Pinot Noirs and heavier Chardonnays.
Food Pairing: Great for steaks, chicken and with stronger flavored seafood. What about cheese, you might ask? We say YES to smoked cheese. For cheese, turn up the flame under the packet onlyand when it starts to smoke, add your cheese to the grill, smoke it for 5 to 8 minutes then cool. It's delicious served with fruit.
Oak Wood: Quite a few shades stronger in flavor. One of the better-known woods for smoking. Careful, too much and your food will get a bit bitter. (Try our Vine and Oak packet)
Wine pairing: Open the door to your entire wine cabinet for this one! Start with a light white or red and take it all the way to a heavy Zinfandel or Cabernet. In our packet, we have blended oak with Zinfandel vine to give a deep, sweet and crisp flavor profile. It has just enough of the musky vine flavor to accent all grilling.
Food pairing: Steak and all types of beef, chicken, pork chops, pork ribs. Some of the heavier flavored seafood like Sea Bass or Mahi Mahi. I like to smoke open oysters with this as well.
Hickory Wood: This wood says, "Hey I`m grilling with flavor over here!" And it means it. Stronger than oak flavor so just as above, be careful, too much and your food will get a bit bitter. (Try our Vine and Hickory packet)
Wine pairing: Cast all reservations aside! This wood goes "grape" with everything in a bottle (beverage-wise that is) Beer and wine galore!
Food pairing: All types of steak, chicken, dry rubbed pork ribs are a must as are mushrooms. Hickory is perfect for smoking mushrooms of all kinds.
Rosemary Wood:  OK, so it can be a tree if you train it to be one. Rosemary is one of nature's best flavor profiles and can be used as a very heavy accent or just to add a subtle touch of flavor. (Try our Vine and Rosemary packet).
Wine pairing: Move away from the Chardonnay and bring on the Zinfandels, Cabernets, full-bodied Reds and Ports.
Food pairing: Rosemary loves Pork! All kinds of pork. Also, lamb rubbed with garlic, black pepper and kosher salt, Oh Man! And Portobello mushrooms? You have just met your match made in Heaven. Great with all types of steak, chicken and vegetables.
You can see more about Jac's wood smoking product on his website here. If talking of meat has given you the urge to seek out some Aregnitian food, then take a look at this article here and this one, for wines from Cahors that will go with them!