Cocktails are great.  Picnics are great. And yet cocktails at a picnic are often a faff.  When I lived overlooking a park in Edinburgh, I didn't mind running downstairs with all the gear I needed for the juicing, the measuring and the shaking in an old doctor's bag.  A picnic in London comes with its own logistical challenges, and by the time you've fought for a free patch of grass in Regent's Park, the chances are you bag of ice is going to be a sloppy wet mess, and any bespoke drinks will end up over-diluted and lacking a certain something.
Fortunately, the world of ready to drink cocktails has come on apace in the last few years and is no longer the reserve of super sweet and sickly supermarket concoctions. Big names from the UK bar scene and some specialist producers have begun using local, natural ingredients, small-batch infusions and a dash of ingenuity to create one-stop shops of cocktail delight that will fit into you bottle carriers.
So which cocktails deserve a space in your cool bag this summer? Here are our top 5: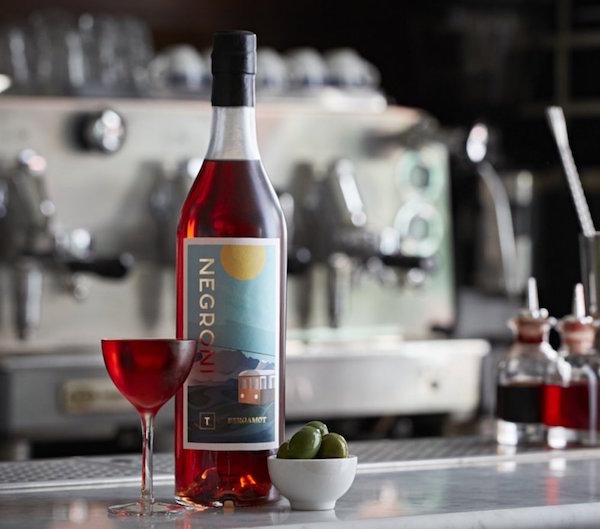 Mr Lyan – Diamond Rickey, £23.95
Fresh, citric and well-balanced. It's everything a summer drink should be, and exactly what you would expect from Ryan Chetiyawardana: the brains behind award-winning bars Dandelyan and White Lyan.
The Diamond Rickey is a blend of Mr Lyan's house gin, lime and almond liqueur and a grapefruit distillate. It can be drunk ice cold and straight up or forms the base of an excellent long drink if mixed with tonic water or Prosecco and served over ice.
The Mr Lyan range also includes the Spotless Martini, Rainy Day Spritz and the excellent after-dinner Bonfire Old Fashioned and Candlelit Manhattan, but the Diamond Rickey is my best friend for a summer picnic.
Find it here.
Finnieston Distillery Company – Finnieston Fling, £2.74
A super-refreshing combination of blended scotch whisky, ginger ale, citrus and mint, this little can of happiness comes from a cheeky little whisky company that's trying to do things differently. The Finnieston Distillery Company started producing its premixed whisky cocktails in June 2017 and has already seen them win awards for innovation in the adult drinks industry.
The range also includes Shanghai Sour (whisky with lemon, and lapsang honey), an Old Fashioned with green tea and Scotch on the Beach (with ginger beer, strawberry and vanilla), but none of these are as picnic-perfect as the Finnieston Fling.
Find it here.
Longflint Drinks Co – Grapefruit, Sour Cherry & Mezcal Paloma, £3.50
Another new entrant to the ready to drink cocktails business, Longflint partners with London's top independent distilleries, adds handmade tonics, seltzers or sodas and bottles them up into little crown capped containers of fizzy loveliness.  Each bottle features a beautiful, tactile, label designed by an up and coming artist or graphic designer, and I love the look and feel of these bottles in my hand almost as much as I love the concoctions inside.
There's a wide range of flavours available, but my current favourite is the sharp, smoky sherbet of their paloma variant made with QuiQuiRiQui mezcal, cold-pressed grapefruit juice, thyme and rosemary.
Find it here.
Mac & Wild – The Auld Pal, 50cl, £29.96
Scottish venison-monger Mac and Wild is well known for its Instagram worthy veni-moo burger, but did you know they also sell a range of their house cocktails by the bottle?  Well they do, and each one is handmade by top Edinburgh mixologist Luke Leiper. The entire range is inspired by the Scottish landscape and culture, and feature quality whiskies and spirits infused with locally sourced herbs and botanicals.
The Auld Pal features whisky, vermouth, Suze, dandelion & burdock bitters, chamomile and gorse, so it's fair to say it will bring the taste of a Scottish meadow to your picnic.  Other summery options include Tam's Tears (gin, peach, sherry, lemon verbena and wild nettle) or the Bonnie Brae (whisky, vermouth, rowan berries, lime, rhubarb and agave).
Of course, if you want to bring a real Scottish twist to your picnic, why not go all out for the recently launched Forth Bridge, with vodka, Irn Bru liqueur, Irn Bru reduction, Angostura bitters, lemon & rust (allegedly).
Find it here.