On a day-to-day basis, it's easy to overlook how often the lemon comes to our rescue. We cook with it, drink with it, clean with it, and draw inspiration from its cheery shade of shocking yellow. So it should come as no surprise that the acidic hero has finally been ordained with National Lemon Juice Day in the US and it's today! August 29th. Here are five standout cocktails that will have you puckering your lips and saying "ahhh!" to celebrate with a proper twist.
Champagne is typically associated with celebration, but sometimes it can feel a little… lackluster. It's only one ingredient, after all! So if you're looking to elevate your sense of luxury, lemon juice comes to the rescue with this boozy but elegant concoction. Gin acts as the botanical base and bursts with hints of floral as the lemon juice is mixed in. Shake this up with a dash of simple syrup for a bite of sweetness and top with your favorite champagne or sparkling wine for a drink that'll have you buzzin' with extravagance.
Find the recipe here.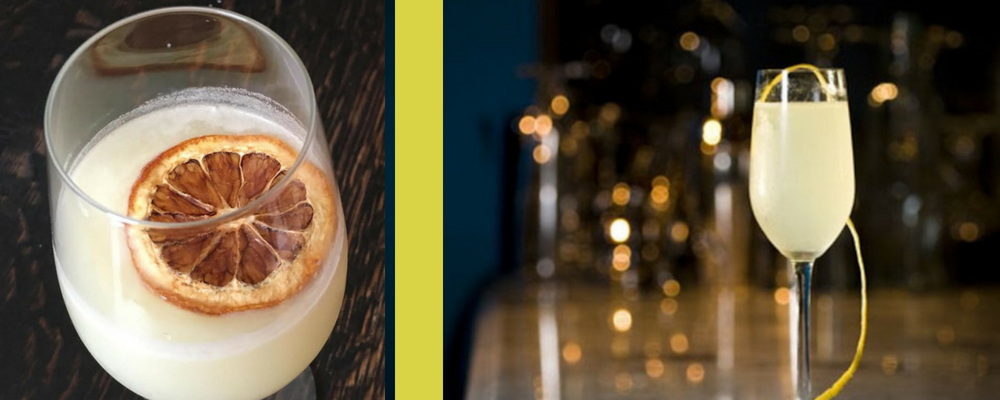 The most common verb to be associated with a lemon is "drop," but what about when your group of friends from college have grown up and can't imagine slamming another lemon drop at the bar? Let's make it a smack. A Lemon Smack appreciates every component the vibrant sour fruit, mixing vodka with a hint of lemon juice and limoncello for a mature twist. Throw in a scoop of lemon curd, a bit of simple syrup, a splash of classic lemon Italian soda, and you've got yourself a monument worthy of worship for all things lemon.
Find the recipe here.

This drink just makes sense. Lavender alleviates stress; delicious cocktails keep you calm; lemons are aromatic and, y'know, you use that warm lemon-spritzed towel on your face after yoga. Surely there's a connection! When it comes to dried lavender, you're going to want to include this simple syrup in everything from breakfast to happy hour. By muddling the lemon and releasing its peak flavor components hidden in the fragrant peel, you're going to wish National Lemon Juice Day happened once a week.
Find the recipe here.
A pitcher of grandma's Arnold Palmers never packed a punch quite like this. Taking all of the nostalgia from childhood summers and blending it with the strength of rum, you're bound to embrace every ounce of lemon you might have found picking from the trees that grew in her backyard. With a simple sweetness mixed into the tea with real sugar, this concoction is bound to be hotter than a Texas summer at your next BBQ. Just don't tell the guests it's not actually your juicy little family recipe.
Find the recipe here.
Oh, honey. Why does the healing combo of lemon and honey have to be saved only for when you're feeling under the weather? (Perhaps also hidden in a hot toddy in the winter. For health reasons, of course.) With this updated take on a classic prohibition cocktail, you'll be wanting to pour this into a tub for the biggest batch rather than into a cocktail shaker. You're a busy bee – you might as well act like it and indulge in the theme. The tartness from the freshly squeezed lemon combined with the richness of the honey leaves every taste bud tickled in delight. Save the bees and the bees will save you.
Find the recipe here.
Are cocktails your thing? Check out our other pieces on Whiskey Sour cocktail recipes or find some of the best rums now on the market. Or if it's a spirits tour you're after, check out our new whisky drinking tasting trips to Scotland!