From Bram Stoker's original novel and the countless film adaptations that have followed to the ubiquitous capes and fangs that haunt the streets during Halloween, vampires and the name of Dracula have become universal.
Transylvania, Romania, has long since been famed as the home of Dracula, and, as any wine lover will know, Romania is also a renowned wine region… (you see where we're going here).
With Halloween fast approaching, Winerist is anticipating this spooky holiday with a special Romanian wine party: our fantastic Dracula Halloween Wine Tour offers the perfect excuse for Halloween-lovers and wine-enthusiasts everywhere to mix their passions.
This 4-day tour allows you to explore Romania, discover the vineyards, make your own wine blend, enjoy a fancy-dress Halloween party and visit the places that gave birth to the Dracula legend. Usually priced at a scary €666, we're offering a special 10% discount making it just €600 for this unforgettable Dracula tour.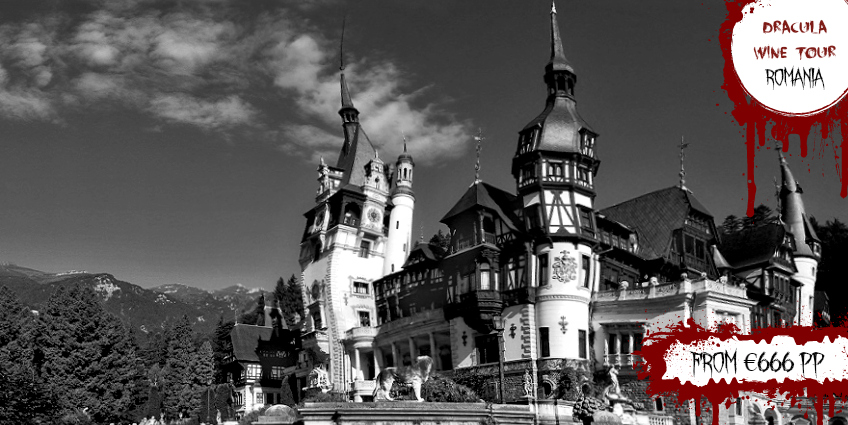 So now that you know what you're doing for Halloween, it's time to find out about the man who became a legend with our 5 killer facts.
1. Who is Dracula?
Dracula may have made his name in fiction, but his real-life inspiration was Vlad III, a 15th century Prince of Wallachia (based in modern-day Romania). Vlad earned the posthumous nickname, Vlad the Impaler, thanks to his not-so-hospitable behaviour of inviting dinner guests to a feast and then impaling them at the dining table. He would then enjoy his own dinner with the bodies still impaled. (There won't be any of this during our Dracula tour…)
2. Did Vlad drink blood?
While Vlad the Impaler wasn't sneaking out of a coffin each night to drain blood from the necks of his victims, rumour has it that he did have a taste for blood. After he had impaled his dinner guests, he would then dip bread into buckets of blood which had been collected from the victims. I think we'll stick to red wine…
3. Where does the name Dracula come from?
The name Dracula wasn't made up by Bram Stoker; it was Vlad's family name. Originally believed to mean "dragon" stemming from the latin word, draco, the word drac has since earned the meaning of "devil" in Romanian which has led to misinterpretations of Vlad's name with people characterising him as "devilish".
4. Where is Vlad now buried?
Vlad was decapitated during a Turkish invasion and his head was given to the Turkish Sultan who impaled it outside his palace. His body was then buried at a cemetery outside Bucharest and some report that his remains disappeared. There are many theories about this mystery; our favourite reason for his body never being found was that he did possess all the supernatural powers Dracula is rumoured to have.
5. How many people did Vlad the Impaler kill?
All in all, historians tally Vlad's victims between 40,000 and 100,000. Some link Dracula's taste for blood to the number of victims slaughtered by Vlad.
For a good book about Dracula's history, try The Historian by Elizabeth Kostova. Elizabeth's novel merges the history of Vlad the Impaler with the folklore of Dracula to produce an award-winning epic novel.
---
Book your place on our Dracula Tour now!