Cinco De Mayo is fast approaching in all its bright coloured, delicious food, strong beverage glory, yet many are still confused about what they are actually celebrating. To cut a long, historically complex story short, Cinco De Mayo is a celebration of the Mexican army's triumph over the French Empire at the Battle of Puebla on May 5th 1862. It is not a festival observing the independence of Mexico from Spain as many would believe. So what has it become and why is it such a big deal?
Celebrating Hispanic Culture
Mexico observes the festival, but the USA has taken it to a whole new level, in a good old American way, by combining the beautiful culture of Mexico, yet revelling in all the familiarities such as Margaritas, nachos and tacos. The festival is a great reason for a party with lots of alcohol, music, dancing and sombreros. This year, be extra culture savvy and try something a little different by indulging in a mezcal, which is like the grandfather of tequila, (not as smooth but deep in character) from the heart of the Agave plant. Or how about a wine from Mexican winemakers L.A. Cetto and their 2011 Chardonnay, with its notes of fresh summer meadows and wild flowers?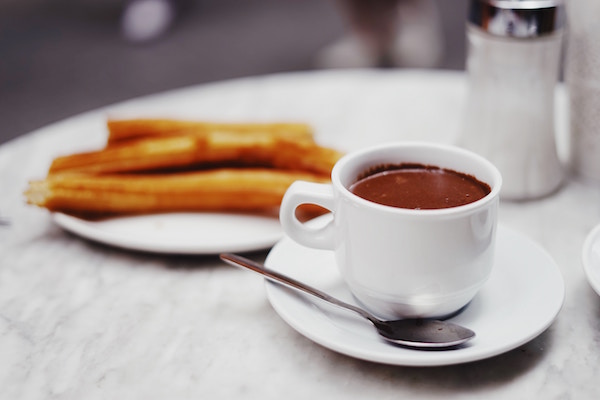 Champurrado
There are many Mexicans living in the USA and this festival should be a reason to celebrate them, their culture and their resilience in times of hardship. With an open, educated mind and palate, it's amazing how a Cinco De Mayo party can be so much more than an excuse to indulge in a cliché. Here are some cocktails you can use to raise a toast to Mexico:3 Cinco De Mayo Cocktails
Boozy Champurrado (decadent hot chocolate)
3 ½ cups whole milk
1 ½ cups water
1 large cinnamon stick
2 ounces. Mezcal (Bosscal Mezcal Joven is recommended for its pure, organic and no chemical ethos. The taste is of juicy tropical fruits, with a smoky aftertaste)
3 ½ ounces. Mexican chocolate like Taza
6 oz. whole cane sugar (Piloncillo is recommended)
¾ cup corn flour
In a saucepan, warm the milk, cinnamon stick, and chocolate until ingredients dissolve. In a separate bowl, stir water and corn flour vigorously, until smooth, then add this mixture to the hot chocolate. Stir for around five minutes, until a nice thick, yet smooth consistency is achieved. Add the Mezcal at the last minute, so not all of the alcohol is burned off.
Food match: Pair with Mexican shortbread cookies, which are similar to regular shortbread, but with added cinnamon and chili powder.
Michelada (Mexican Beer with lime and spices)
1 bottle of beer (355ml, Bohemia beer from Mexico is recommended)
2 teaspoons of salt
2 limes (leave at least half a lime, for the juice around the rim of the glass)
2 teaspoons of hot sauce, like Cholula
1 teaspoon of Worcestershire sauce
Pour a thin layer of salt on a saucer, then wipe lime juice around the rim of a tall glass. Turn the glass upside down in the salt to achieve rim of salt around circumference of glass. Place the glass the right way up and pour in hot sauce, lime juice and Worcestershire sauce, with a pinch or two of salt. Add in desired amount of ice to the glass, then pour in beer and gently stir to blend the beer and other ingredients.
Food match: Pair with Mexican Sopes, which is like a round, thick version of a tortilla. Top with your favourite meat, which is cooked with Mexican spices, refried beans, shredded lettuce and grated cheese.
The Paloma
2 Ounces of tequila (Riazul Premium Silver is recommended)
6 ounces of Q Drink grapefruit mixer
¾ Ounce of rose syrup (Royal Rose Simple Syrup is recommended)
Half a lime
Jalapeño salt (Fusion's natural is recommended)
Pour a thin layer of Jalapeño salt on a saucer, then wipe lime around the rim of the glass. Turn the glass upside down so the salt covers the circumference of the glass.
Fill the glass with crushed ice. Pour in tequila and rose syrup, then stir. Add grapefruit mixer and stir again. Garnish with a slice of lime.
Food match: Pair with Mexican red rice, which combines, rice, garlic, onions, chicken or vegetable stock, jalapeno pepper, cilantro, and diced tomatoes. A side protein like tasty beef fajitas or chicken enchiladas would make a great complement. This delightful beverage also goes well with Pozole, which is a maize based soup consisting of chicken, or pork with chili, radishes, lettuce, avocado, and pork crackling.
Do you have any favourite recipes for Cinco De Mayo? Share them with us on Twitter @TheWinerist! And if you liked these cocktails, you may also want to see these recipes we had for mother's day and where you could go to get a real life porn star with your cocktail…