There are approximately 530 unique grape varieties in Georgian that have been recorded by a ampelographers. Many are planted in "vine libraries", some are widely planted, and there are still many waiting to be discovered. Like most of Europe, phylloxera damaged extensive vineyard areas throughout the country, followed by Soviet collectivism in farming and winemaking which excluded the diverse amount of varieties to about 20. Luckily, we are living in a wine world that encourages rediscovery, and with encyclopaedic books such as, "Wine Grapes", and growing interest within Georgia, many local varieties are being rediscovered and cultivated. Here is my list of common and not so common varieties you are likely to encounter in Georgia.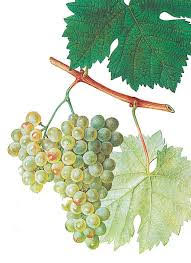 Photo Credit: Georgian National Wine Agency
WHITE:
Rkatsiteli The most traditional and established white grape variety of the Kakheti region. It has on of the longest wine grape histories in the world, with DNA evidence tracing it back at least 5000 years as one of the earliest cultivated wine grape varieties in the world. It is also the most common white grape variety in Georgia and is widely planted outside of Georgia in countries that made up the former Soviet Union. So desired it was during that period, it made up about 20% of wine production during the Soviet period. It translates as "Red Horn." It produces wine that have a good structure with high acidity, fruity, spicy and floral aromas. It is often harvested later in October to help bring down acidity levels. Naturally high in alcohol wines are produced and it is an ideal grape for long macerations in qvevri due to its high acidity. Great producers of traditional qvevri wines are Lagvinari, Gotsa Family Wines, Nika, Our Wine, Naotari Wines. For European style Rkatsiteli, Shumi and Schuchmann are excellent choices.
Chinuri is a white grape variety from the Kartli region. Yields need to be controlled to produce high quality wines. It produces wines that that are often light in body and high in acidity. It excels in limestone soils and makes excellent sparkling wine. A number of wine producers are experimenting with Pétillant-naturel (natural sparkling) wines with excellent results. The most well known producer of qvevri made amber wine in Kartli is Iago. He makes both non macerated and macerated as well as "ancestral" sparkling wines that are always pleasantly well balanced with body and acidity. Producers of traditional wines include Iago Wines, Gotsa Family Wines which has excellent still and sparkling wines produced from Chinuri. For European style wines, Chateau Mukhrani makes lovely varietal wines.
Kisi, from eastern Georgia, in Kakheti, is a low yielding aromatic variety with very distinctive exotic floral aromas. Both qvevri and European style wines are very perfumed and floral. Delicious with aromatic foods. The wines made traditional can be full of fresh pears, white flowers, tuberose, marigold and tobacco. Pheasant's Tears and the Vinoterra line of Schuchmann are both excellent examples.
Khikhvi Low yielding Kakhetian grape variety that can produce a wide array of styles ranging from dry to sweet. It is the grape variety for the fortified PDO Kardenakhi. The wine can be heavily floral and aromatic with dried figs and apricots which are accentuated when made in qvevri. The monks at the Alavedri monastery make an exquisite wine from this grape.
Goruli Mtsvane Originating from Kartli, Goruli Mtsvane produces very lively, spirited wines that are almost always fresh. Made on its own or in a coupage with Chinuri, it makes gorgeous sparkling wines. Gives wines with lime, honey, wild herbs, white flowers. In the past, this grape was co-fermented with the delicate red grape, Tavkveri, making a wine known as Khidistauri. Lagvinari makes an excellent Goruli Mtsvane.
Tsolikouri this is a powerful grape that originates in the western region of Imereti, but it grows in most of the western provinces now. It is also the grape variety for Lechkhumi's PDO Tvishi. Due to its high acidity and balanced alcohol, it has the highest potential for aging. It is a late ripening grape that can be made with or without the marc. Most producers use a smaller percentage of the skins when making wine in qvevri. And it is often co-fermented with Tsitska. The wines often have a complex nose of citrus peel, green plums, light floral notes and often hazelnut. Full bodied and very fresh. Excellent with all sorts of food including Thai and Vietnamese. Ramaz Nikoladze, Lagvinari and Gotsa
Tsitska Thought to be one of the oldest grape varieties in Western Georgia. It is a late ripening grape that can often be quite spicy, richly textured and full of honey aromas. Give high acidity wines that are excellent for sparkling wines. Gotsa has produced an excellent sparkling wine, Ramaz Nikoladze's Wine Cellar, and Lagvinari
Krakhuna Another of the Imeretian family of white wine varieties, Krakhuna is a late ripening grape that often makes full bodied, high alcohol wines with aromas of ripe apricots, figs and honey. Archil Guniava and Lagvinari.
Mtsvane Kakhuri Another of Georgia's prehistoric grape varieties that produces complex wines with a deep amber color. Wines are often full of stone fruit and floral aromas as well as nuts and quite mineral. Wines are fresh and delicate. The ladies from Mandili produced ann excellent Mtsvane from 2012 to 2015.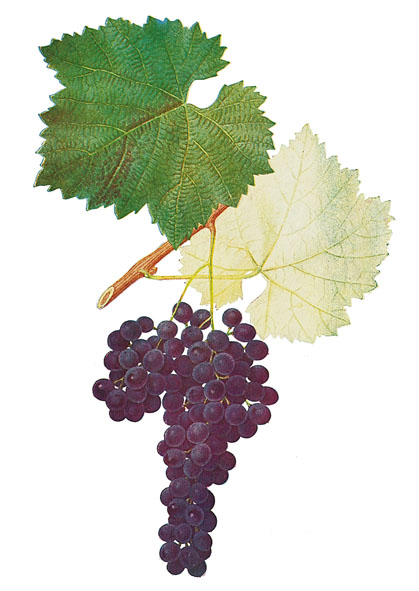 Photo Credit: Georgian National Wine Agency
RED:
Saperavi The most widey planted black grape variety in Georgia, which means "dyed" that makes wines ranging from dry to semi-sweet. It is a teinturier grape, which means that there flesh as well as the skin contains anthrocyanins. It is a hardy variety that can endure freezing temperatures and it produces high acid wines that are deeply colored, have well balanced tannins, full bodied and can age well. There are many produces that make qvevri wines in Kakheti included Our Wine and Nika. Great non qvevri Saperavi comes from the award winning Jakeli cellar.
Tavkveri originates in Kartli and is a late maturing grape. It likes limestone soils. Most wines are easy to drink dry or rosè wines with lots of rose and red fruit. Tavkvevri makes pleasant, easy drinking wines that are not for aging. Gotsa Family Wines is making a lovely sparking wine from this grape.
Chkhaveri A pink variety from the region of Guria that ripens quite late, in November from grapes grown from vines that are either climbing up trees or are trellisse quite high to deal with the warm, humid temperatures in Guria. It gives amber and ruby tinted wines that are delicante and harmonious with a distinctive bouquet of roses. Often high in alcohol but balanced by a pleasant acidity. Look for wines made by Iberieli.
Otskhanuri Sapere is an Imeretian variety that can be a rough on the edges when in its youth but matures into a rich and elegant wine with very few rivals. In it's youth the wines can seem a bit discombobulated, and not harmonious with lots of wild green notes and sour raspberry. But with time, it develops into a well balanced wine with lovely tertiary notes of earth and dried red fruits that is fresh with well integrated tannins. One of the best producers is Lagvinari.
Shavkapito is grown throughout Kartli. It is a late ripening variety that produced full bodied wines that are full of berries and vegetal notes. Light in color, high in acidity, it is great when used for rosé sparkling wines. Pheasant's Tear produces and outstanding still red wine from this grape.
Dzelshavi One of Georgian's rarest and most ancient grape varieties, it produces easy to drink, light wines that are fresh. Great for lively rosé wines and known as a "summer wine."
Ojaleshi (Odzhaleshi) is a wine grape from the highlands of Mingrelia which reaches full maturity in late November that produces wines that are complex, full bodied and with real depth.
Jgia is an extremely rare grape variety from Kakheti with only one known producer. Beautiful clear ruby red. Aromas of forest berries, cedar, tobacco, cherries, balsamic notes. Very complex nose.Wine are quite fresh with juicy tannins, full body and long finish. Tsikhelishvili's Marani is the only known producer at this time.