London was recently treated to its annual tasting of English wines and having been there year on year ever since the tastings began, we can honestly say that things have never looked better for English wine! Lynn Mueting gives us her top English sparkling wines from the tasting.
Some eighty miles north and about two hundred and fifty miles across the channel, lies a chalky soil similar to the Champagne region of France but in a very different country. This is England, where the migration of great sparkling wine extends its journey toward deliciousness; from Kent 'the garden of England', towards Sussex, Hampshire, through Devon and all the way to Cornwall.
In this green and pleasant land, the vineyards are springing up alongside daffodils and bluebells all along the rolling and stunningly beautiful English countryside. The bright yellow and green fields frame the vineyard views and if you get lucky with a sunny summer's day, a shady tree, a garden party or a special celebration is the perfect time to pop a cork and enjoy some of the best. WineGB recently held its inaugural tasting in London and of the wines shown, there were nine producers who stood out for me. Here they are below.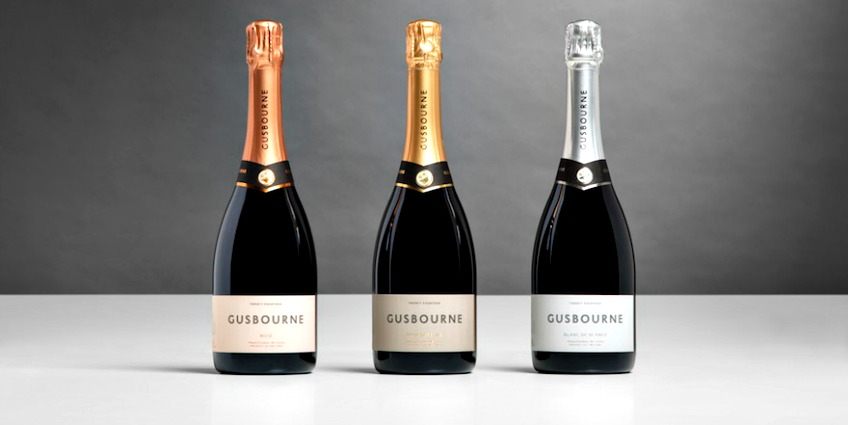 Photo credit: gusbourne.com
Camel Valley Vineyards, Cornwall
Camel Valley is the first English winery to receive an official Royal Warrant from Her Majesty the Queen and has been chosen by Prince Harry and fianceé Meghan Markle to serve at their upcoming nuptials. Ex RAF pilot Bob and his multi award winning winemaker son Sam Lindo keep Camel Valley going from strength to strength with their latest offering.
The 2014 Camel Valley "Cornwall" Brut has a fine elegant mousse with a fresh fruit and honey like flavour, great for any celebration (especially royal weddings!)
The Pinot Noir Brut Rosé NV has delicate fruits of the forest flavour and a slightly floral background note that will go as well on its own or with puds like a fruity, Eton mess.
Gusbourne Estate, Kent
A variation of the 1410 Goosebourne name, each bottle of Gusbourne wine carries the original family crest featuring 3 geese on the label and is considered their mark of trust and quality. Andrew Weeber took over the estate in 2004 with a vision to make wines that would be the finest on the planet and together with winemaker Charlie Holland, they have quickly earned those accolades. Their wines can be found on the menu at some of the most the esteemed restaurants in the UK including Le Gavroche, The Fat Duck, Clove Club, Belmond Le Manoir aux Quat'Saisons and Northcote Manor.
Gusbourne Blanc de Blancs NV has an elegant texture with flavours of baked apple with a gently minerality and notes of toasted brioche. Perfect for an aperitif or with oysters and fish.
2013 Gusbourne Rosé, is 100% Pinot Noir from their Appledore vineyard in Kent. It has a lovely coral colour, a fine mousse with flavours of raspberry and zingy cranberry with a slight note of spice, delicious for a summer BBQ.
Chapel Down, Kent
Firmly established as stalwarts of English wine, award winning Chapel Down together with Head Winemaker Josh Donaghay-Spire is making some of the most iconic of the lot, supplying the Royal Opera House, Gordon Ramsay restaurants, 10 Downing Street and the Ascot racecourse. Featured in the London Stock Exchange's 1000 companies to Inspire Britain it also made last year's edition of the directory of 'Cool Brands' in 2016/17. Their 2013 Kit's Coty Coeur De Cuvée Blanc de Blancs is the most expensive English sparkling wine selling at £100 per bottle. However, Chapel Down also has a range of delicious and affordable wines as well. My more affordable pick is this:
2013 Chapel Down Three Graces is a classic blend of Chardonnay, Pinot Noir and Pinot Meunier from their 2011 vintage. Like the Kit's Coty, it has flavours of fresh apple fruit, hazelnut and toasted brioche with the additional depth of red ripe berries, a long finish.
Rathfinny Wine Estate, Sussex
It's taken 8 years for Rathfinny to be an overnight sensation. Financier Mark Driver and his solicitor wife Sarah bought a chalky 600 acres of the Sussex south downs with a desire to create the most significant vineyard in England. After living with their children in a port-a-cabin on the property, plotting and planting, the vineyard was born. Their April 2018 launch of sparkling wines firmly places Rathfinny on the global wine world stage and is definitely worth seeking out.
Rathfinny Blanc de Blancs NV has an elegant style and feel with mellow citrus flavors like gooseberry, creamy apricot and a slight tropical note of kiwi, a terrific aperitif or a stunning match for shellfish.
Rathfinny Brut Rosé NV has a lovely coral colour and the red berry notes bring depth and brightness, perfect for a summer BBQ, buttery lobster or a fruity Pavlova.
Westwell Wines, Kent
Established in 2007 along the Pilgrims Way to Canterbury, Westwell Wines has 9 acres of Chardonnay, Pinot Noir and Pinot Meunier for their sparkling offering and employ a low intervention method in the vineyard (minimal pesticides). With Marcus Goodwin carefully managing the vines and John Rowe making the wine, Westwell is one to watch. The acreage is small in comparison to others on this list, but, they are doing big things.
2014 Special Cuvée Brut is allowed a minimum of 2 years on the lees and is blended with reserve wine for added complexity and balance. It is citrusy and fresh with notes of ripe red berries, great for creamy fruity desserts.
Oxney Organic Estate, Sussex
Owners Kristin Syltevik and Paul Dobson take a holistic approach to wine, from making their own wood chip heat to natural disease control methods in the vineyard. They have 21 acres of Chardonnay, Pinot Noir, Pinot Meunier and Seyval Blanc vines.
2015 Oxney Classic Organic is young but delivers an elegant mousse with lovely freshness and a slightly honeyed stone fruit quality. It would be delicious on its own or with white meat dishes.
Oxney Brut Rosé NV is equally fresh with notes of wild strawberry, and apple. It will go well with shellfish or white meat dishes.
Bluebell Vineyard Estate, Sussex
In 2005, on the site of a former pig farm, Bluebell Estates went from "Swine to Vine" as a hobby vineyard.  Over the last 5 years with their Hindleap range, winemaker Kevin Southerland has brought home over 60 national and internationally recognised wine awards.
2014 Hindleap Classic Cuvée is a Chardonnay lead, Pinot Noir, Pinot Meunier blend with flavours of citrus and notes of elderflower, the zingy red fruit bringing balance with a hint of spice, great for smoked fish and wild fowl dishes.
Hindleap Rosé NV is lovely pale Pinot Noir, Pinot Meunier blend offering up rich notes of wild strawberry and raspberry with a nice long finish. Perfect for a summer BBQ or a crab and lobster feast.