Wineries have been around for thousands of years, and over time some have embraced avant-garde architectural styles, becoming some of the most impressive architectural masterpieces standing around the world. From the exotic and intriguing New World wineries, to the more traditional Old World, we've selected the 15 top modern wineries out of this world, including out-of-this-world luxury wine hotels. So pour yourself a glass of wine, find a sense of wanderlust and explore with us.
Designed by Rogers Stirk Harbour and Alonso Balaguer + Partner
Photo credit: Bodegas Protos
The winery sits at the base of a small hill with a medieval castle on the top, and it's not easy to say which of the two imposing structures caught more your attention. Bodegas Protos utilizes the subterranean area beneath the castle with more than 2 kilometres of tunnels and galleries used for ageing wine. The project was conceived as a contemporary reinterpretation of traditional wine cellar construction in the region. The aboveground structure, technically known as the "light structure", is a reinterpretation of vault-shaped winery construction methods, made of parabolic arches of laminated wood.
Interested in winery tours at Bodegas Protos?
---
Designed by Frank O. Gehr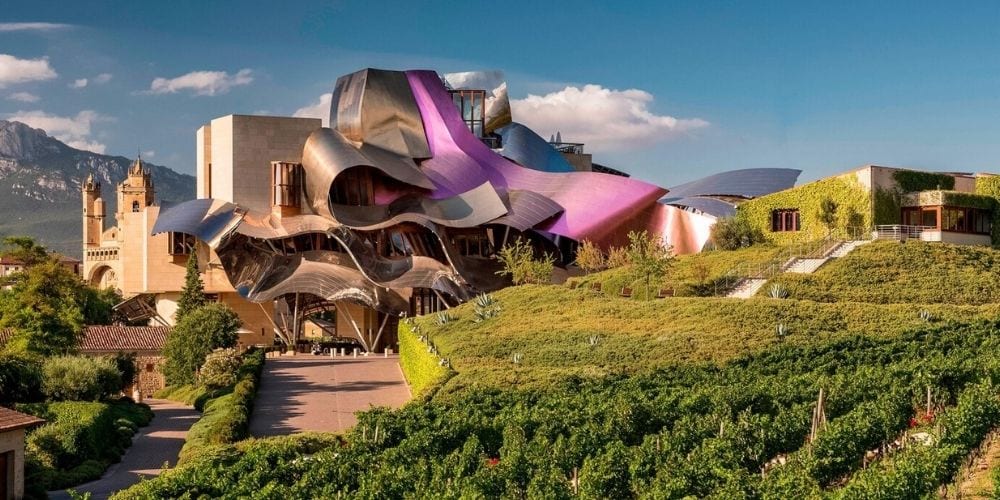 Photo credit: Marquéz de Riscal
Marqués de Riscal is one of the most impressive contemporary masterpieces of the wine world. It's a must-see if you're travelling to Rioja. Traditional Spanish elements are joined with modern design to create an extraordinary architectural wonder.
Would you like to experience wine tastings and winery tours at Marqués de Riscal?
---
Designed by PMC Arquitectos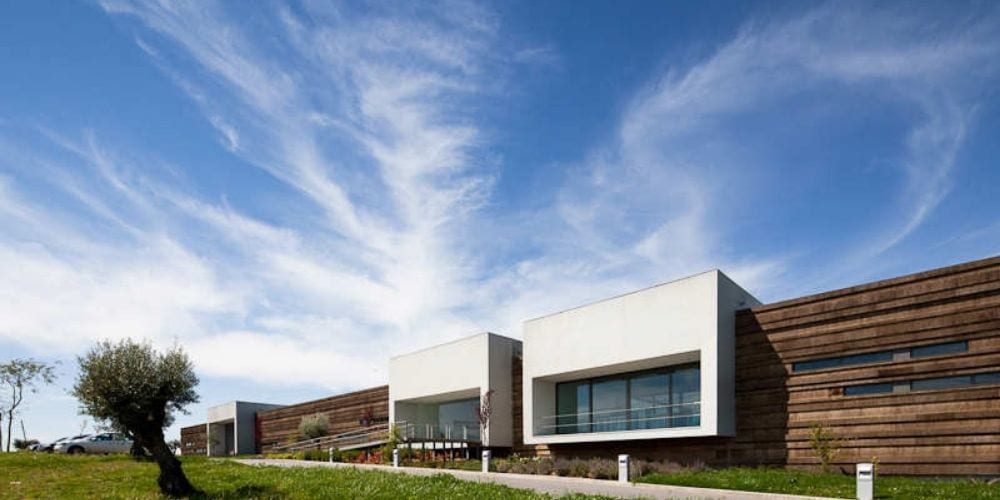 Photo credit: João Morgado
The winery assumes itself as an element that establishes a formal link between the traditions of the place and the dynamics of our days. Its structure presents a rectangular form composed of a volume coated with cork panels, intercepted by three "boxes". It has a total of 3,780.00 m2 of construction, distributed in two floors, with one partially buried in order to offer the adequate temperature for wine storage and ageing. The walls are panelled with cork, a natural form of insulation that avoids the need for air conditioning systems in the winery.
Experience winery tours at Logowines Winery for yourself.
---
Design by Norman Foster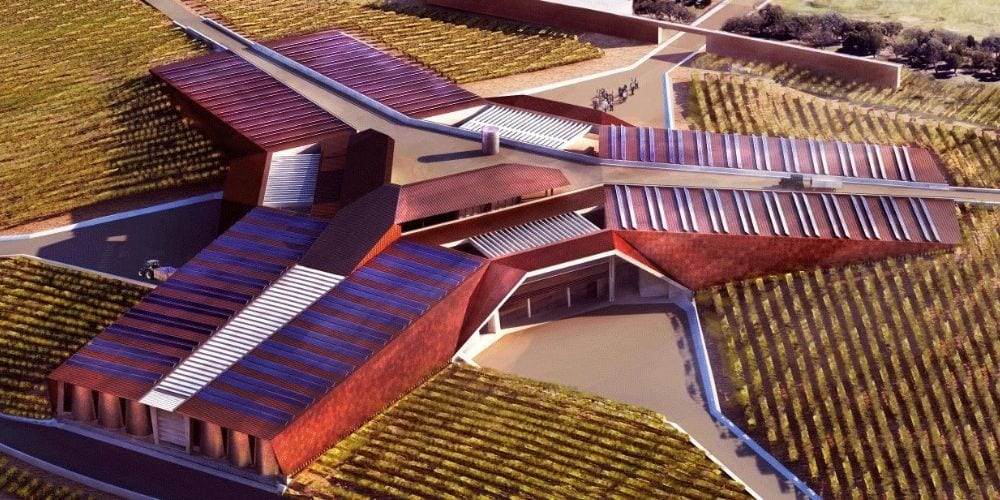 Photo credit: www.eladerezo.hola.com
The winery's greatest success lies in the optimal functionality of its different sections, perfectly set out from the centre of this "star" which has risen from the ground. The materials used to create this masterpiece are concrete, wood, steel and glass. Its 12,500 square metres are spread over three floors in the form of a star whose three points correspond to the different areas of the winemaking process. The central area, where the hopper for the harvested grapes is located over, also acts as a coordinating centre, including a tasting room, an auditorium, a meeting room and a café.
Start your wine holiday right with a one night stay in a boutique hotel followed by a wine tour, tasting and more when you arrange your visit with Winerist.
---
Designed by Archea Associati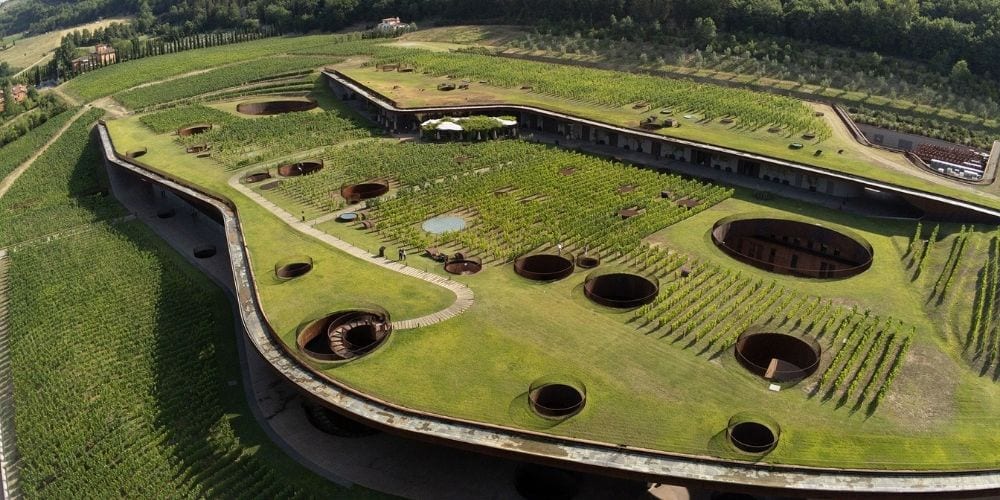 Photo credit: Toscana Wine Architecture
The innovative architecture is based on deep ties to the earth, from the external, it seems a large hill with two "incisions" in a vineyard, in total harmony with the imposing landscape. With a brownish-red colour, just like the earth, the cellars have been constructed with natural materials such as terracotta, wood, corten, and glass. A space suspended in time where the avant-garde converses with tradition, contemporary works with those of the historic family collection, continuing the centuries-old tradition of patronage of the Florentine nobility.
Experience wine tastings and winery tours at Marchesi Antinori for yourself.
---
Designed by Bórmida & Yanzón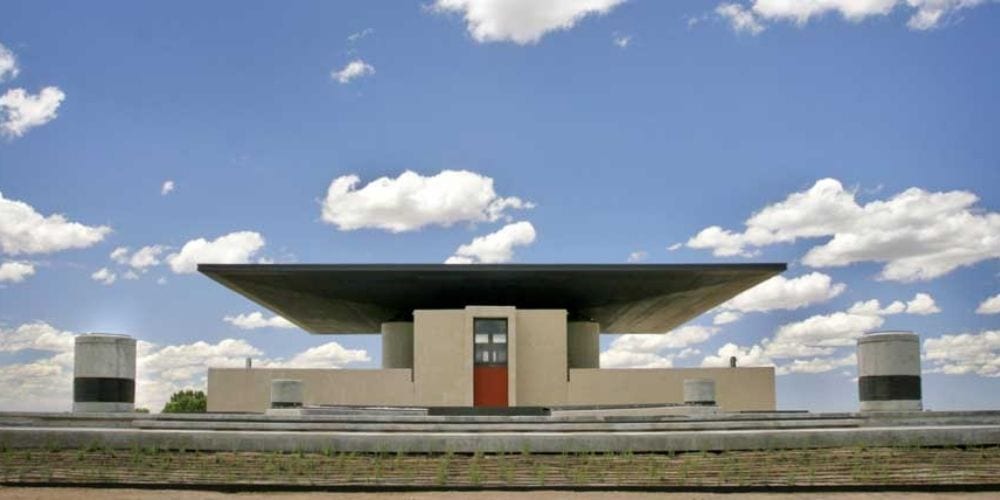 Photo credit: www.e-architect.com
The O. Fournier winery in Mendoza City, Argentina, sits in a plain with breathtaking views of the Andes Mountains. Looking like a spaceship from the future it is definitely up there with the modern wineries out of this world!
Interested in wine tours and tastings at O. Fournier winery?
---
Designed by Jorge Gracia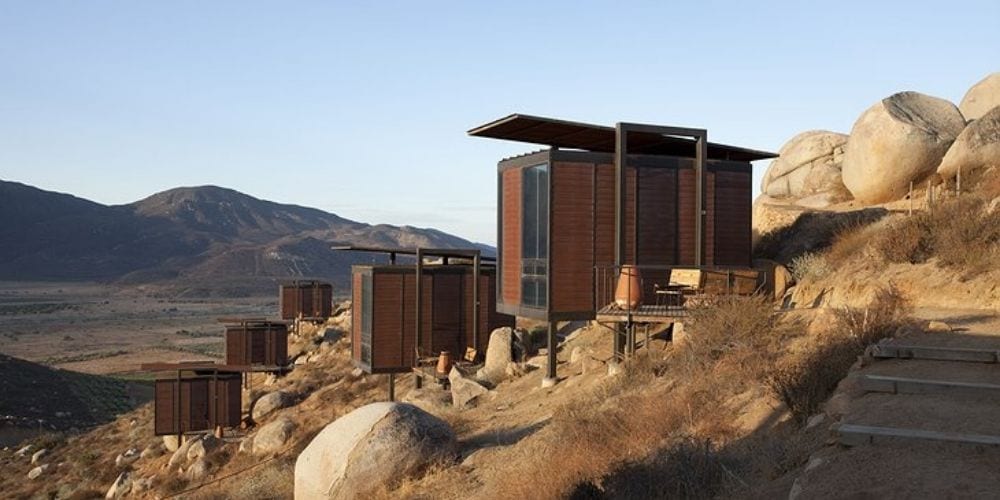 Photo credit: www.uniqhotels.com
Above Baja California's Valle de Guadalupe stands a hidden gem of the New World wine, a winery and boutique hotel that blends seamlessly with the surrounding landscape and the fertile wine-growing soils. Made from a combination of steel, glass and wood, each Eco-Loft is suspended above the valley with a breath-taking view of the vineyards, featuring its own private deck for wine lovers to enjoy the views, accompanied with the house wine and wood-fired chimeneas. With a great eno-gastronomical heritage, and direct access from California, this valley is home to Mexico's largest wineries and offers a blend of innovation and traditions.
Get ready to experience wine tastings, tours and more at Endemico Winery and Hotel when you arrange your visit with Winerist!
---
Designed by Jesus Marino Pascual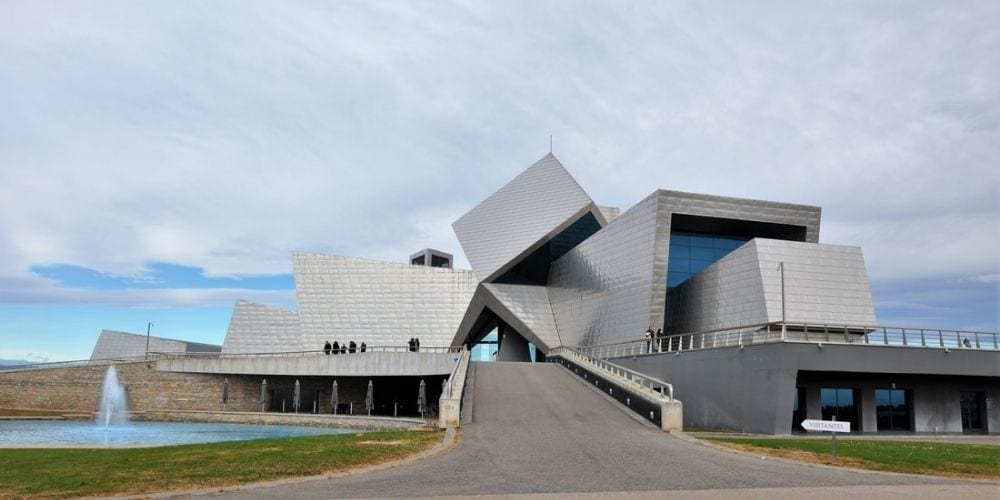 Photo credit: Cellar Door Score
Uniqueness of shape and strength of the steel and glass materials are some of the elements that characterize this incredible modern winery. Surrounded by vineyards, it maintains harmony in which traditional winemaking inspires superb state-of-the-art architecture.
Would you like the chance to visit Bodegas Sommos?
---
Designed by Christian de Portzamparc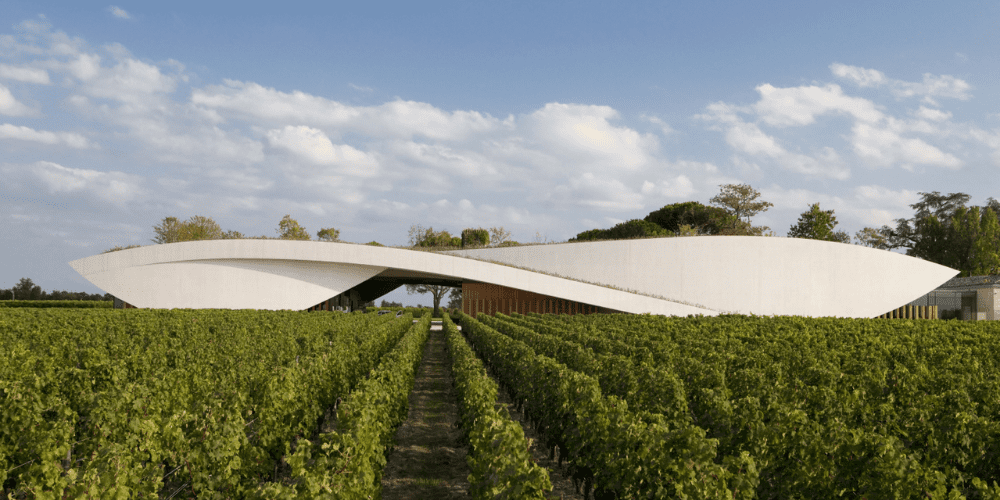 Photo credit: La Grande Cave
Inspired by the concrete fermentation vats used by the world-famous château, the architect designed an amazing structure topped with a white concrete canopy, which appears to float weightlessly atop the vineyards. The barrel cellar below is described as "a crypt," surrounded by perforated brick walls to allow natural ventilation.
Experience wine tastings and a visit to Château Cheval Blanc.
---
Designed by Santiago Calatrava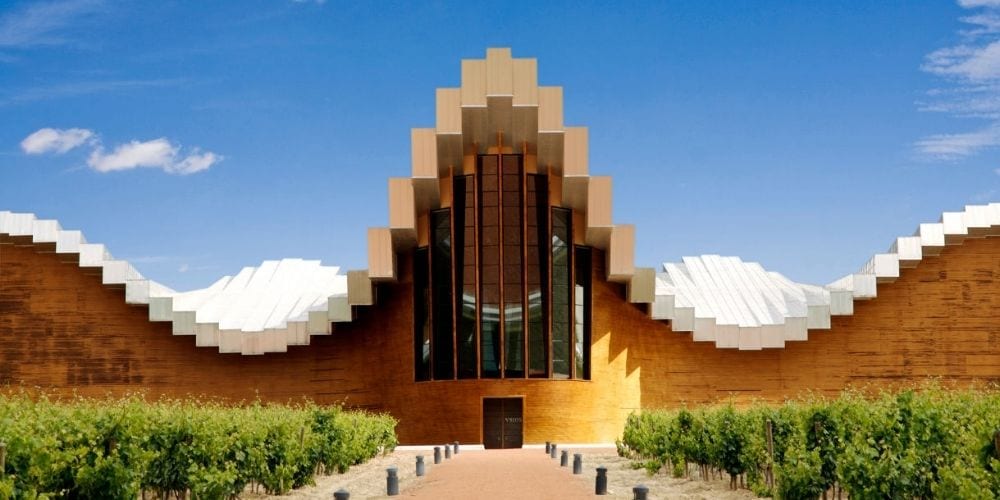 Photo credit: www.buildipedia.com
In one of the most beautiful parts of the Rioja wine region rises the imposing silhouette of this unique winery. The architect was inspired by the rows of casks used to age wines. When we think of modern wineries out of this world, we think about Bodegas Ysios and its interior architecture, which is also avant-garde in style.
Why not arrange your visit to Bodegas Ysios with Winerist?
---
11. Ceretto Winery Monsordo Bernardina, Alba, Piedmont, Italy
Designed by Luca e Marina Deabate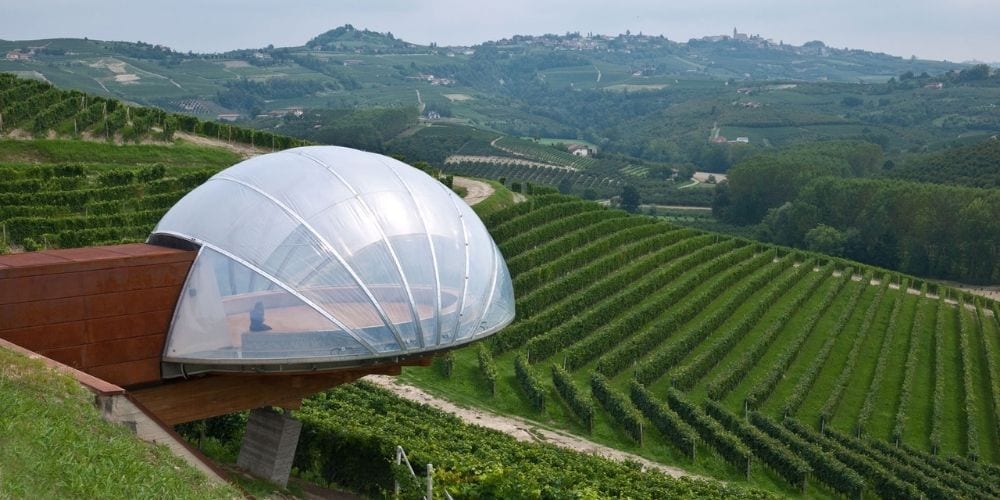 Photo credit: The Grand Wine Tour
This winery's highlight is the futuristic, spaceship-like observation deck that juts out over the vineyards, offering you a panoramic view of the estate. It's hard to tell what is more impressive, the winery or the surrounding UNESCO World Heritage Landscape.
Arrange your visit to Ceretto Winery Monsordo Bernardina Estate with Winerist now!
---
Designed by Piero Sartogo and Nathalie Grenon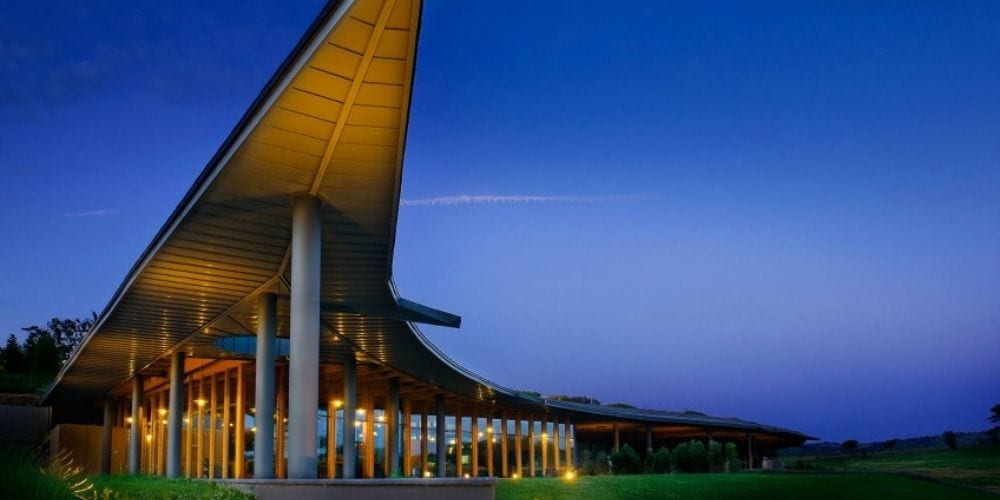 Photo credit: Frescobaldi
The winery represents one of the most perfect combinations of innovation, technology and respect for the environment. Its modern structure embodies sleek features with a touch of rustic Tuscan charm, that integrates harmoniously into the surrounding landscape. The winery uses a sustainable vineyard management using solar panels combined with gravity-fed and naturally cooled underground cellars.
Arrange your visit to Tenuta dell'Ammiraglia with Winerist now!
---
Designed by Mitch Hayhow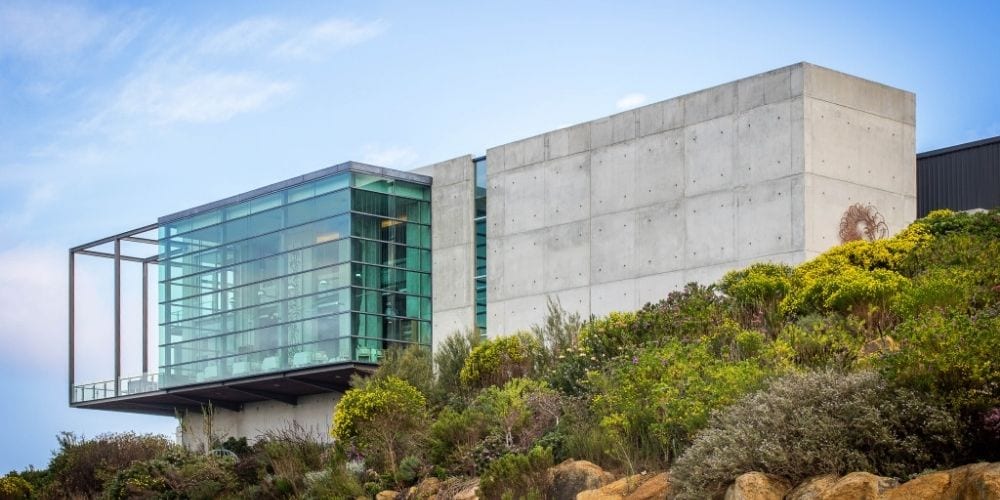 Photo credit: Waterkloof winery
This splendid building is a beacon of architectural excellence atop the magnificent Schapenberg Hills. Enclosed in a modern glass and concrete sphere, its "Cellar in the Sky" encompasses a "state-of-the-art" gravitational cellar, an innovative wine-tasting room and a glass-box restaurant for fine dining (and for admiring view of the uninterrupted hills).
Arrange your visit to Waterkloof Winery with Winerist now!
---
Designed by Ignacio Urquiza Seoane y Bernardo Quinzaños Oria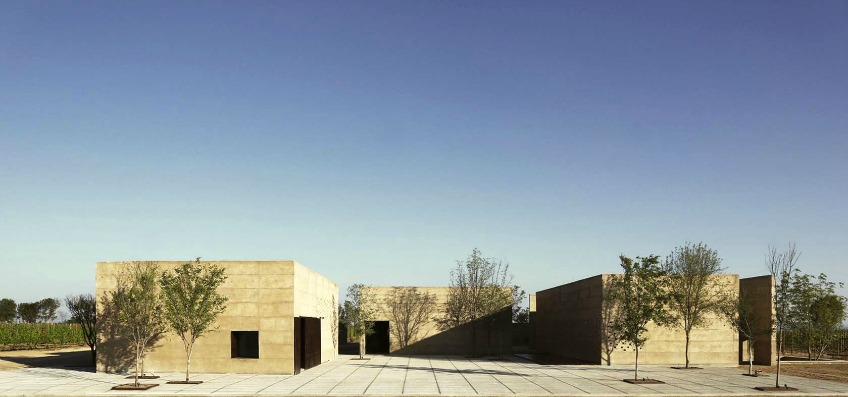 Photo credit: Architizer
The winery is an exceptional green design constructed to blend in with the surrounding landscape. The walls of the winery were built using soil to evoke a connection between the wine and the earth from which the grapes are harvested. The beautifully thought-out masterpiece features locally-sourced materials and a clean, modern architecture.
Interested in wine tastings and tours at Cuna de Tierra Winery?
---
Designed by Arnaldo Pomodoro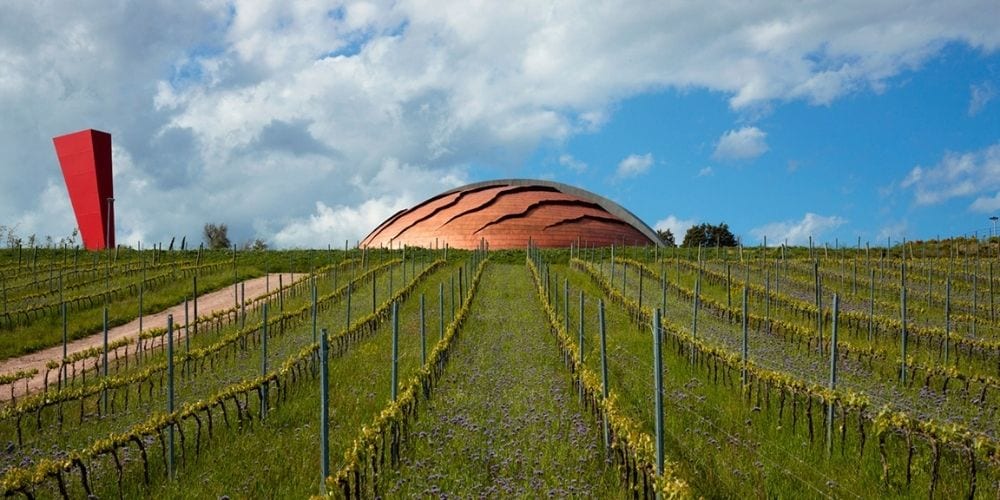 Photo credit: Tenute Lunelli
In the land of the famous Sagrantino di Montefalco, the Carapace is constituted by a large copper-covered dome, engraved with fissures that remind the furrows in the surrounding vineyards. A sculpted element in the form of a red dart plunging into the soil, highlights the work's location in the landscape. Carapace is a masterpiece absolutely unique in the world, it is the first sculpture in which it is possible to live and work, "a place in which art and nature, sculpture and wine intermingle".
Arrange your visit to The Carapace from Tenuta Castelbuono with Winerist.
---
Are you dreaming of visiting one of these amazing wineries? Or are you looking for food and wine experiences around the world? Find out more and get inspired.