Paris is famous for its incredible food, as well as its vast variety of sensational wines. However, all wine lists are not created equal, so here are 10 restaurants with the best wine lists in the French capital.
114 Faubourg at Le Bristol: (£££)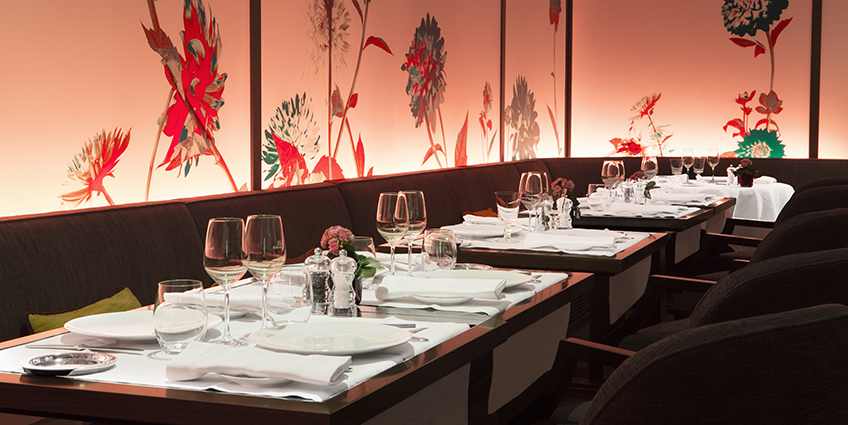 Photo Credit: Eric Deniset
Located in a hotel on Rue du Faubourg Saint-Honoré, this fancy restaurant is run by Chef Sommelier Marco Pelletier, who has worked tirelessly to provide guests with a comprehensive French wine list. The wine mark-ups are relatively low, and the overall price tag for a set lunch 2 course meal is €56 (not including wine). You can book a table by calling +33 1 53 43 44 44 or visiting .
;
Brasserie Thoumieux: (£££)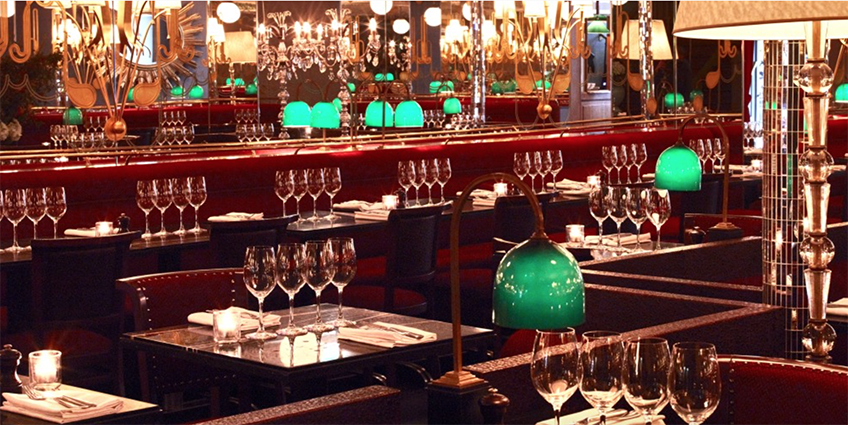 Photo Credit:Brasserie Thoumieux, http://www.thoumieux.fr/en/
Brasserie Thoumieux also operates within a hotel, on Rue Saint-Dominique.This luxurious restaurant is decked with wooden floors, green lamps and red velvet banquettes, making for a warm and refined atmosphere. If you are a natural wine enthusiast, you will definitely enjoy this place, especially given the low mark-ups. The food is slightly on the more expensive side, and you can expect a main course to cost €20 or over. To book, simply call +33 1 47 05 79 00 or visit their website.
Alain Ducasse au Plaza Athénée: (££££)
This restaurant places emphasis on sustainable fishing and sourcing of ingredients, so you can dine at this place completely guilt-free. Although fundamentally serving French cuisine, you can also find some dishes cooked in a traditional Japanese way giving the menu some variety. The wine list is split not only by origin but also by maturity, with sections dedicated wines at different ages. A set lunch 3 course meal will set you back €210, including two glasses of wine selected by the chef sommelier. Reserve your table online or by calling +33 1 58 00 22 43.
Passage 53: (£££)
Hidden away under one of Paris' oldest passageways, this restaurant is run by France's only Michelin star-awarded Japanese chef. Located on Passage des Panoramas, Passage 53's decor may be minimalist, but its wine list is not, offering diners a deep selection of wines (especially from Burgundy) to choose from. The wine mark-ups are fair, but the dining experience will cost you €60 for a set lunch menu, and €120 for dinner, making for a more exclusive dining experience. You can book online or alternatively you can call +33 1 42 33 04 35.
Septime: (££-£££)
Since its opening, Septime has been on countless must-eat lists due to its great range of wines and food. This restaurant sitting on Rue de Charonne has a wine list that emphasises biodynamic and natural wines selected by French sommelier Théo Pourriat. The food served here can be described as modern and reasonably priced, at €42 for a 4 'step' lunch, however wine pairing will cost you an extra €28 if you choose to opt in. It is notoriously hard to get a reservations here unless you don't minding waiting a couple of weeks. If that is the case, you can call +33 1 43 67 38 29 or book online. However if you can't wait, you can visit Septime's sister restaurant Clamato next door.
http://www.septime-charonne.fr/en/
Le Mary Céleste: (£)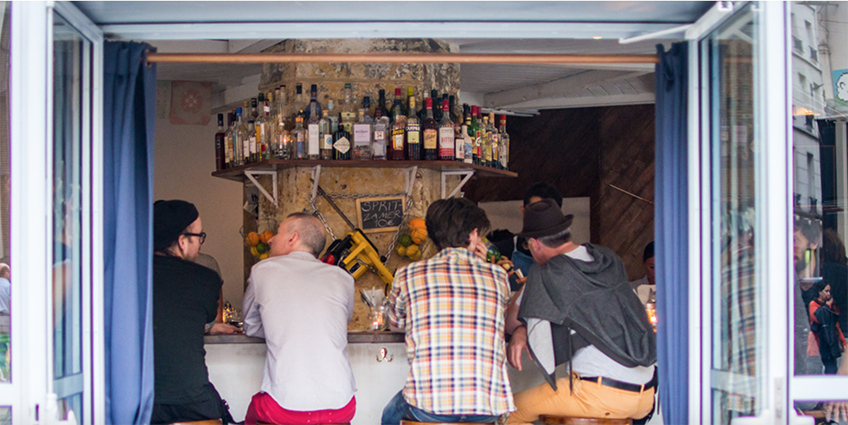 Photo Credit: Le Mary Céleste, http://www.quixotic-projects.com/venue/mary-celeste
While this place is more of a bar than a restaurant, it is perfect for an affordable meal or a cheap date, without compromising on the food or wines being served. Le Mary Céleste is part of a range of venues called Quixotic Projects and is situated on Rue Commines. Its wonderfully-decorated menu features an extensive list of wines, natural and not, as well as dishes that come with low price tags. To book, call +33 1 42 77 98 37 or visit their website.
Le Baratin: (£-££)
A staple location for wine lovers for over two decades, Le Baratin is certainly doing something right. Located on Rue Jouye-Rouve, this cozy bistro's cellar has a stellar reputation for being one of the best in the city, with a solid variety of natural and vintage wines to pair with your meal. The lunch menu costs only €19, which might make it worth reserving in advance, as the low prices make Le Baratin a very popular destination. The only way to book a table is by calling +33 1 43 49 39 70, as this restaurant does not have a website.
Le Sévero: (£-£££)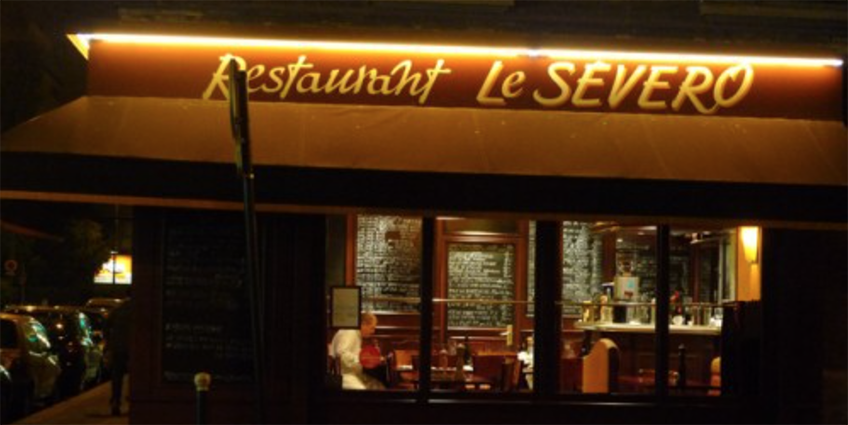 Photo Credit: Le Sévero, https://www.lesevero.fr
Created by former butcher William Bernet, Le Sévero was made for meat and wine lovers. The tiny venue on Rue des Plantes feels like a classic Parisian bistro, with its red banquettes and zinc bar serving typical French food. This place caters to those looking for a casual dinner as well as those who are seeking something more refined, as main courses start at €16 but go all the way up to €180. To reserve a table call +33 1 45 40 40 91 or visit their website.
La Tour d'Argent: (£££)
Dating back to 1862 (although some claim it has been around since the 16th century), La Tour d'Argent has had the time to amass an incredible wine list of 15,000 bottles to choose from. Located on Quai de la Tournelle, and overlooking the Seine river, this place serves exquisite meals, making for a sophisticated experience with beautiful vistas. However all this comes at a price, with a set 3 course meal costing €105, not including the wine. To book, call +33 1 43 54 23 31 or go online.
Frenchie: (££)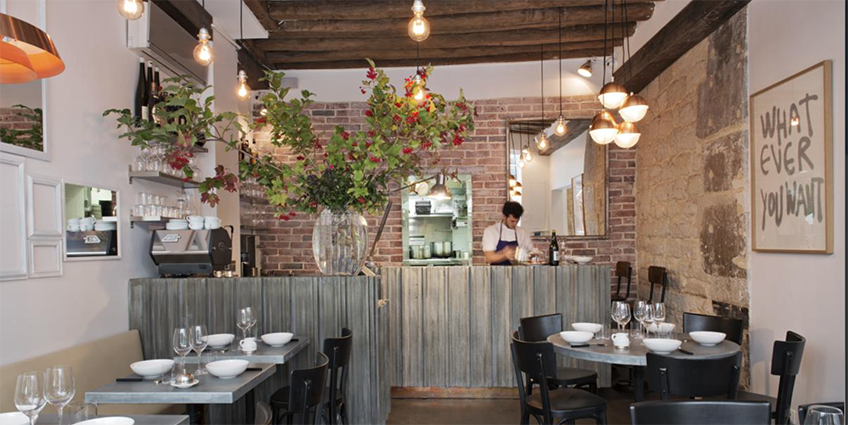 Photo Credit: Frenchie, http://www.frenchie-restaurant.com/en
Before coming to London (which you can read more about here) , the original Frenchie started off as a small restaurant serving bistro-style dished in the streets of Paris. Situated on Rue du Nil, this place is easy to miss if you're not looking for it. Reflecting the restaurant's size, its wine list features bottles from small domaines and family enterprises only, so you can definitely expect to find some hidden gems. The prices are also fairly reasonable, with a 4 course meal costing €45, however wine is not included. To book, call +33 1 40 39 96 19 or you can visit lafourchette.com.