There's nothing worse than going to a restaurant that serves incredible food and realising that the wine list is mediocre at best. So that this doesn't happen to you, we've devised a list of 10 restaurants that serve great wine to go with their great food.
1. Noble Rot: (££-£££)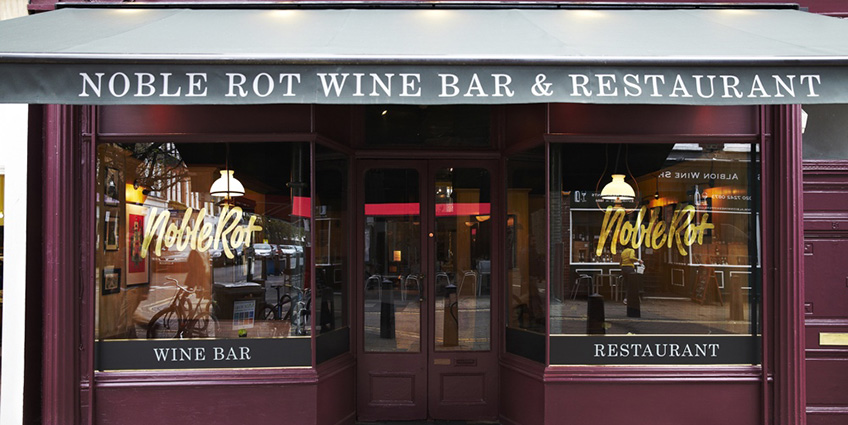 Photo Credit: Noble Rot, http://www.noblerot.co.uk/
Starting as a a lifestyle magazine (which has gained quite a following) before evolving into a restaurant, Noble Rot has done very well for itself, becoming a go-to place for London wine enthusiasts. Located on Lamb's Conduit Street, it serves more than 25 wines by the glass, as well as wine-based cocktails. The wines on the list include many older vintages, which can be quite hard to come by in London. The menu is short, but that is because Noble Rot has prioritised quality over quantity when it comes to the food they serve. A meal for two including wine (but not including service) will set you back around £110. You can call 020 7242 8963 to book a table or visit their website.
Best for: A sophisticated dinner experience
2. Frenchie: (££)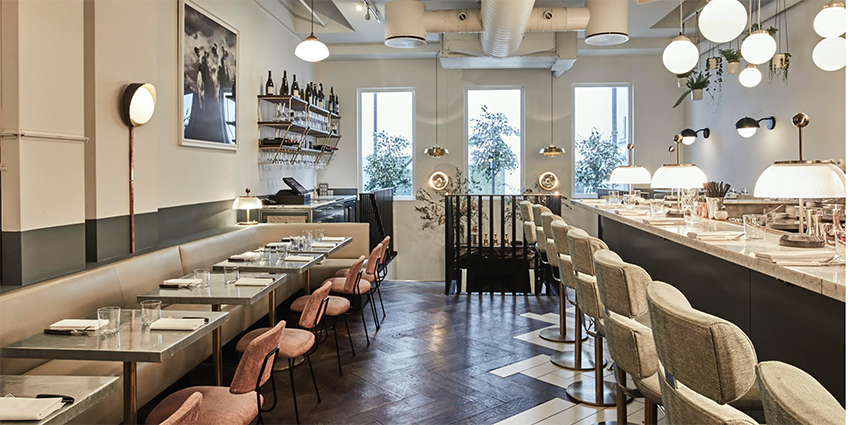 Photo Credit: Nicolas Buisson
Frenchie has exported all its know-how from Paris and brought it to London, opening a restaurant on Henrietta Street. It has become famous for its incredible food, but also for the fact that it is so in-demand that booking a table is no easy feat, despite it being a two-floor restaurant. The wine list includes biodynamic wines, and glasses range from £5-£9, with a two-course meal costing £26, making this a fairly affordable location. If you want to book a table, you can either visit the Frenchie website or call 020 7836 4422.
Best for: A pleasant week-end meal
3. The Greenhouse: (£££)
The Greenhouse is not only about food and wine, but also atmosphere. Situated on Hay's Mews, you must first walk through the tree-lined wooden deck to the entrance, before stepping into the spacious restaurant. It serves French cuisine, which you can pair with a choice of 3,500 different labels on the wine list, making it one of the biggest (if not the biggest) lists in London. The price here is on the higher end of the spectrum, with an à-la-carte choice of a three course meal priced at £95 (not including wine). To reserve a table, call 020 7499 3331 or email them at reservations@greenhouserestaurant.co.uk.
Best for: An upmarket dining experience
4. Social Wine and Tapas: (£-££)
Photo Credit: Lucent Lighting, www.lucentlighting.com
If you are in the mood for Spanish cuisine, Social Wine and Tapas is the place to go. Based on James Street, this place boasts a 40-page wine list with bottles from all over the world. The prices here are also very reasonable, with a set-menu two course meal costing £16 including a glass of wine (but not including service). The glasses come as 125ml servings, rather smaller than what most places serve, but go perfectly with the range of tapas this restaurant has to offer. To book a table, call 020 7993 3257 or visit their website.
Best for: A casual dinner or date
http://www.socialwineandtapas.com
5. The Ledbury: (£££)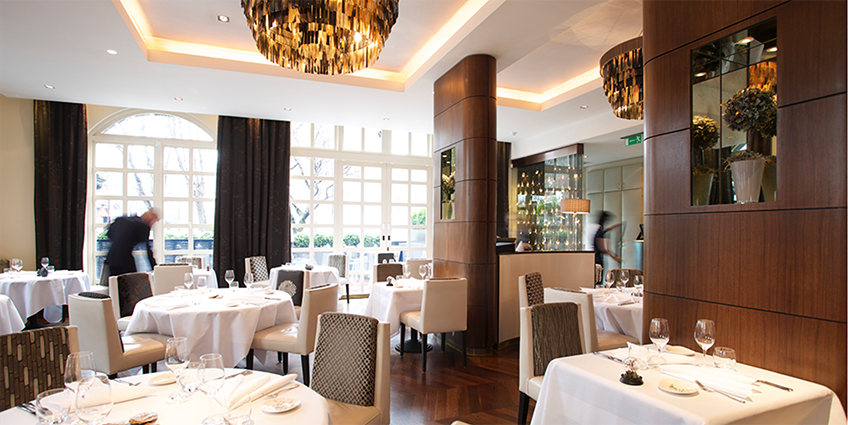 Photo Credit: The Ledbury, www.theledbury.com
The Ledbury, awarded with two Michelin stars and more than half a dozen awards for being the UK's best restaurant. Who wouldn't want to wine and dine there? Located on Ledbury Road, the food here simply does not disappoint, especially when paired with the wines on The Ledbury's list, meticulously chosen by its sommeliers. A four-course set lunch costs £75 per person, or £135 including wine (both prices include service). For reservations, call 020 7792 9090 or email info@theledbury.com.
Best for: Special occasions
6. Les 110 de Taillevent: (£££)
6.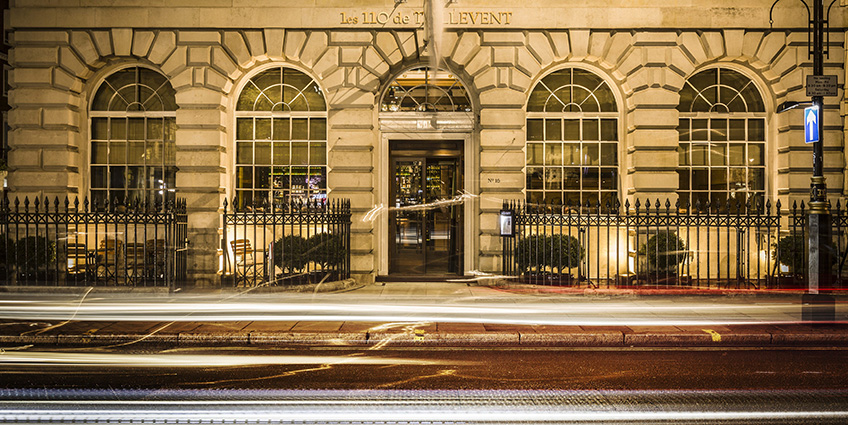 Photo Credit: Les 110 de Taillevent, http://www.les-110-taillevent-london.com
True to its name, Les 110 de Taillevent offers 110 different wines by the glass, out of a total of 360. Situated in Marylebone, this upmarket French bistro also serves tasty food and the sommelier is there to help you choose which wines to pair with your meal. The list features some uncommon wines, and caters for both those who have expensive tastes, and those who are more casual drinkers. While the set 2 course meall will only cost you £22, and can be paired with a choice of four different wines by the glass, the à-la-carte menu is considerably pricier. To book a table, you can either go online or call 020 3141 6016.
Best for: A fancy dinner
http://www.les-110-taillevent-london.com
7. Clos Maggiore: (££££)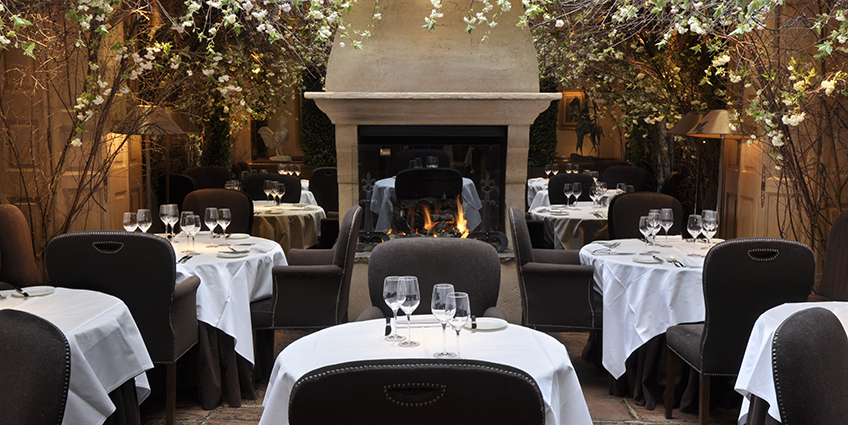 Photo Credit: Clos Maggiore, http://www.closmaggiore.com
Clos Maggiore is deemed one of the most romantic restaurants around, with fairy lights, candles and a fireplace creating a wonderful dining atmosphere. Set in Covent Garden, not only does this place offer a wide range of food to choose from, it also has a staggering list of 2,500 wines from 18 different countries, and its Californian selection is particularly good. However the price tag is on the higher end, so it would be best to pay this place a visit on special occasions. To book a table, call 020 7379 9696 or visit their website.
Best for: Meaningful romantic occasions
8. Quality Chop House: (££-£££)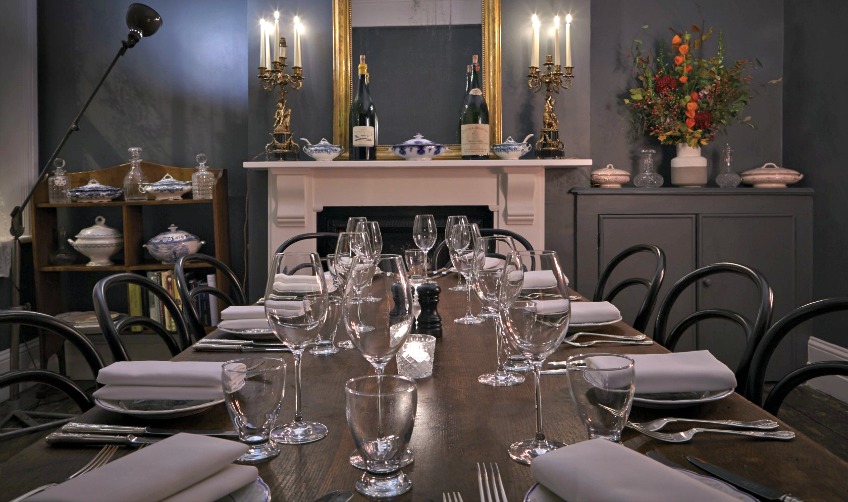 Photo Credit: http://thequalitychophouse.com
Dating back to 1869, this dining room on Farringdon Street has been around for longer than most, and serves British cuisine. There are two floors with a total of three dining rooms, however the top floor reserved for private events. You can go there for lunch every day of the week, and for dinner from Monday to Saturday. A set meal costs £19.50 for two courses, but doesn't include wine, of which there are 70 different varieties to choose from, with prices starting at £6 for a 125ml glass. If you like the look of this restaurant, you can either call 020 7278 1452 or visit their website.
Best for: A nice sunday lunch
9. Primeur: (££-£££)
This is one of the more dynamic restaurants in London, with the wine list being updated daily, displayed on the restaurant's chalkboard. Located on Petherton Road, Primeur's layout is very communal, with shared tables decking the restaurant's dining room. The ever-changing wine list places emphasis on natural wines, and everything is available either by the glass or carafe. The food menu also changes every day, and the dished are very fairly priced. To book a table, call 020 7226 5271 or go online to their website.
Best for: A lively dinner experience
10. Smoking Goat: (££)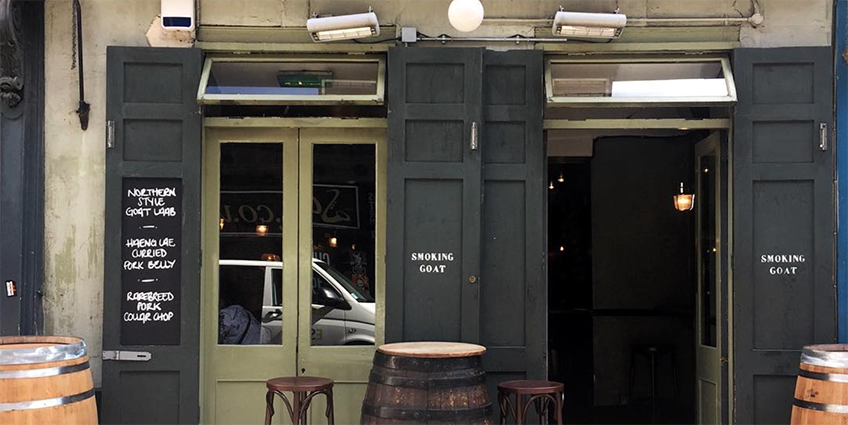 Photo Credit: Smoking Goat, https://www.instagram.com/p/BX5kbMsjeAd/?taken-by=smokinggoatbar
This Thai restaurant located in Soho is on the buzzier end of the atmosphere scale, so it would definitely be a place to go if you enjoy being surrounded by people and conversations whilst you eat. The wine list here is short but sweet, and includes some natural bottles to choose from. The food menu is quite small too, but you'll definitely find something you fancy eating. This place is very casual, and most people just turn up there without making a reservation. However, if you want a guaranteed seat, you can book online.
Best for: A casual after-work drink or meal