Benvenuti a Piemonte. I'm sure you have heard of Tuscany and the Veneto, probably even the wine regions of Sicily and Umbria. But, do you know about northern Italy's Piedmont wine region? It is one of Italy's best-kept secrets with its rural charm, breathtaking beauty, amazing food and endless selection of incredible wine. The region is best known for its three Bs: Barolo, Barbaresco, and Barbera. But, it also offers fascinating whites, unique indigenous reds and a growing sparkling selection. This Piedmont Wine Guide takes you on an exploration of land and grape. Here are the 10 of the best wineries in Piedmont to experience. 
Start your Piedmont wine journey with this introduction to the area's culture, tradition, and passion. Cheers – or, as they say in Piedmont, cin cin!
---
Barolo and Barbaresco are two wine zones in what is known as the Langhe, a territory located in southern Piedmont. The Barolo zone is made up of 11 communes: Barolo, La Morra, Cherasco, Verduno, Novello, Roddi, Castiglione Falletto, Monforte d'Alba, Serralunga d'Alba, Diano d'Alba, and Grinzane Cavour.
The prized Barolo wine is made from 100 percent of the Nebbiolo grape, derived from the Italian word, nebbia, or fog, which settles over the region in the autumn.
Barolo DOGC Requirements: 100% Nebbiolo with 38 months minimum aging, including 18 months in wood; Barolo Riserva requires 62 months minimum aging, 18 months in wood.
Interested in wine tastings and winery tours in Barolo? 

---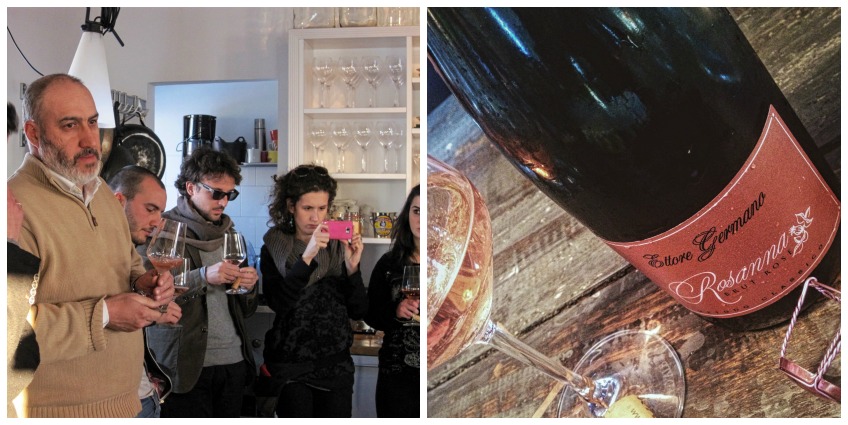 Ettore Germano is perched high above Barolo's famed Cerretta vineyards in Serralunga d'Alba and one of the best wineries in Piedmont. The Germano family has grown grapes here since 1856. Until the late 1980s they produced only small amounts of wine, primarily for personal consumption. They sold most of their grapes to producers, a fairly standard practice for the times. When today's winemaker, Sergio Germano, completed enology school he began buying small vineyard plots around the Langhe as well as in the then-new Alta Langa DOC (now DOCG) with plans to focus on winemaking.
Tasting Notes: Today, Ettore Germano offers 15 different wines, from traditional Dolcetto, Barbera, Langhe Nebbiolo, and Barolo to Chardonnay, Riesling, and sparkling. He was one of the first producers in the area to release a Riesling, Hérzu. He also does a white Nascetta, labelled Langhe Bianco. Nascetta is an indigenous grape that was almost completely snuffed out in the 20th Century when its vines were grafted over in favour of more profitable, higher-yielding varieties. While not many are found today, Ettore Germano arguably puts out one of the best Nascetta wines in the Langhe.
Interested in wine tastings and winery tours at Ettore Germano?

---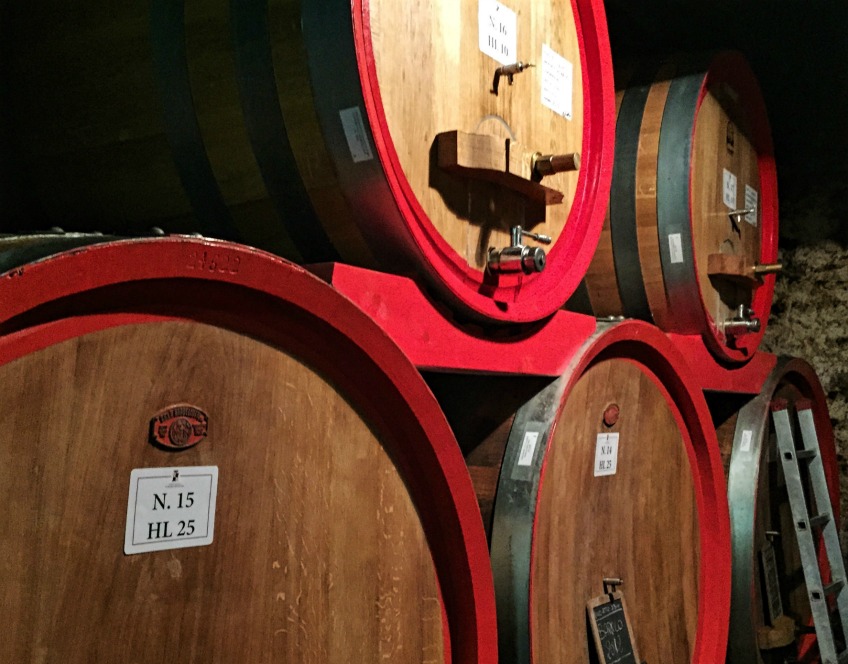 A visit to Cascina Fontana feels like an appointment with the past. As is typical for the region, the teeny cantina makes use of every bit of space with the traditional large Slovenian oak botti stacked on top each other. Today, most of their barrels are Slovenian oak, but they still have one chestnut barrel. Early on, producers made wine using large chestnut barrels due to the abundance of chestnut trees in the area.
Tasting Notes: Cascina Fontana focuses on the reds of the region with Dolcetto, Barbera, Langhe Nebbiolo, and Barolo. Traditionally Barolo wines were blends of different Barolo vineyards. As the region has gained notoriety many producers have started making single-vineyard Barolo wines to capitalise on famous crus like Cannubi and Vigna Rionda. Cascina Fontana is one of the few producers maintaining the tradition of vineyard blending.
Experience wine tastings and winery tours at Cascina Fontana!

---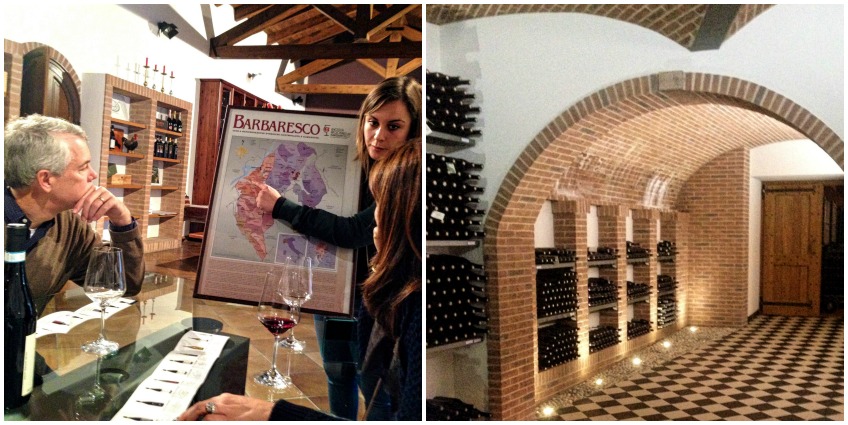 Barbaresco is roughly 25 km from Barolo. So, keep travel time in mind if you plan a wine adventure in the Langhe. There can be anywhere from 10 to 40 minutes of drive time between producers and areas.
Barbaresco is made up of four winemaking villages: Barbaresco, Neive, Treiso, and San Rocco Seno d'Elvio. It is often considered the more elegant of the aged Nebbiolo with softer, more palate-pleasing tannins that make it approachable earlier.
Barbaresco DOGC Requirements: 100% Nebbiolo with 26 months minimum aging, including 9 months in wood; Barbaresco Riserva requires 50 months minimum aging, 9 months in wood.
Would you like to experience winery tours and tastings in Barbaresco?

---
3.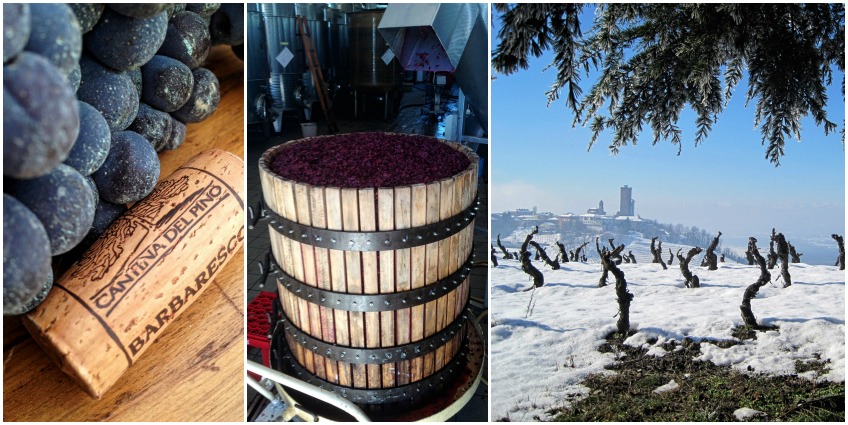 Ca' del Baio is a Barbaresco favourite all over the world and definitely one of the best wineries in Piedmont to experience. A winery visit only endears it more to patrons. The family home and winery sits on the valley floor of the Treiso vineyards in the Barbaresco zone. Today this fourth-generation Barbaresco producer remains a family affair, run by father Giulio, who shakes hands with nearly every guest that visits his property. His supporting cast includes his wife Luciana and their three daughters: Paola, Valentina, and Federica. The parents encouraged their daughters to explore other vocations and only work there if it's what they truly want to do. After stints outside of wine, each returned to make their place in the family business.
Tasting Notes: The winery offers a full portfolio of regional wines, including Langhe Chardonnay, Dolcetto, Barbera, Langhe Nebbiolo, four Barbaresco, and Moscato d'Asti. In 2011 they made their first Riesling, a varietal that is atypical to the region. The project was born from the family's love for the grape. Make sure to also try the Bric di Baio Langhe Nebbiolo. It is a true 'Baby Barbaresco', meaning that its power and structure is reminiscent of a young Barbaresco (in Barolo you will hear 'Baby Barolo'). Generally Langhe Nebbiolo of this caliber comes from a Nebbiolo vineyard that is either too young to produce Barbaresco, or is in a Barbaresco position, but the winemaker wants to keep it as Nebbiolo. These wines are fantastic because they cost less – shorter aging means lower overhead for the producer – and they have the complexity of a Barbaresco, but can be consumed younger.
Care to tour the vineyards at Ca' del Baio for yourself? 
---
4.
Our next stop is located just a stone's throw from the charming village of Barbaresco with the landmark Tower of Barbaresco visible from the winery. Winemaker Renato Vacca is another fourth-generation Barbaresco producer who is as much a grower as he is a winemaker.
The humble and generous Vacca tells of his great grandfather working the land 70 years ago, planting some of the same vines he tends today. The family continues to work the vineyards together from pruning to harvest. They take great pride in their land, never using chemical fertilisers.
Tasting Notes: At Cantina del Pino you will taste only red: Dolcetto, Barbera, and Barbaresco. He makes three Barbaresco – two are single vineyard from the esteemed Ovello and Albesani crus. The average age of Cantina del Pino's vines are 40 years old, ranging from 35 to 70 years old. The vine age gives the wine depth and complexity you don't find in wines produced from younger vines.
Interested in wine tours and tastings at Cantina del Pino?

---
CANELLI
The town of Canelli is celebrated for its sparkling wines of Asti Spumante and Moscato d'Asti. Its storied history dates back to the 17th century when it first began constructing its "Underground Cathedral" cellars for wine storage. Built over calcareous tuff, the expansive cellars under Canelli serves as a natural thermal insulator maintaining a constant temperature of 12 to 14 degrees C (54-57 F), ideal temperature for wine aging.
---
5.
 
A visit to Canelli is best started at Contratto, the maker of Italy's first vintage-dated sparkling wine in 1919. Fast-forward to 2014 and it made history again when its 130-year old underground cathedral wine cellar was included in the region's UNESCO designation. The 5,000 square meter space holds up to 3 million bottles of sparkling wines.
Tasting Notes: A tour includes a walk through the Liberty-style house and the vast cellars. The tasting features various sparkling wines as well as reds from Giorgio Rivetti's La Spinetta winery in Barbaresco. The Rivetti family purchased the winery in 2011 and in recent years revived the estate's once popular Vermouth recipe. Also available during the tasting.
Interested in wine tastings and winery tours at Contratto?

---
ROERO
The Roero is positioned to the left of the Tanaro River, neighbouring the Langhe and Monferrato. The region is best known for its Nebbiolo-based Roero Rosso and Roero Riserva as well as its white Roero Arneis.
Roero Regulations: Roero Rosso DOGC is made of 95% Nebbiolo with 20 months minimum aging, including 6 months in wood. Roero Riserva requires 32 months minimum aging, also with 6 months in wood.
---
6.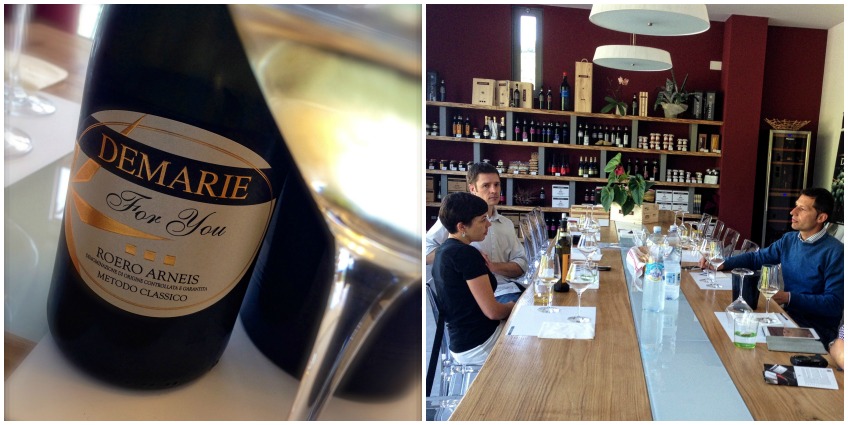 In 2013 Demarie opened a new cantina featuring a mix of old and new design and structure to celebrate the modern and traditional styles that permeate the Piedmont wine region. The new facility opened in 2013 with the highest energy-efficiency ratings in Italy including a natural filtration system, solar panelling, and more.
Tasting Notes: Demarie's portfolio is complete with Dolcetto, Barbera, Nebbiolo as well as a Barolo and Moscato d'Asti. Flagship wines include Roero Riserva, Arneis, and the For You Roero Arneis Spumante Extra Brut. The metodo classico (champagne method) For You is only made in years that the maturity level allows.
Would you like to experience wine tastings at Demarie?
---
7.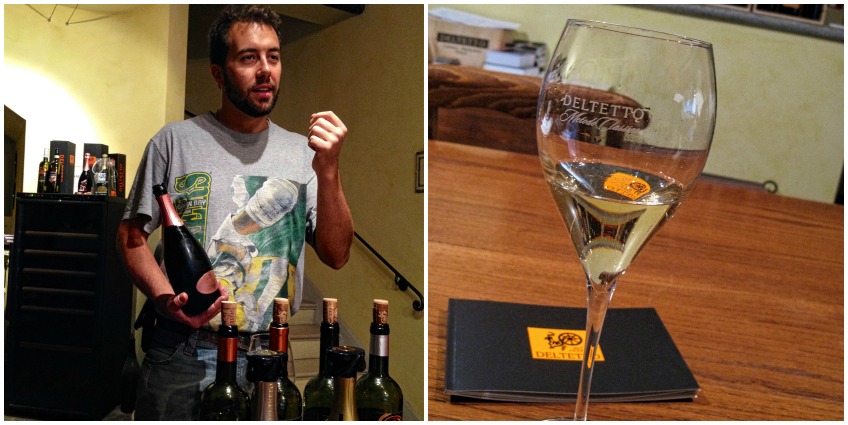 Not far away in the town of Canale is Deltetto – another one of the best wineries in Piedmont. Come for the reds, stay for the whites, and indulge in the sparkling. A tour of the winery showcases their fully automated spumante system, from riddling to disgorgement. The sparkling wines are produced from Pinot Noir, Chardonnay and Nebbiolo grapes, all grown in the Roero. Don't be surprised if you see Deltetto wines when visiting Ca' del Baio and vice versa. The younger Deltetto winemaker, Carlo, is married to the oldest Ca' del Baio daughter, Paola.
Tasting Notes: Deltetto has 19 wines including traditional reds: Dolcetto, Barbera, Nebbiolo, Roero Riserva, and Barolo. The whites include the often-overlooked indigenous Favorita, two Roero Arneis, and a Gavi. The sparkling wines are Rosé, Brut, and Extra Brut.
Interested in experiencing wine tours and tastingfs at Deltetto for yourself?
---
CASTIGLIOLE D'ASTI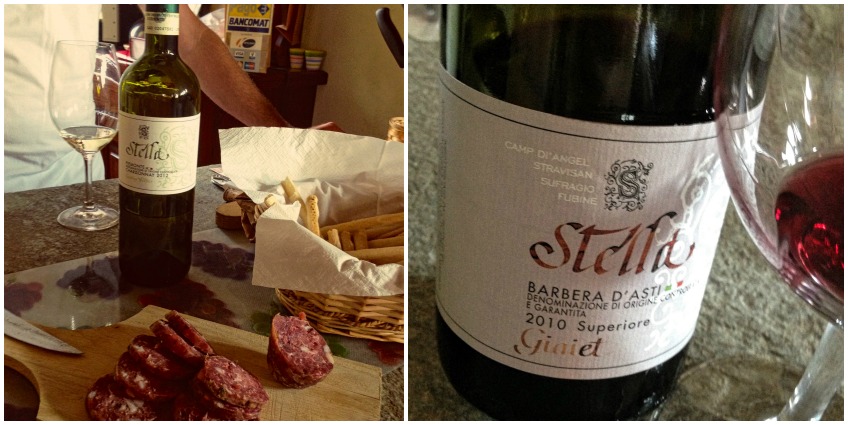 Barbera is the most widely planted and vigorous Piedmont grape. Asti gets much attention for its Barbera d'Asti, so a stop there is a must. The nearly century-old, family-run Stella Giuseppe farmhouse offers two expressions of Barbera as well as two wines from little known indigenous varietals.
Tasting Notes: The producer does a Chardonnay as well as two Barberas (one in steel and one oak-aged). The bonus with this producer is the Grignolino and Fresia, two lighter indigenous reds. Both are nice summer red options. Serve them slightly chilled to enhance the flavour.
Care to experience wine tours and tastings at Giuseppe Stella?
---
DOGLIANI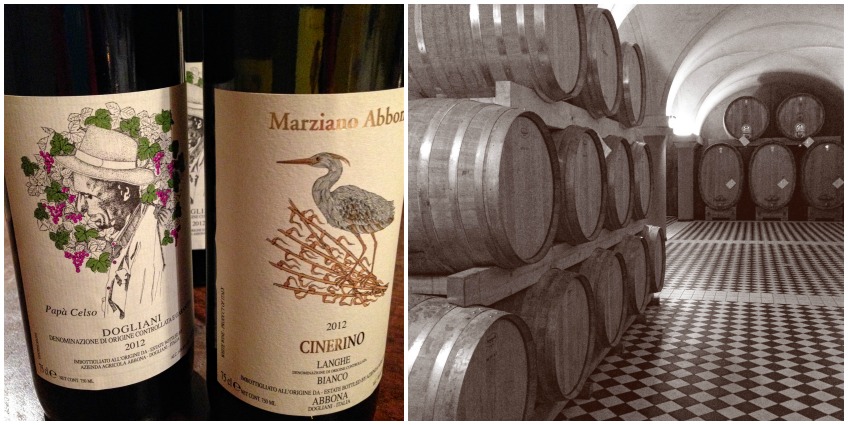 Dogliani gets its fame from Piedmont's Dolcetto grape, 'little sweet one,' though this name is misleading, as the wine it makes is definitely dry. The best expressions come out of Dogliani and Diano d'Alba. Abbona can easily be considered a top Dolcetto producer. A visit to their winery offers stunning aesthetics, from sweeping vineyards to the dramatic and vast barrel room. Black and white tiled floors anchor the expansive room filled with shiny, polished traditional Slovenian oak botti.
Tasting Notes: Abbona's wine list includes everything from metodo classico sparkling, whites, and traditional reds, including Barolo. Don't miss their flagship Dolcetto, Papa Celso and for contrast try their starter Dolcetto, San Luigi. The also offer one of the few Viogniers in the area, Cinerino.
Interested in wine tastings and winery tours at Abbona?

---
10.
SAN GIORGIO
Piedmont is not only Nebbiolo and Barbera. They just get most of the spotlight. Just outside of Turin is the land of Erbaluce, a beautiful white grape that is made as both a still and sparkling wine with high acidity and distinct apple notes on the palate. Cieck is located in San Giorgio alongside about 25 other producers. Different to the Langhe and Roero, these producers are not fulltime winemakers. They also farm honey, hazelnuts, and more to make their living. Cieck is one of the few fulltime wine producers. They opened a new facility in 2014 with more space and striking views of the Alps; Monviso and Monterosa seem close enough to touch.
Tasting Notes: In terms of red wine, Cieck makes Barbera, Nebbiolo, Fresia, and the little known Neretto. Eighty percent of their wines are Erbaluce with three still and three sparkling or bollicini done in Metodo Classico. They also do a passito of Erbaluce – considered the most ancient and traditional products of the area. The wine is made of dried grapes and then aged for a minimum of three years in wood, then six months in bottle (five years in wood and eight to 12 months in bottle for Riserva).
Interested in winery tours and tastings at Cieck?
With that, we'll send you on your way. This guide merely touches the surface of Piedmont wine. There is much more to explore by way of styles, geography, and varietals. Regardless of how much or little you know and the wines of the region, never forget to enjoy it. If our guide has inspired you to visit Piedmont, try one of our great Piedmont trips.
This article was written by Valerie Quintanilla, an American wine, travel, and marketing consultant living in The Langhe, and the brain behind Girls Gotta Drink.
Now that you know what the top wineries in Piedmont are, why not scan through our list of the top things to do on your wine holidays here? Make your trip to Piedmont memorable and take a look at our food and wine experiences to make the most of your stay!