Which grapes do you find in the wines of Georgia?
With 500 indigenous grape varieties and wild varieties still being identified, Georgian wines are some of the most exciting in the world. Of the known varieties there are only a handful (around 48) that are produced commercially.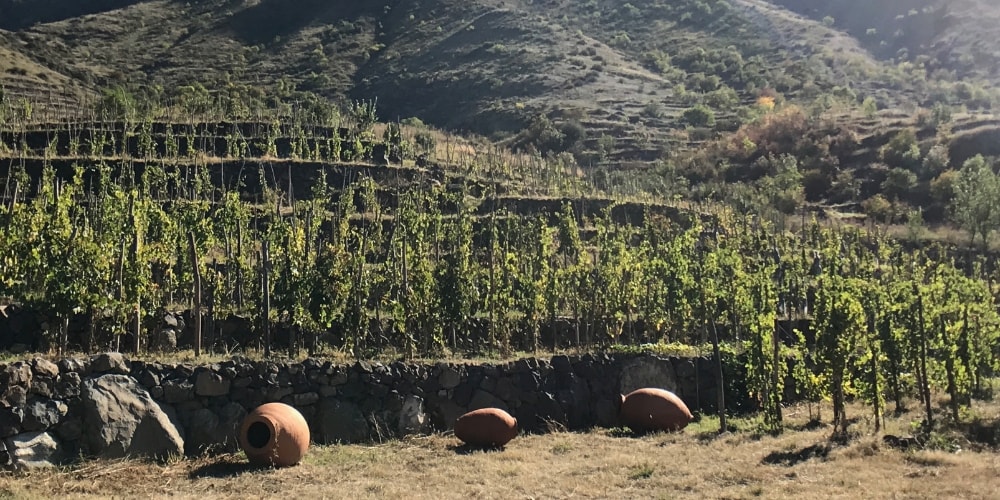 Typically made using traditional Qvevri (a large ancient-style amphora made of clay), ripe grapes with skins, stems, the lot are placed inside and left to ferment for 5-6 months. With white varieties, this method creates a deep amber colour (sometimes referred to as "Orange"), rich with tannins that give it complexity and structure.  These white wines go well with food and develop character closer to what you'd expect from red wine. Georgian red wines are big and bold with deep flavours and strong tannic structures. Of course, there are winemakers who choose not to use the Qvevri method in favour of modern stainless steel tank methods and may not elect to utilise skin or stem contact.  These contemporary wines, while still uniquely Georgian (based on the varieties used), are perhaps more European in character. Unique grape varieties and a range of vinification techniques are part of what makes Georgia the dynamic world wine region it is today.
Here is a primer of white and red varieties to help you get started enjoying these amazing wines.
WHITES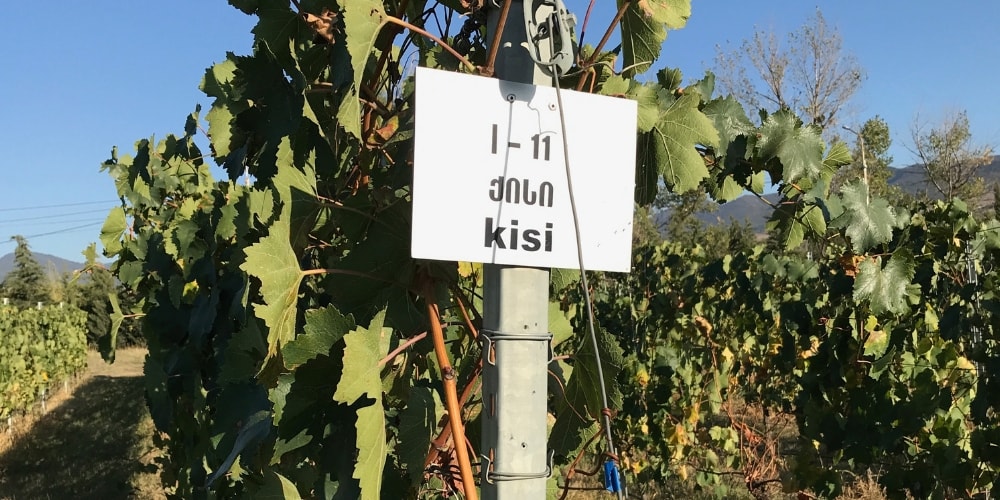 Rkatsiteli is the Queen of the Georgian white varieties and comprises 43% of all vineyard plantings.  Its flavours are of citrus, quince and apples with subtle floral notes. Native to the Kakheti region, its mild, aromatic nature means it is often used in blending with other varieties of stronger character, as well as being used as a single varietal.
Mtsvane Kakhuri named "Green" for its dark green, lobed leaves and its origin in the "Kakheti" region.  Typically known for its white peach flavours with floral and citrus notes and a slight minerality. It is often blended with Rkatsiteli for the classic Tsinandali PDO (Protected Designation of Origin) wines.
Chinuri originated in the region of Kartli but is also widely grown in the region of Kakheti and literally means "excellent" or "the best". Primary flavours of green apple or pear also show notes of mint and other herbs. Chinuri has naturally high levels of acidity, so it is often used for both still and sparkling wines.
Kisi is indigenous to the Kakheti region and offers up flavours of stone fruits such as apricot, as well as mango and citrus notes of lime and orange with a slight hint of walnut – a unique and expressive character.
Krakhuna is a high yield variety, indigenous to the Imereti region. With good sugar to acidity balance, Krakhuna wines give intense ripe banana, apricot flavours with honeyed notes.
REDS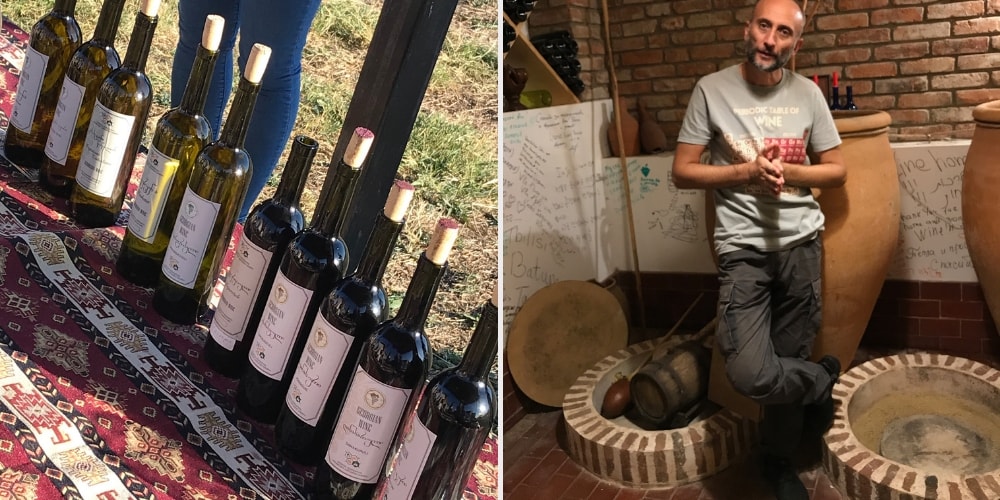 Saperavi means, "something to colour with" and its deep inky, purple colour remains true to its name and its regal nature.  It is Georgia's most widely planted red variety and is made in dry, semi sweet, and even fortified styles. Its dark berries, liquorice, tobacco, chocolate and spicy flavour, combined with its strong tannic nature means it can be kept in bottle 10+ years for maturing and still maintain a fresh vibrant quality.
Tavkveri is named after the flat-topped shape of its berry, which looks like a "hammerhead".  It is a versatile variety and its bright cherry and earthy herbaceous flavours are used for everything from rosé to sparkling, fortified and dessert wines.
Chkhaveri is a western Georgian variety grown mainly near the Black Sea coastal areas. The wines are vibrant with fresh fruits of the forest flavours. Though it is typically produced as a light red, its slightly spicy quality gives it a unique complexity and character.
Ojaleshi means "growing on a tree" and has a lovely ruby colour with cherry or raspberry flavour and hints of white pepper. It is often used for blending with Saperavi for balance.
Aleksandrouli translates as "the vine of Alexander' and is most notably grown along the Rioni River near the Black Sea. It is typically blended with another grape called Mujuretuli for a semi sweet wine called Khvanchkara. However, it is also produced as a dry wine in the Kartli region where its cherry or mulberry flavours pick up tobacco, pepper and meat-like notes that add complexity.  Its tannic structure assures its potential for a lengthy maturity in the bottle.
Each of these grape varieties evokes a sense of place and whether in the hands of a traditional Qvevri winemaker or in a modern European style, you are sure to enjoy discovering the taste of Georgia's rich history of growing and making wine. Gaumajos!