The wonderful wines of New Zealand have been getting a lot of press this week thanks to Pinot Noir Day, which gave wine lovers the chance to celebrate one of our most legendary grape varieties from one of our favourite regions. Although Pinot Noir is traditionally most closely associated with the mythical fine wines of Burgundy, this great grape has discovered a second spiritual home amongst the dramatic landscapes and cool climates of New Zealand. Since the late 1970s creates some of the most unique and exciting Pinot Noir wines in the Southern Hemisphere … and, in fact, the world!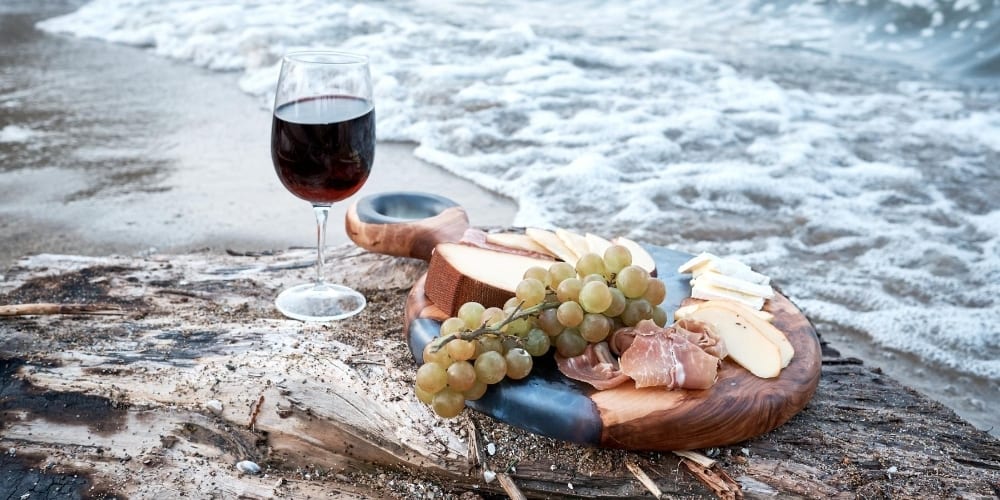 However, whilst the wines themselves have been getting a lot of love, we thought it was time to shine a light on a few of the amazing people whose hard work and determination give us all those beautiful bottles of Pinot Noir. Although it has a relatively short winemaking history in comparison to the ancient wine regions of Europe, New Zealand has nevertheless attracted some of the most talented and passionate winemakers from home and abroad to its stunning shores, with many wineries owned and run by several generations of the same family. In fact, family is so important to the winemakers here that a number of the country's winemakers have banded together to form the Family of Twelve, a collaboration that aims to promote New Zealand's wines all around the world whilst nurturing the close bonds that make New Zealand's wine industry so special.
Read on to take a closer look at some of the most iconic winemaking families of New Zealand and the amazing journeys that have led them to create some of the world's most beloved Pinot Noir wines.
Villa Maria and the Fistonich family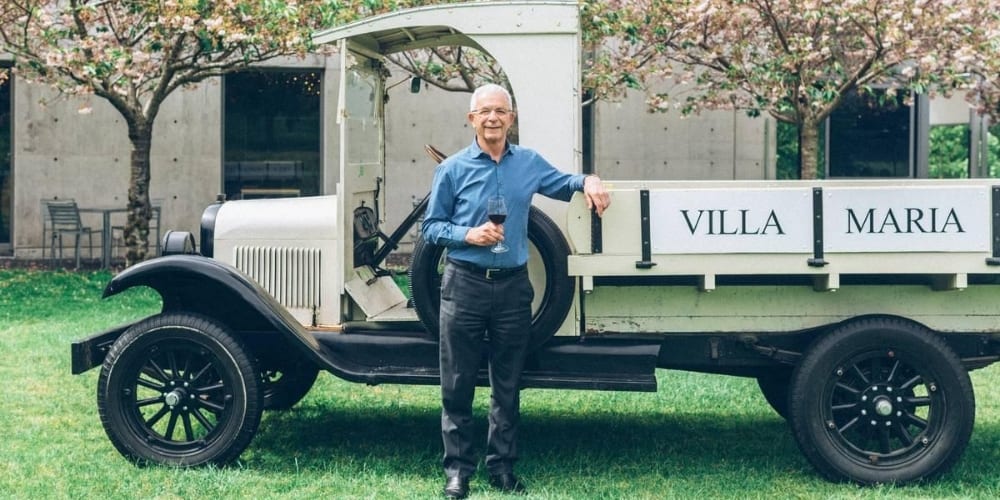 Picture credit: NZ Herald
It's almost impossible to think of New Zealand wine without thinking of Villa Maria. One of the most famous names in New Zealand winemaking, Villa Maria's founder George Fistonich has become an industry legend since acquiring his first acre of vines in Auckland back in 1961. The son of Croatian immigrants, George grew up in the West Auckland suburb of Mangere and originally trained as a builder. However, wine was an integral part of life in his Croatian community and so, aged 21, George decided to pursue a different path and began to make his own wine.
Nearly 60 years later and Villa Maria is one of the most recognisable and well-loved wine brands in the world. Awards and accolades have poured in from around the globe, and George himself became the first person in New Zealand to receive a knighthood for services to the wine industry. Today, he is still deeply involved in the running of the business alongside his daughter Karen, who has followed in her father's footsteps to become a director. George has been supported throughout the journey by his wife Gail and a large team of loyal employees, who are treated as members of the Fistonich family; this is a place where it is easy to find members of staff in all walks of life who have stayed with the Fistonichs for decades. Despite its global superstar status, Villa Maria remains a true family affair with a legacy that will surely last for generations to come.
Try the Wine: Villa Maria Reserve Pinot Noir 2018
Made from premium grapes grown in Marlborough's Awatere Valley, this Pinot demonstrates the best of Villa Maria winemaking. An expressive wine redolent with ripe black cherries and spiced black fruit, this is a velvety, sensual treat for any lover of Pinot Noir.
Neudorf Vineyards and the Finn family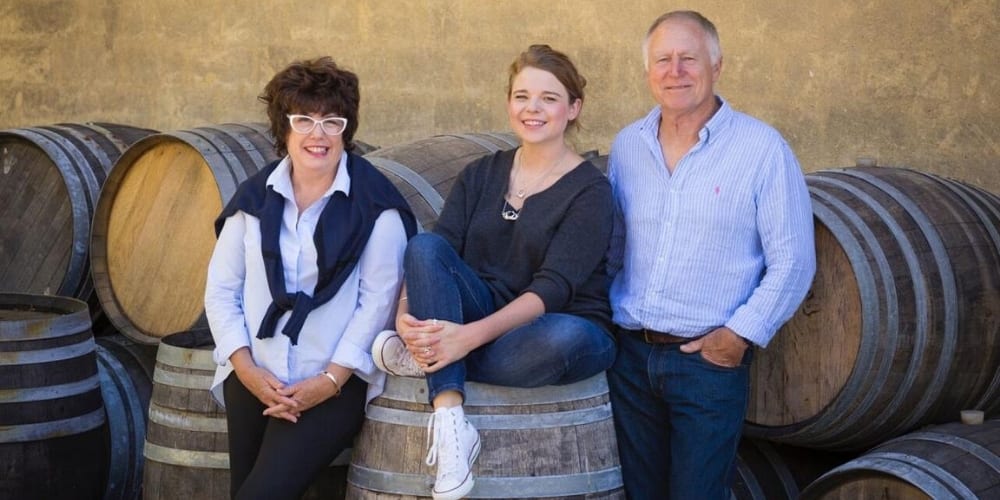 Picture credit: vinabonus
One of Nelson's most iconic names, the wines (and people) of Neudorf Vineyards are beloved by wine critics and drinkers alike. Couple Tim and Judy Finn began their wine journey in the late 1970s, inspired by a desire to reconnect with the land and create wines of integrity and place. It was a learning curve from the very beginning, with Judy's career in journalism and Tim's Master's degree in Animal Behaviour not necessarily providing the ideal grounding in viticulture … but fortunately for the wine industry their energy and determination won through. So dedicated were Tim and Judy to pursuing their passion that at one stage, both were working three jobs each, had taken out four mortgages and were living in a house with no hot water.
Despite these challenging beginnings, Neudorf thrived like a good grapevine and today forms an integral part of the landscape of New Zealand winemaking. Tim and Judy are still working as hard as ever, although perhaps now are beginning to look forward to a quieter way of life!
Try the Wine; Neudorf Tom's Block Pinot Noir 2016
The 2017 vintage of this fabulous Pinot was described by Rebecca Gibb MW as 'pretty freaking delicious' – and we think this is also a very apt description for the 2016! Neudorf's Tom's Block is a clay gravel soil which gives the Pinot Noir fabulous structure alongside bright blackberry, red and black cherry, nutmeg spice and a pinch of herbal thyme. Soft, velvety and supple Pinot from a winemaking superstar!
Ata Rangi and the Paton family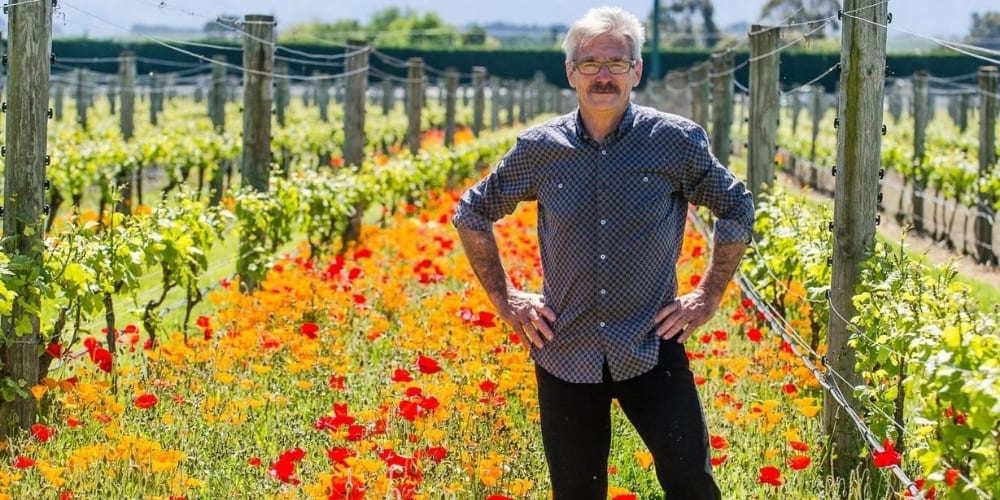 Picture credit: Wairarapa Times-Age
One of the undisputed superstars of New Zealand Pinot Noir, Ata Rangi was one of the first wineries which put Martinborough on the map as a perfect place for Pinot. Ata Rangi came into being when founder and local boy Clive Paton took a gamble and sold his herd of dairy cows in order to acquire five hectares of former sheep paddock – he named this plot Ata Rangi, meaning 'dawn sky' or 'new beginning' in Maori. His aim, inspired by scientific research showing the potential of the region for grape growing, was simply to create world-class wines. His family were there to support from the very beginning, with his sister Alison chipping in to purchase two more hectares. This small plot of land laid the foundations which would allow Ata Rangi to develop into one of the Pinot Noir world's most revered Pinot Noir producers, with an enviable reputation to rival even that of the great Pinot producers of Burgundy.
Ata Rangi remains under family ownership to this day, with a large extended family working hard to produce these wonderful wines, but no mention of Ata Rangi would be complete without a nod to winemaker Helen Masters. One of the New World's most accomplished and respected Pinot Noir wranglers, Helen has been the driving force behind Ata Rangi's success since joining the family in 2003. Helen and the Patons work tirelessly to ensure the legacy of Ata Rangi endures for many generations of Patons (and their extended families!) to come.
Try the Wine: Ata Rangi Pinot Noir 2017
The flagship Pinot Noir of the Ata Rangi range, this wine comprises of 40% of the legendary Abel clone, a Pinot clone that was allegedly smuggled into New Zealand from Burgundy in the 1970s. Old vine fruit and meticulous winemaking create a masterful Pinot Noir with energy, poise and precision. Hedgerow berry notes of mulberry, blackberry and cranberry are complemented by more complex violet, clove and rose petal notes and supple, seductive tannins. If you've never tried a New Zealand Pinot Noir before, this is the place to start!
Saint Clair and the Ibbotson family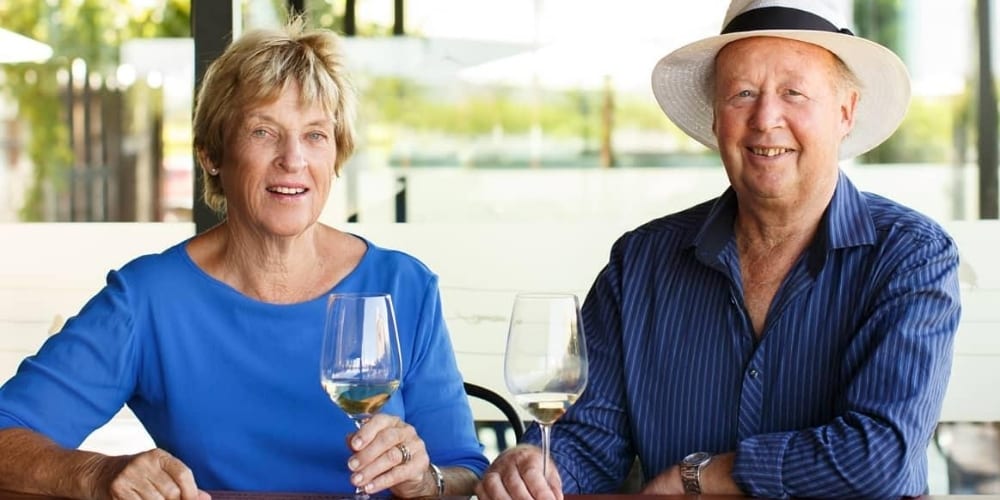 Picture credit: Saint Clair
One of the pioneers of winemaking in New Zealand's famous Marlborough region, Neal and Judy Ibbotson have been growing grapes here since 1978 and established their own label, Saint Clair, in 1994. Like so many New Zealand estates, Saint Clair continues to be a thoroughly family affair to this day – Neal and Judy remain at the helm whilst their son Tony heads up all things creative (he in fact designed Saint Clair's very first label back in 1994!) whilst his sisters Sarina and Julie both work in sales and marketing. The hard work and dedication of the Ibbotson family, alongside a strong network of talented extended family including winemakers Hamish Clarke, Kyle Thompson and Steward Maclennan, have helped to make Saint Clair one of New Zealand's most successful international wineries. So much so that in 2017, Saint Clair were ranked amongst the world's 100 top wineries by WAWWJ.
Try the Wine: Saint Clair 'Origin' Pinot Noir 2018
The 'Origin' series reflects Saint Clair's philosophy of pursuing excellence at every price point – and when it comes to affordable Pinot Noir, it doesn't get much better than this. Bright, energetic berry fruit with a touch of spice and classic Pinot earthiness are complemented by a sumptuous tannin structure and refreshing acidity. A perfect food wine for any kind of charcuterie or red meat, particularly New Zealand lamb!
Pegasus Bay and the Donaldson family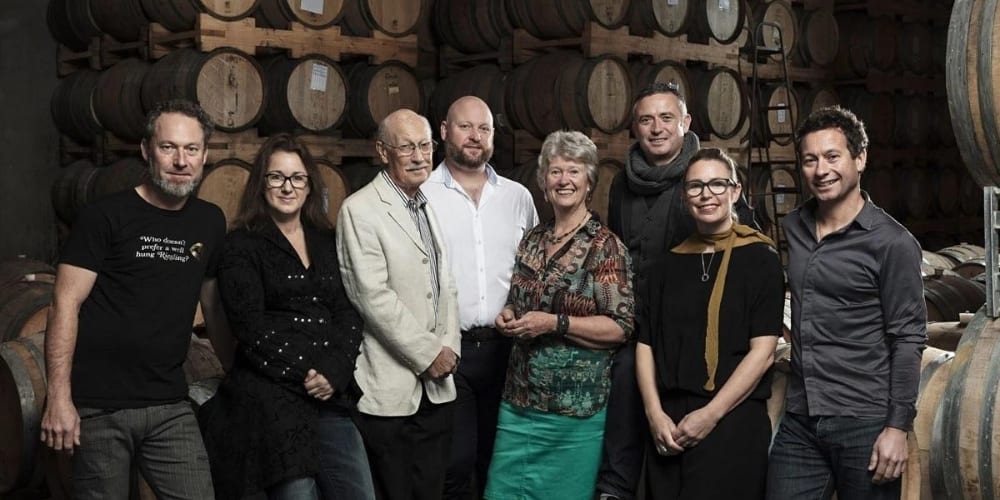 Picture credit: Pegasus Bay
The fame and reputation of Canterbury winery Pegasus Bay has quite simply gone through the roof in recent years. Located in the Waipara Valley area of North Canterbury on the South Island's east coast, Pegasus Bay basks in long sunlight hours and long, luxurious autumns which create the perfect climate for Pinot Noir.
Pegasus Bay came about, in a way, thanks to the efforts of legendary wine writer Hugh Johnson. Consultant neurologist Ivan Donaldson was gifted Johnson's book 'Wine' by his future wife Christine, sowing a seed that led Ivan to wander the vineyards of Europe before returning home to Canterbury in the 1970s to realise his dream. Initially, wine was a hobby which saw Ivan turning his garage into a home winery whilst he continued his day job as an eminent neurologist – but by the 1980s, the potential of the region was clear and so with the help of Christine (by now his wife) and their four sons, Ivan got planting in earnest and established what has now become one of the South Island's premier wineries.
Pegasus Bay remains a family affair to this day, with all four of the Donaldson sons heavily involved in the family business. Eldest son Matthew is the winemaker aided by his wife Di; Edward is the winery's marketing manager and is married to Belinda, who manages the winery's award-winning restaurant; whilst Paul is the winery's General Manager and Michael acts as Local Sales Manager. With all that winemaking passion and expertise, we would love to be invited to a Donaldson family get-together!
Try the Wine: Pegasus Bay Pinot Noir 2016
Thanks to winemaker Matthew's time spend amongst the vignerons of Burgundy, Pegasus Bay Pinot Noir displays a lightness and elegance that is more than a little reminiscent of its French cousin. However, it would be diminutive to compare this wine directly to a Burgundy as it shows a unique style and character that is definitely all its own. Well-defined red fruit aromas include mulberry, cranberry, cherry and raspberry, as well as a soft touch of vanilla and a deep, complex palate showing notes of tobacco and black olive. Absolutely outstanding.
Churton and the Weaver family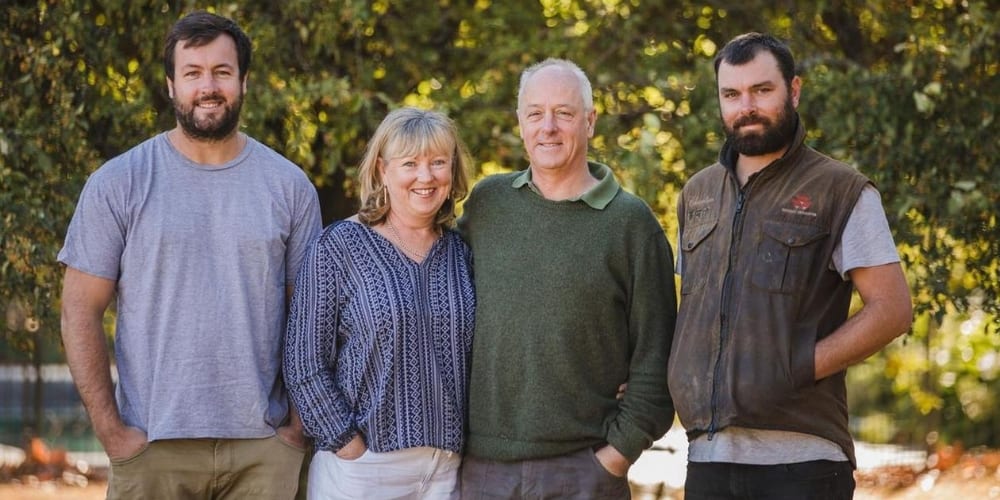 Picture credit: Marlborough
One of the most well-respected winemaking families in Marlborough, the Weaver family have been growing grapes on their 51 hectare farm since the 1980s, when Sam and Mandy Weaver decided to put their farming background and love of wine to good use. Sam studied microbiology prior to becoming a winemaker and applies all his knowledge to the vineyard to ensure the healthiest possible growing environment. The Weavers are dedicated advocates of biodynamic farming methods; like so many family-owned and operated wineries, the Weavers want to ensure that they preserve the health and integrity of their land for all living creatures who inhabit it for generations to come.
Today, Sam and Mandy have been joined at Churton by their two sons Jack and Ben. Jack now heads up Sales and Marketing having worked for wine agencies around the world and completing an impressive 10 vintages everywhere from Australia to Switzerland; whilst Ben studied chemistry and spent time working with some of the world's most renowned biodynamic viticulturalists before returning home to take up his role as Vineyard and Winery Production Manager.
Try the Wine; Churton Pinot Noir Marlborough 2016
Churton's Pinot Noirs are produced using biodynamic practises and minimal intervention in the winery to ensure pure, charismatic expressions of the terroir in which they were grown. Oak is used very sparingly (if at all) with just a lick of French oak in the 2016 Pinot Noir. This is a light, airy Pinot with intense, aromatic aromas of wild black cherry, rose petal and clove with a deep, savoury, earthy palate. A fabulous food wine and a vintage that can be drunk slightly earlier than some other vintages in the Churton collection.
Rippon and the Mills family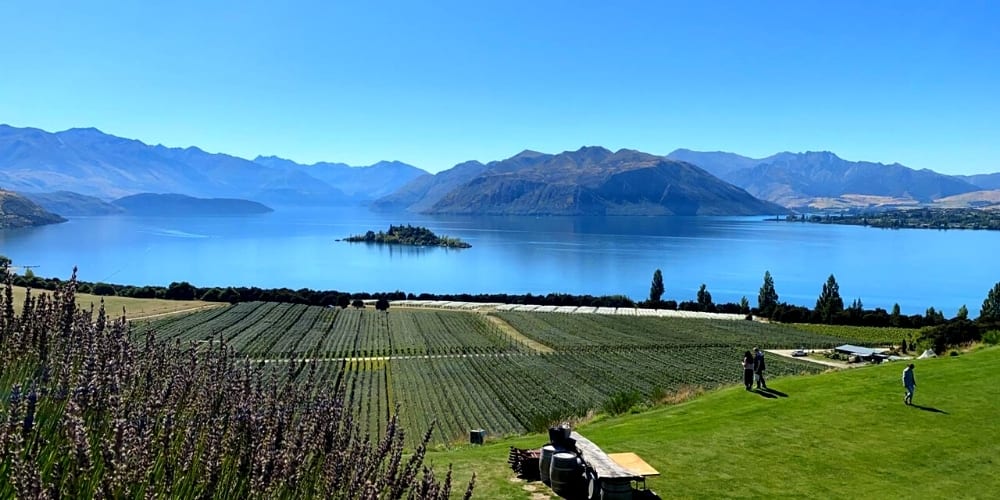 Quite simply one of the most famous and loved of all New Zealand's winemaking families, the Mills at Rippon produce some of the country's best wine from what is often referred to as one of the most beautiful vineyards in the entire world. Another of New Zealand's famed pioneers of biodynamic methods, Rippon began life in 1975 when Rolfe Mills began to experiment with planting grapes on his third-generation family farm on the shores of Lake Wanaka in the Central Otago region. Rolfe's initial trials were so successful that in 1982 he and his wife Lois planted their first ever block of commercial vines, aiming to make high quality wines whilst preserving and protecting the environment around them.
Today Rippon remains under the custodianship of Rolfe's son Nick and his wife Jo, passionate and tireless advocates of biodynamic viticulture whose lives are enviably intertwined with the breath-taking environment that surrounds them. Visitors to the tasting room will usually encounter a generation or two of younger Mills roaming around their home, whilst staff are embraced as family regardless of their last name. A visit to Rippon or even an evening with a bottle of their best Pinot Noir is a privileged opportunity to spend a few moments with something truly special, a true family endeavour defined by the passion, resilience and determination that encapsulates the spirit of New Zealand's pioneering winemaking clans. 
Try the Wine: Rippon Mature Vine Pinot Noir 2015
Rippon's Mature Vine Pinot is referred to by the winemakers as 'the voice of Rippon', a nuanced and expressive Pinot which tells the story of some of the region's oldest Pinot Noir plantings. This is a complex, ethereal wine which evolves from dark, ripe cherry and plum to a twist of pepper, dried wild herbs and finishing with a lovely earthy charred wood and tobacco character on the palate, accompanied by the smoothest and silkiest of tannins.
If you enjoyed learning about the iconic winemaking families of New Zealand and would like to try some of the amazing wines they produce, then check out our recommendations in this next article on the best Pinot Noirs from New Zealand to try this summer!