When you think of Sweden, its' breath-taking natural landscapes, magical Northern Lights, and progressive attitude are what springs to mind. Delve deeper though and you'll uncover it's distinctive and equally progressive foodie culture.
Since 2019, a new movement has been sweeping across Sweden, a movement designed to bring people closer to nature and literally open up the country as a natural pantry for all to enjoy.
In 2019, 'The Edible Country' initiative turned all 100 million acres of Sweden into a place where you can take a walk, forage, fish and select some of the freshest most natural ingredients to include in an incredible menu, crafted by Michelin-starred chefs.
Natural, organic, healthy food can be found around every corner in Sweden, especially in summer when nature teems with life. Combining colourful foraged ingredients with breath-taking natural scenery to create an unforgettable outdoor cooking experience; the Edible Country is al fresco dining with a difference. It's a do-it-yourself gourmet restaurant where you forage and cook your own food in Swedish nature.
Michelin-starred chefs
Four Michelin-starred chefs, all sharing a love of nature and what it has to offer came together to collaborate with the Edible Sweden movement. The result was a set of inspirational menus which draw on the finest ingredients that can be found across the country. Michelin-starred chef Niklas Ekstedt is one of the chefs at the forefront of this movement.
Growing up in a small village in the north of Sweden and while training to be a chef, he was constantly taught that Scandinavia was not the place to look for good ingredients. But after many years of great success and a Michelin star, he felt an urge to return to his roots and explore what Swedish nature and traditions could bring to modern cooking.
"For me, Swedish nature has always been my biggest source of inspiration when cooking. The hours I have spent in the forest have turned into the realisation that cooking outdoors, with the ingredients right in front of me, is the core of Swedish cuisine."
The Edible Sweden experience
The essence of the experience is that you'll spend a few hours in nature with your guide or chef, sourcing fresh, healthy nutritious, and delicious food from your local surroundings, preparing specially-created dishes, with dense natural forests, glistening waters, and rolling hills as a backdrop.
Photo credit: Håkan Stenlund/imagebank.sweden.se
Nestled in Liehittäjä, a small village in the Tornedalen region of Swedish Lapland, lies Huuva Hideaway, home to a magical foodie experience. Set by Lake Liehittäjäjärvi and surrounded by fir and birch trees they say that once you reach this magical place, you may not want to leave. Thanks to the warmth of the Huuva hospitality, you'll arrive as a guest and feel like you're leaving as part of the family, even if you only stay for one night. This wonderful experience will give you a taste of the arctic lifestyle and an authentic look at the Sami way of life.
Together with your guide and private chef you will forage and collect in-season delicacies from nature's pantry. And then, together with the Huuva Hideaway family, you will create a memorable meal in the middle of the forest in the old Sámi Reindeer Corral. And, whilst you feast on some of nature's best produce you'll listen to stories that have been passed down from generation to generation of Huuvas.
After your meal, you'll get to relax in your very own Hideaway House, located in the heart of the woodland. The lodge is decorated with a warm mix of local tradition, Sámi artisan crafts and modern Nordic design, complete with a cosy fireplace. The space comfortably sleeps a couple or family of four with a double bed and two single beds included.
Find out more about a stay at the Huuva Hideaway.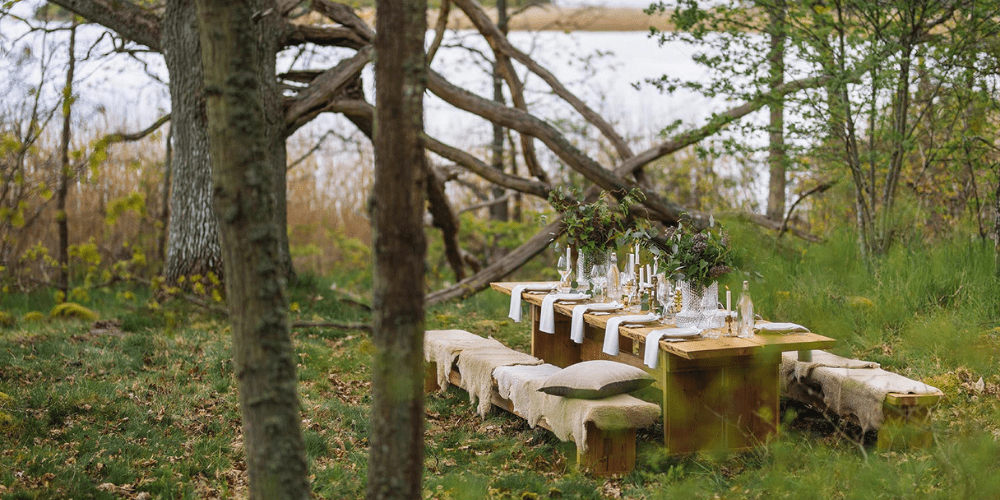 Just a short distance from Stufvenäs Country Hotel lies one of Sweden's most unique dining experiences. With the sea in sight and one of Sweden's largest oak trees nearby, the scene and the table is set for an experience you won't soon forget. You'll be introduced to the flavours of Småland as you walk amongst windswept juniper bushes and blooming sloe bushes.
Together with your guide, you'll head off on a hike into the historic and scenic coastal environment, learning more about the area's history and the edible plants and raw materials that can be found there.
After the hike, it's time to move to the table. Together with one of Stufvenäs' talented chefs, you'll prepare your dinner with a recipe inspired by traditional Småland home cooking.
Your accommodation for the night is the Stufvenäs Country Hotel. Dating back to the end of the 18th century, this classic Småland inn offers warmth and care in a harmonious and inspiring environment right next to the sea.
Find out more about a Smaland foodie experience.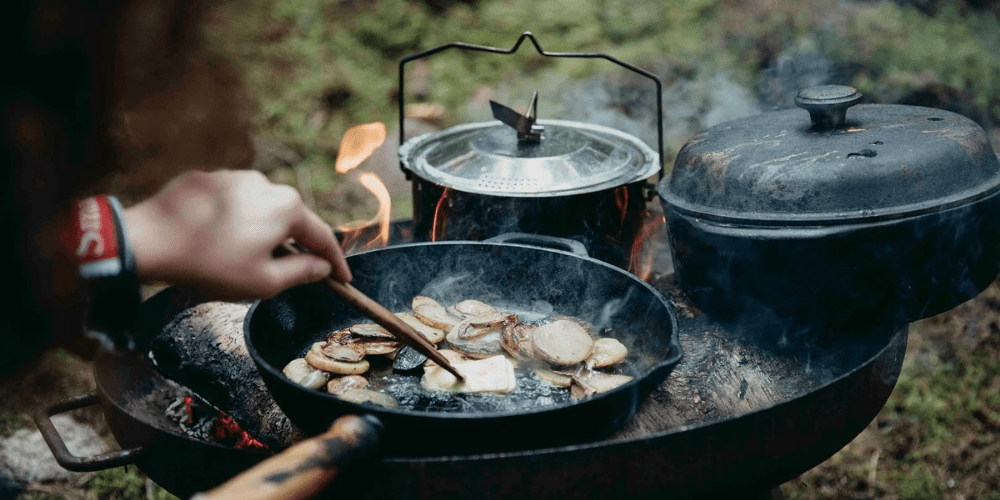 At Asa Hergård's Edible Country experience, you'll journey deep into the forest in the heart of Småland to find a stunning oak table. You'll join an expert chef to cook a meal from nature and in nature and learn about the produce you collect from the surrounding forest's own pantry. Asa is known as a quiet zone in Sweden so if you're looking to journey far away from the buzz of everyday life, this is the perfect experience for you.
The stunning Asa Hergård mansion is nearby and welcomes guests for overnight stays and outdoor activities, getting closer to the wildlife in the forest and the beautiful lake of Asa where you can catch crayfish in the late summer.
Find out more about dining at Asa Hergård's table.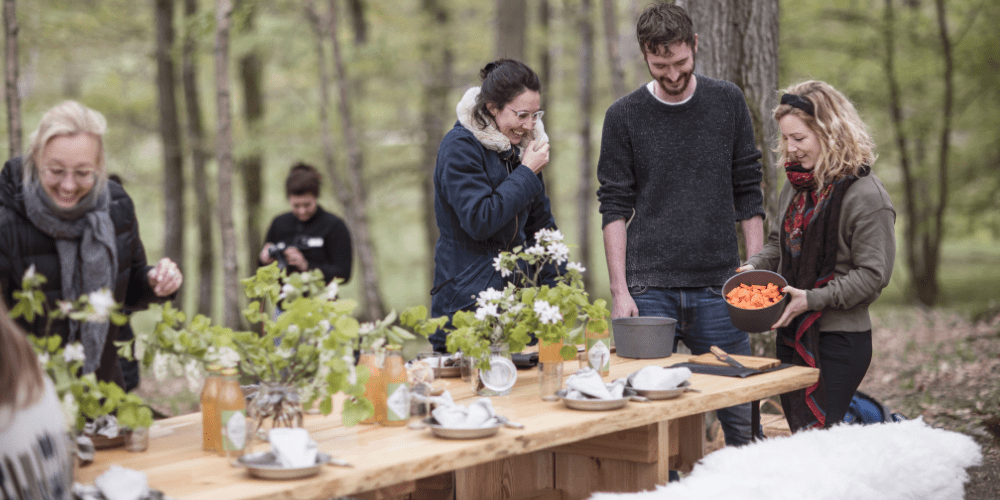 Photo credit: Tina Stafrén/imagebank.sweden.se
Next to Gothenburg, in the culturally protected nature reserve of the 18th century Gunnebo House and gardens, you can experience dinner amongst the trees at a beautiful oak table.
Your experience starts with welcome cocktails made with freshly picked produce from the garden. Once your tastebuds are prepped you'll begin your guided foraging tour. Your ingredients will be used by you and your private chef to prepare a four-course dinner cooked over an open fire, dining amongst the flora and fauna.
Find out more about dining at Gunnebo House and gardens.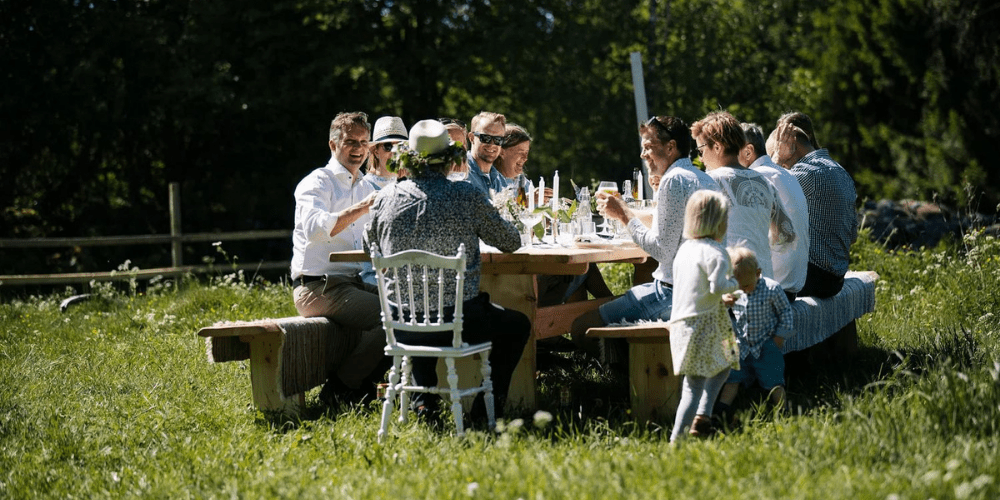 Kastebergs Gård, is a farmstead in the Lindahl family's estate since 1862. Situated in the historic and beautiful Lagadalen region of Småland, it nestles nearby the banks of the River Lagan. The Kastebergs' philosophy is that everyone should benefit from an open landscape and locally produced food.
A short way from the Kasteberg farm, in the middle of a meadow, a rustic Småland wooden table awaits you amid winding stone walls and old apple trees. As cows graze nearby, and with your own guide and chef, you'll create a typical Småland meal using seasonal foraged ingredients from the kitchen garden, the forest and the meadows.
Find out more about dining in nature at Kasteberg Farm.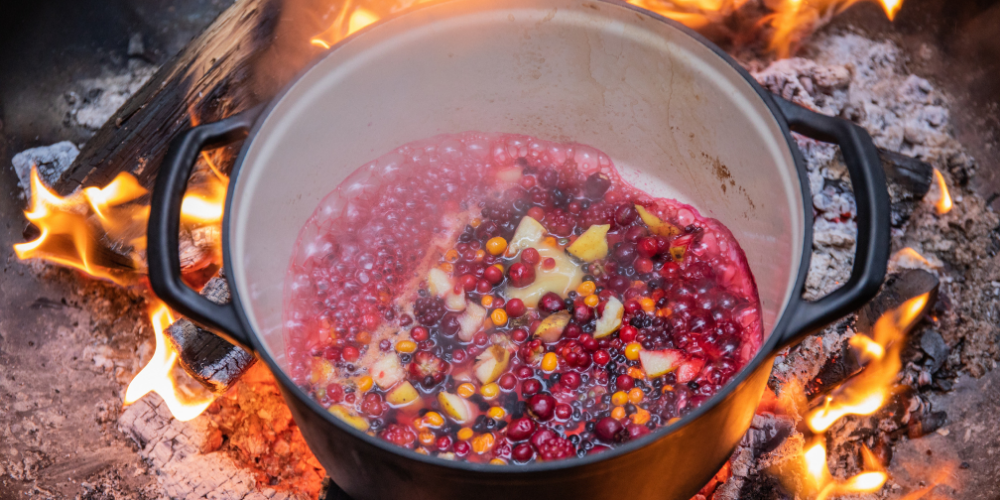 Photo credit: August Dellert/imagebank.sweden.se
Set in a beautiful apple orchard right by the shore of Lake Ivösjön in Skåne, a unique fine dining experience will bring you closer to nature than ever before. Armed with a basket of produce from the forest and the nearby farms, your chef will guide you in cooking an incredible dinner over an open fire. You'll pair your meal with drinks made with fruit and berries from the area, or a beer brewed with birch sap. Whilst you dine you'll enjoy listening to stories of the beautiful Skåne region surrounded by its famed wilderness.
Find out more about a Vanga foodie experience.
---
Naturally tasty, progressive and healthy food can be found just around every corner in Sweden, in its lakes, forests and fields. To find out more about experiencing the unique open air dining of Sweden, get in touch.
Photo credit hero image: Tina Stafrén/imagebank.sweden.se