Tony Conigliaro is a big deal on the London bar scene – so when he launches a new product, people listen.  The brain behind The Bar with No Name at 69 Colebrooke Row, Bar Termini and numerous drinks lists around the world is also the leading inspiration at the Drink Factory consultancy which has just launched its first spirit brand.
Conigliaro's bars have been making award-winning drinks with their small-batch modern distillates and flavoured spirits for some time, but the launch of the Woltz's brand, and its first product – a rose petal vodka, is the first time the consultancy has offered a product for general sale.
London Twilight Soho Food and Cocktail Tour
From £99 / person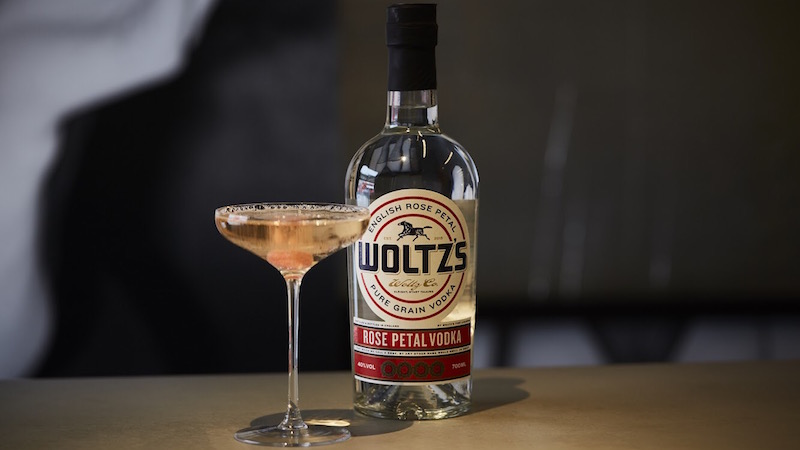 It's particularly exciting news for this avid home bartender who has been trying to recreate the Lipstick Rose recipe from Conigliaro's Le Coq bar in Paris for approximately five years…  Lacking my own rotary evaporator – I know, I know, it's on my Christmas list – my most memorable attempt was when I grossly misread the instructions and ended up combining a massive 50ml of rosewater with just 500ml of vodka.  The result?  A floral, perfumed mess.  No problem, I thought.  I can just dilute it down with more vodka.  This is why, five years later, we still have approximately three litres of barely passable rose vodka languishing in the cupboards at Bar Mennie.
Never fear though, as the Drink Factory team are pros, and have instead vacuum distilled dried pink rose petals with a neutral grain vodka.  This has the dual benefit of maintaining the delicate rose flavour as well as being far more impressive than bunging a ton of rosewater in a bottle of Absolut and hoping for the best.
As a result, rather than the sickly perfumed mess of the Mennie blend, Woltz's Rose Petal Vodka has a softer, clearly floral aroma, a clean dry rose taste and a slight peppered finish.  Amazingly it is smooth enough to enjoy neat, or delicious in one of the following recommended cocktails:
Rose Vodka Recipes
Jalisco – Stir 50ml Woltz's rose vodka, 10ml Quiquiriqui mezcal, dash grapefruit bitters and 10ml sugar syrup with cubed ice. Strain into a chilled rocks glass over ice and garnish with a twist of grapefruit peel.
Coral Fizz – Shake three dashes Peychaud's bitters onto a sugar cube and add to a chilled Champagne glass. Add 15ml Woltz's rose vodka and top with Champagne.
Rose Collins – Add 50ml Woltz's rose vodka, 25ml fresh lemon juice and 15ml sugar syrup to a chilled highball glass filled with cubed ice. Top with soda water and stir gently to combine.  Garnish with a slice of lemon.
Exclusive Casablanca Valley Helicopter and Wine Luxury…
From $3070 / person
If that wasn't enough, the Woltz's brand – named after Jack Woltz, the Godfather character best-known for receiving an offer he could not refuse and a horse's head under his bedcovers – has plans to launch its rich, spicy, vegetal horseradish vodka (perfect in a Bloody Mary or Martini) in the coming months, with rhubarb and elderflower products to follow.
Always on the hunt for a new drink? Read all about Rosolio aperitif here, and make your way through our round up of London's best bars!