Mezcal is still a relatively new entrant to the London bar scene, but its popularity is growing fast. As it's London Mezcal Week, we sent Alex Mennie down to London's 'mezcal embassy' Sin Gusano, to learn more about this sacred elixir of the gods. There, he met Alex and Jen who set some facts straight about Mezcal and gave him three things you need to know about this much maligned spirit.
A London Mezcaleria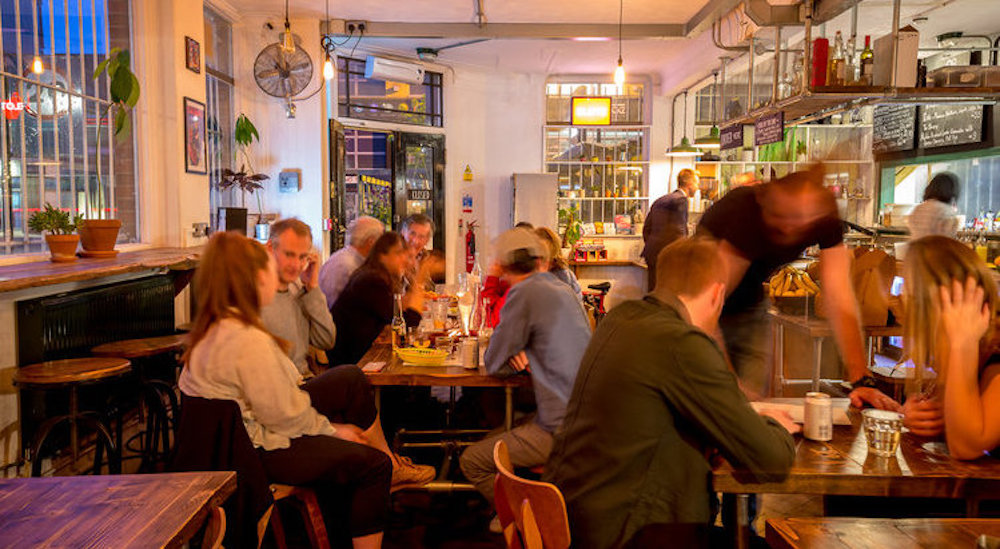 Photo credit: Singusano.com
Let's lay down some facts: mezcal, like absinthe before it, gets a bad press. It is not, in and of itself, a hallucinogenic; it is instead an agave spirit with a strong spiritual and cultural connection to many areas of Mexico.
It was in one of these states that Jon Darby, a city trader on a career break, was first hooked by the artisanal production methods and amazing complexity of mezcal.  Returning from his travels with a renewed purpose, Jon quit his job and dedicated himself to bringing this often-misunderstood spirit to the masses.
This led to the launch of Sin Gusano (literally 'without worm') at Brunswick East in May 2017. Inspired by the creative spaces he had visited in Oaxaca, Jon was determined that it could be more than just a great bar, and serve as a focal point for his plan to educate London drinkers about the wonders of mezcal and wider Mexican culture.
"Para todo mal, mezcal, y para todo bien, también."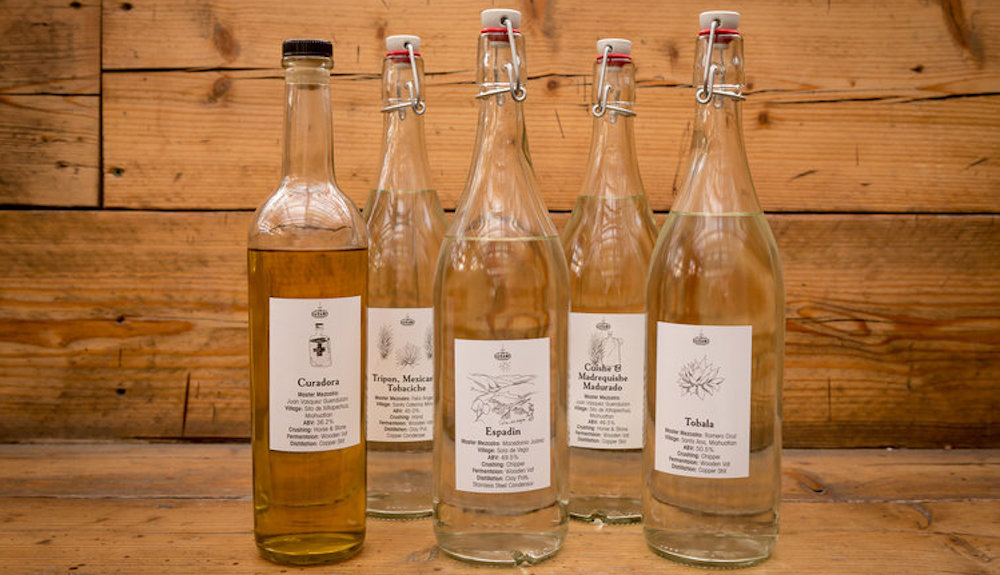 Photo credit: Singusano.com
You don't need to delve too deep into the significance of mezcal to stumble across this aphorism: "For everything bad, mezcal, and for everything good as well".  More than just a drink, mezcal take a lot of its significance to the Mexican people from the cultural importance of the agave plant. Before Spanish settlers brought the magic of distillation to Mexico, the locals had been creating pulque by fermenting the juice of their sacred agave plants.  Consumption was always closely connected to religious ritual, and it is thanks to this, and the perceived sacred power of the plant, that mezcal is still treated with similar reverence today. From celebrations to funerals there aren't many occasions in Oaxacan life that don't being with a measure of mezcal.
Misconceptions of Mezcal
Given that the team behind Sin Gusano put education at the heart of what they do, I asked co-owner Alex for the three things he wants you to know about mezcal:
1: Mezcal is not tequila
Mezcal is distilled from a mash made of fermented, crushed piñas – the heart of an agave plant.  While mezcal can use any type of agave, tequila can only use blue agave. Both spirits also have strict regional restrictions on production, with most mezcal made in Oaxaca (central Mexico) and most tequila made in Jalisco (western Mexico).
Mezcaleros like to play up this difference to avoid the comparisons with the ultimate frat boy party drink – the tequila slammer.  As a result, you will often hear them advise you to "kiss your mezcal, don't shoot it".
2: Mezcal has a unique flavour and complexity
Given the vast difference in production methods and plants, mezcal has a range of different flavours with a clear connection to their terroir.  Sin Gusano references this significant differential with their 'Los Pueblos' or villages tasting flight. Three mezcals made from the same agave, but in three villages just a few hours apart.  The difference is striking – particularly between the smoked pine of the Santa Ana del Rio and the musty earthiness of the San Juan del Rio. Unbelievable given that these are made just a few kilometres down the same river valley.
3: Despite what the locals will tell you, it still gives you a hangover
Alex laughed when he gave me the third preconception. "If you go drinking mezcal in Oaxaca", he explained, "They will tell you it doesn't give you a hangover.  You can try and refuse with 'no, I shouldn't, I have to work tomorrow'. They'll say, 'ah it's no problem – no hangover!' But it's not true!" Take our advice, stick to the 'kiss it, don't shoot it' mantra, and rejoice in the fact that mezcal is decidedly more of an upper than a downer.
Guided tastings at Sin Gusano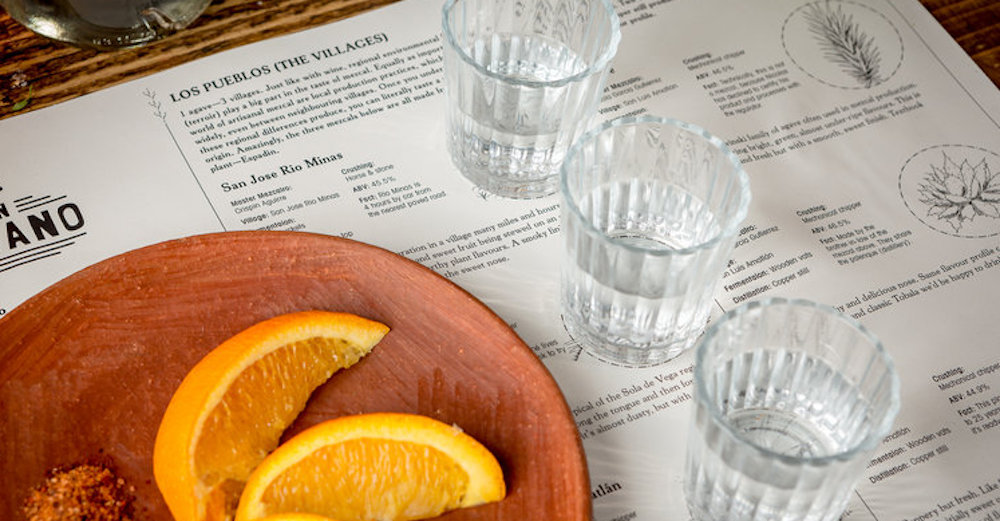 Photo credit: Singusano.com
Given the team's drive to educate and inform, it is perhaps no surprise that it's the guided tastings that are the major draw to Sin Gusano. A selection of three mezcals distinguished on terroir or plant type accompanied with palate-cleansing orange and sal de gusano (worm salt) provide a structured way to learn to tell your Jobali from your Tepextate.
But the education doesn't stop once the glass is empty. Aside from the library of mezcals, the cocktails and the local craft beers, and away from the food provided by a rotating roster of authentic Mexican chefs, Sin Gusano also offers weekly cultural and creative sessions including Spanish language lessons, freestyle drawing classes, quiz nights and gigs. The bar is also – unsurprisingly – heavily involved in a series of events for London Mezcal Week (10-16 September)
Beyond the bar, Jon and Alex are also moving into distribution, with a limited range of their own bottlings and tasting sets which will allow customers to enjoy the Sin Gusano experience at home.  Alex described these as "more authentic to how mezcal is drunk in Mexico" and is visibly excited about some of the unique expressions they will be able to sell. Many of these have been discovered by the team on their regular 'research' trips back to Mexico, where they spend a significant amount of time driving around following vague directions and looking for the tell-tale signs of the palenque – a water source, the corrugated iron roof of the still house, and rows of cultivated agave.
It probably beats spending your time on the trading floor.
Sin Gusano, 258 Kingsland Road, London, E8 4DG
www.singusano.com | @sin_gusano
Not that it's the same, but if you liked this, you may be interested in this post on the top 5 luxury tequilas! And if it's new London-based drinks comapnies you're intersted in, you must check out our piece on Kanpai Sake Brewery in Peckham, which happens to be right next to Gosnells's Meadery!